The Girl on the Train
by
Paula Hawkins
Published by
Riverhead Books
on July 12th 2016
Pages:
324 •
Goodreads
EVERY DAY THE SAME
Rachel takes the same commuter train every morning and night. Every day she rattles down the track, flashes past a stretch of cozy suburban homes, and stops at the signal that allows her to daily watch the same couple breakfasting on their deck. She's even started to feel like she knows them. Jess and Jason, she calls them. Their life—as she sees it—is perfect. Not unlike the life she recently lost.

UNTIL TODAY
And then she sees something shocking. It's only a minute until the train moves on, but it's enough. Now everything's changed. Unable to keep it to herself, Rachel goes to the police. But is she really as unreliable as they say? Soon she is deeply entangled not only in the investigation but in the lives of everyone involved. Has she done more harm than good?
The thing about thrillers is that it's usually best to write a review right after finishing it, because all of the twists, turns, and plot reveals and emotions they evoked as so fresh in your mind. However, with The Girl on the Train, I was so tired of it by the time I finally finished that I wasn't motivated to jot down my thoughts. My expectations were let down and I had no desire to relive the experience anytime soon. So now, a little over a month later, I'm catching up on reviews and struggling to remember the emotions that this book evoked other than boredom.
I was ALL OVER this book initially, considering the movie was receiving so much hype (and I really like Emily Blunt). I put off seeing the movie because I really wanted to read the book before I saw the movie (which I heard from many friends and coworkers was really good). Unfortunately, it took me so long to finish this book that I pretty much missed the opportunity to see the movie in theaters. While I didn't love Gone Girl, I found it to be a very engaging read, and all of the comparisons to it enticed me. However, I found The Girl on the Train to be painfully slow to get through, especially in the first half. I understand unlikable protagonists have their place and you don't have to like a protagonist to find them compelling, but Rachel was SO depressing and pathetic that I was legitimately angered by listening to her inner monologue and reading about the choices she made. It was so, so repetitive and I found that I couldn't become engaged in the narrative and really only finished it out of a sense of obligation because I paid for the book.
I also struggled to become super invested in the mystery itself. I realized I was over halfway through the book and felt like I was still waiting for the mystery element to pick up and really get into the "whodunnit" vibe. I had some suspicions that turned out correctly, but I also found the big reveal sort of implausible to be honest View Spoiler »I just don't understand how all of these women were A) so into Tom and B) Didn't realize he was a totally shady troll right away. « Hide Spoiler I suppose when you get right down to it I felt that the characters weren't super complex or nuanced in their motivations, and therefore I had a hard time believing that things escalated to the point they did, and that certain characters managed to hide what they did from others so well. The lack of interest in the characters, for me, was really what killed the Gone Girl comparisons that everyone was talking about, since Amy was so, so twisted and complex.
Overall: This book was the slowest thriller I've ever read, and felt more like a study in reading about miserable and unsatisfied middle aged people rather than a mystery. I hardly ever say this, but I probably should've just seen the movie instead.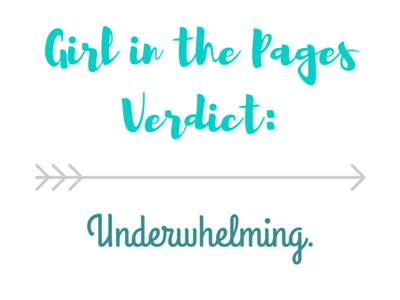 Save
Save
Reading this book contributed to these challenges:
Related Posts