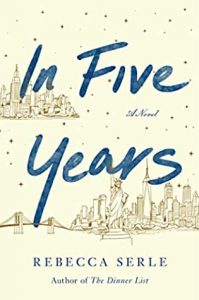 In Five Years
by
Rebecca Serle
Published by
Atria Books
on March 10, 2020
Genres:
Adult Fiction
,
Contemporary
,
Magical Realism
Format:
E-Book
•
Source:
Overdrive
Goodreads
When Type-A Manhattan lawyer Dannie Cohan is asked this question at the most important interview of her career, she has a meticulously crafted answer at the ready. Later, after nailing her interview and accepting her boyfriend's marriage proposal, Dannie goes to sleep knowing she is right on track to achieve her five-year plan.

But when she wakes up, she's suddenly in a different apartment, with a different ring on her finger, and beside a very different man. The television news is on in the background, and she can just make out the scrolling date. It's the same night—December 15—but 2025, five years in the future.
After a very intense, shocking hour, Dannie wakes again, at the brink of midnight, back in 2020. She can't shake what has happened. It certainly felt much more than merely a dream, but she isn't the kind of person who believes in visions. That nonsense is only charming coming from free-spirited types, like her lifelong best friend, Bella. Determined to ignore the odd experience, she files it away in the back of her mind.

That is, until four-and-a-half years later, when by chance Dannie meets the very same man from her long-ago vision.

Brimming with joy and heartbreak, In Five Years is an unforgettable love story that reminds us of the power of loyalty, friendship, and the unpredictable nature of destiny.
It's rare that I make it through an entire book in nearly one afternoon these days, but that was the case with In Five Years- I couldn't put it down! I found this book to be very polarizing to me, as on the one hand I really enjoyed it, and on the other hand I had some fundamental problems with it that left me blindsided and feeling more than a little tricked. Nevertheless, it was an addictive reading experience that is nearly impossible to describe without spoilers, so be prepared for a few below (I won't be spoiling the entire book, just talking about the elements that bothered me!)
In Five Years features protagonist Dannie, a lawyer in New York who has her life meticulously, unapologetically planned out. Rather than feeling sorry for her (I feel like we're always urged in romances to feel bad for the heroine with a strict life plan and she needs to go to the country and fall in love with the farm hand on a Hallmark movie, lol) I found Dannie's certainty in life to be refreshing and empowering. On a night she has a super vivid dream that catapultes her five years into the future, into a life that is radically different than the one she's in now, with a new apartment, new love interest, basically new everything. She wakes up deeply unnerved by this vision and decides to do everything in her power to ensure it doesn't come to fruition.
*Entering some spoiler territory*
First and foremost, this book is not a love story between Dannie and a man. This book is a love story, a deep love story, about the love of friendship. Dannie's relationship with her best friend Bella is at the center of every decision and circumstance that leads her to the future she envisioned in five years. Her bond with Bella is more raw, real and heartbreaking than many romantic love stories I've read. It's so wonderful to see a romance book take the friendship route and focus on that as the center of the novel. HOWEVER it was extremely, extremely frustrating to me that Bella got cancer and her brutal decline was the catalyst for the changes in Dannie's life. I hate cancer books, and I felt blindsided that I made it so far into the story to be hit with the cancer narrative at a point where I didn't want to DNF because I was so invested. I purposely go out of my way to avoid sick-lit and I imagine it's triggering for a lot of folks, and so I was disappointed that the novel took that route. It's still an excellent story (which is why I'm rating it 4 stars), but not the story I signed up for (although perhaps I should have guessed considering the comp titles are One Day and Me Before You!).
In Five Years is beautifully written as well. Serle has a succinct yet profound way of narrating through Dannie and balances it with Bella's optimism and love for life without sacrificing the integrity of either character. She also does an incredible job painting a picture of both the present and future, making a four and a half year time jump feel natural and not at all awkward, skimming over the routine of Dannie's life until the changes are actually set into motion (which I'll admit surprised me because I didn't expect for a bulk of the book to take place after just 6 months). Serle also surprised me with her conclusion, as she revisits the exact scene Dannie initially dreams about in the beginning of the book, with the exact same action and dialogue, however there's a whole new meaning to everything that's said and done now that the reader has the background context of the events of the novel. It's really masterfully done.
Overall: In Five Years is a well written book with a creative story with a dash of magical realism. It would have been a slam dunk five stars from me if it hadn't dropped a cancer plot line on me more than halfway through the book. I'm looking forward to reading more from Serle in the future.
Related Posts