This Train Is Being Held
by
Ismée Amiel Williams
Published by
Amulet Books
on February 11, 2020
Genres:
Coming of Age
,
Contemporary
,
Young Adult
Pages:
336 •
Format:
E-ARC
•
Source:
NetGalley
Goodreads
When private school student Isabelle Warren first meets Dominican-American Alex Rosario on the downtown 1 train, she remembers his green eyes and his gentlemanly behavior. He remembers her untroubled happiness, something he feels all rich kids must possess. That, and her long dancer legs. Over the course of multiple subway encounters spanning the next three years, Isabelle learns of Alex's struggle with his father, who is hell-bent on Alex being a contender for the major leagues, despite Alex's desire to go to college and become a poet. Alex learns about Isabelle's unstable mother, a woman with a prejudice against Latino men. But fate—and the 1 train—throw them together when Isabelle needs Alex most. Heartfelt and evocative, this romantic drama will appeal to readers of Jenny Han and Sarah Dessen.
One of my goals for 2020 is to read more novels with Latinx characters by Latinx authors, and I was thrilled to find that This Train Is Being Held featured not one but two Latinx protagonists, I was thrilled! The story follows Isa, a white passing, half Cuban ballerina, who meets Alex, a Dominican-American aspiring pro-baseball player, on New York public transit. Existing in different classes, social circles, and areas of New York, they keep running into each other on various trains until they realize there is definitely a spark between them that they both can't deny.
While this is definitely a YA Romance novel, I found there to be so much more going on in this story that helped develop Alex and Isa's world into a fully immersive reading experience. Both of their families play a major role in their lives and in the story, from Alex's divorced parents (his Dad is an ex-MLB player who is pushing him to follow in his footsteps and his mother and stepmom whom he has great relationships with) to Isa's seemingly privileged and inaccessible family (that's fraught behind the scenes with mental illness). Both of their families (and even friends) have prejudices and preconceptions about why their relationship should never work, especially Isa's mother who despite being Cuban, has a deep distrust of Latino men due to her own issues with her father. Yet the story doesn't turn into a "let's be together despite what our families think" situation. Though both having flawed families, Isa and Alex both care deeply for their parents and siblings and often choose to prioritize them first, though it caused problems between them, which was heart-wrenching yet realistic at the same time.
This story also really dove into the topic of mental illness in an honest and raw way. Isa's mother is bipolar and so is her older brother Merritt. One of the first times we meet Isa, she's tiptoeing around her mother, hoping she can leave for dance class without her mother having an episode. Throughout the course of the novel we see Isa having to be the rock of her family when things start falling apart, and though at times she can seem emotionless and detached, it's clear that her behavior is a coping mechanism because she's so often not able to react on her emotions due to always watching out for her mother and brother. Yet at the same time, Isa is terrified of exhibiting any signs or symptoms of bipolar disorder herself, as it's a constant looming threat hanging over her since she's seen several close family members suffer from it. While This Train Is Being Held isn't a mental health focused book exactly, it did an honest job showcasing that mental illness can run in any family and the toll it takes on those dealing with it, and that money or privilege doesn't make you immune to its affects.
As mentioned previously, both Isa and Alex come from different Latinx cultural backgrounds. Alex's family is still very much involved in their Dominican culture, speaking primarily Spanish and still keeping their culture alive through food, family gatherings etc (and what mouth-watering food it is! There are some wonderful food descriptions in this story!) Isa, meanwhile, has a much different relationship with her Latinx heritage, and while she speaks Spanish, she's white passing and doesn't have many of the same struggles or fear of authority that plague Alex, and her family is less open in their celebration of their culture (probably partially because her Dad isn't Latinx, and also because her mother seems to have assimilated pretty thoroughly into American culture and doesn't speak Spanish or reference her Cuban background much). Both families have preconceived notions about the other (positive and negative) and it was refreshing to see multiple Latinx cultures explored in one novel.
Alex and Isa's story takes place across the span of quite a bit of time (if I remember correctly, at least 1-2 years) and sometimes there were big time jumps between scenes. I didn't find this jarring, however and found that it fit with the overall theme of them meeting by happenstance at different points of their lives on the train. At the end of the story the tension definitely increased as many of the elements that had been simmering in the background came to a peak in an action scene that was honestly a little more intense than I was expecting (though I couldn't put the book down!).
Overall: This Train is Being Held is an honest exploration of growing up Latinx in today's American society and highlights both the differences and similarities of the experiences of the characters. While at times some of the decisions the characters made could be a little frustrating, it was realistic given their personal and family situations and it was fascinating to see how fate kept bringing them together on the train. It's a story of coming of age, finding yourself, rejecting and embracing familial expectations and most of all finding your person in perhaps the unlikeliest of places.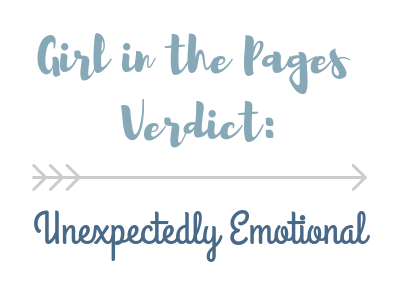 Related Posts