I received this book for free in exchange for an honest review. This does not affect my opinion of the book or the content of my review.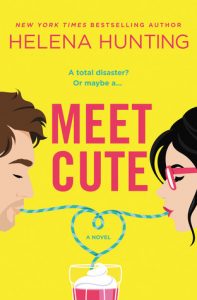 Meet Cute
by
Helena Hunting
Also by this author:
The Good Luck Charm
Published by
Forever
on April 9, 2019
Genres:
Romance
,
Adult Fiction
Pages:
384 •
Format:
ARC
•
Source:
ALA
Goodreads
Talk about an embarrassing introduction. On her first day of law school, Kailyn ran - quite literally - into the actor she crushed on as a teenager, ending with him sprawled on top of her. Mortified to discover the Daxton Hughes was also a student in her class, her embarrassment over their meet-cute quickly turned into a friendship she never expected. Of course, she never saw his betrayal coming either...

Now, eight years later, Dax is in her office asking for legal advice. Despite her anger, Kailyn can't help feeling sorry for the devastated man who just became sole guardian to his thirteen-year-old sister. But when her boss gets wind of Kailyn's new celebrity client, there's even more at stake than Dax's custody issues: if she gets Dax to work at their firm, she'll be promoted to partner.

The more time Kailyn spends with Dax and his sister, the more she starts to feel like a family, and the more she realizes the chemistry they had all those years ago is as fresh as ever. But will they be able to forgive the mistakes of the past, or will one betrayal lead to another?
Last year I read my first Helena Hunting novel and thoroughly enjoyed it despite not usually being a fan of sports novels. It was fun, a quick read, and had a steamy romance. I was expecting more of the same from Meet Cute, but found it to be a much heavier novel filled with a lot more heart. Kailyn and Daxton meet in law school where Kailyn has a series of embarrassing interactions with him as he's the star of her favorite CW-esque show (as would I if I had run into Chace Crawford from Gossip Girl or Chad Michael Murray from One Tree Hill back in the day). The story picks up several years later when both are successful lawyers and Kailyn ends up handling the trust for his little sister after their parents are unexpectedly killed. Of course, forcing Kailyn and Dax into close proximity means they inevitably end up rehashing old events and rekindling their old chemistry.
There's a lot of things I wasn't expecting about Meet Cute that I really enjoyed. I loved how there was an important focus for both Dax and Kailyn on their careers and it wasn't just a side detail (although it did seem a little improbable that they'd both be up for partner at their law firm before the age of 30). It dealt quite a lot with grief, especially for Dax's 13 year old sister Emily who is caught in the middle of all of the legal drama. Her relationship with both Dax as her brother and Kailyn as her conservator is explored, and she felt like an essential part of their relationship and story and not just a vehicle for them to get back together. There was a (rather predictable) villain but overall it was a story about family and a bit of legal drama too which was a unique twist for romance novel.
Overall: A fun, intense romance novel with less of a focus on the couple and more on the family situation surrounding them made for a nice change of pace.
---
Red, White & Royal Blue
by
Casey McQuiston
Published by
St. Martin's Griffin
on May 14, 2019
Genres:
New Adult
,
Romance
Pages:
432 •
Format:
ARC
•
Source:
ALA
Goodreads
A big-hearted romantic comedy in which First Son Alex falls in love with Prince Henry of Wales after an incident of international proportions forces them to pretend to be best friends...

First Son Alex Claremont-Diaz is the closest thing to a prince this side of the Atlantic. With his intrepid sister and the Veep's genius granddaughter, they're the White House Trio, a beautiful millennial marketing strategy for his mother, President Ellen Claremont. International socialite duties do have downsides—namely, when photos of a confrontation with his longtime nemesis Prince Henry at a royal wedding leak to the tabloids and threaten American/British relations.

The plan for damage control: staging a fake friendship between the First Son and the Prince. Alex is busy enough handling his mother's bloodthirsty opponents and his own political ambitions without an uptight royal slowing him down. But beneath Henry's Prince Charming veneer, there's a soft-hearted eccentric with a dry sense of humor and more than one ghost haunting him.

As President Claremont kicks off her reelection bid, Alex finds himself hurtling into a secret relationship with Henry that could derail the campaign and upend two nations. And Henry throws everything into question for Alex, an impulsive, charming guy who thought he knew everything: What is worth the sacrifice? How do you do all the good you can do? And, most importantly, how will history remember you?
I'm not quite sure what I can say about Red, White, & Royal Blue that hasn't already been said. I picked it up well in advance of my targeted ARC "schedule" and was sucked into the story of politics, royals and romance that combined my love of modern monarchy with the political trials of the US today. I loved reading about Alex and Henry's true hate-to-love romance (complete with utterly hilarious texts and emails) that was a slow burn and never felt rushed or unauthentic. I loved how they both had their village surrounding and supporting them even when the pressure of their stations was overwhelming, and Alex's mom was #presidentgoals (she was SUCH a badass I would totally vote for her, I need one of those Claremont-Diaz 2020 stickers!)
There's also a LOT of representation in this story that never feels forced, from the various ways characters identify with their sexuality to their family backgrounds. As a biracial child myself, it was so inspiring to see biracial children in the White House (who come from a divorced family, no less) and show how a seemingly dysfunctional family can still be the support system you need in the face of adversity.
A few other wonderful things about this book I enjoyed:
The sassy White House staff who are always cleaning up Alex's messes
Henry's bodyguard
The dreamy, peaceful Texas lake house that June and Alex visit their father at
Alex and Henry are both really intelligent and it shows in their banter and emails and references to historical figures (and in Henry's case, sometimes relatives) from their respective countries. Love a smart romance.
Family putting each other's needs first (especially Alex's mom for her children, and that can't be an easy feat when you have an entire country to worry about)
This is new adult done RIGHT- sure it had some steamy content but it's about self exploration and figuring out how to adult in your 20s and friendships and family and shenanigans and created a space specifically for that 20s transitional period in life and I AM HERE FOR IT. (This is what we all wanted New Adult to be from the beginning, TBH).
Overall: Honestly, as much as I enjoyed this book, it was hard to read at times because it made me imagine a world where things had gone differently in 2016, a world where a red state could swing blue, where a liberal minority could lead the charge and overcome hatred and inequality. The Claremont-Diazs' are by far my favorite fictional first family.
Related Posts