I received this book for free in exchange for an honest review. This does not affect my opinion of the book or the content of my review.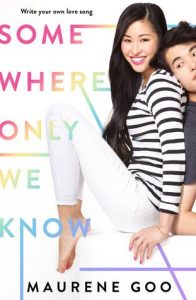 Somewhere Only We Know
by
Maurene Goo
Also by this author:
I Believe in a Thing Called Love
,
The Way You Make Me Feel
Published by
Farrar
on May 7, 2019
Genres:
Contemporary
,
Young Adult
Pages:
328 •
Format:
ARC
•
Source:
ALA
Goodreads
10 00 p.m.: Lucky is the biggest K-pop star on the scene, and she's just performed her hit song "Heartbeat" in Hong Kong to thousands of adoring fans. She's about to debut on The Tonight Show in America, hopefully a breakout performance for her career. But right now? She's in her fancy hotel, trying to fall asleep but dying for a hamburger.

11 00 p.m.: Jack is sneaking into a fancy hotel, on assignment for his tabloid job that he keeps secret from his parents. On his way out of the hotel, he runs into a girl wearing slippers, a girl who is single-mindedly determined to find a hamburger. She looks kind of familiar. She's very cute. He's maybe curious.

12:00 a.m.: Nothing will ever be the same.
Though Maurene Goo's novels have never been all time favorites of mine, she always writes cute, fun stories (with delicious descriptions of food) that have plucky protagonists and much needed Asian representation. When I heard the premise for Somewhere Only We Know featured a K-pop star, I was super intrigued, as K-pop has definitely been taking the US by storm the past few years (and who doesn't love a good celebrity and normal person relationship??) Unfortunately, Somewhere Only We Know missed the mark for me, and ended up my least favorite of the author's novels.
There's a lot that this story has going for it: it features a K-pop star, takes place in Hong Kong, and has sort of a forbidden romance element to it. Yet the execution of the plot didn't work well for me personally as a reader. For one, I am not a fan of books/movies/video games that take place only over a single day or two. They tend to feel rushes and underdeveloped to me (but that's just my personal opinion!) so usually aren't my favorite. Secondly, this book had a huge helping of insta-love that I could just not get on board with (and even if the romance hadn't been rushed, I just really didn't like the love interest and felt like he was pretty scummy despite his "redemption" in the end). While it was a cute story overall, I just really didn't feel a burning desire to pick it up between breaks and didn't feel as connected to the characters as I have with the author's characters from other novels.
What I did enjoy, however, was learning about protagonist Lucky's rise and journey in the K-pop world. I can't speak to how accurate her path is, but it was fascinating to see how the system worked with the auditions, camps, and selection of what teens would become the next big K-pop star (now a book about characters competing to be the next K-pop star sounds interesting). It was also interesting to learn about the different standards K-pop stars are held to by their labels and management compared to US celebrities, as their image must be squeaky clean and meanwhile over here in the US a lot of stars seem to take the "there is no such thing as bad publicity" saying a bit too literally. I also loved the brief interactions we saw between Lucky and her family, especially her sister who just treated her like her annoying older sibling (stars, they're just like us!) I wish I could have a version of this book that was just about Lucky and her life and completely forego Jack's character (also, did anyone just continually think of the Britney Spears song "Lucky" every time her name was mentioned?)
Overall: The premise of Somewhere Only We Know seemed cute, but the plot was a bit lackluster and the romance didn't convince me. If you want to read a Maurene Goo novel, I definitely recommend The Way You Make Me Feel or I Believe in a Thing Called Love over this one.
Related Posts