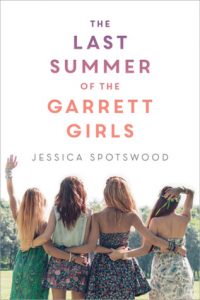 The Last Summer of the Garrett Girls
by
Jessica Spotswood
Published by
Sourcebooks Fire
on June 5, 2018
Genres:
Contemporary
,
Young Adult
Pages:
320 •
Format:
E-ARC
•
Source:
NetGalley
Goodreads
One summer will challenge everything the Garrett sisters thought they knew about themselves—and each other.

Kat lands the lead in the community theater's summer play, but the drama spills offstage when her ex and his new girlfriend are cast too. Can she get revenge by staging a new romance of her own?

Bea and her boyfriend are heading off to college together in the fall, just like they planned when they started dating. But Bea isn't sure she wants the same things as when she was thirteen…

Vi has a crush on the girl next door. It makes her happy and nervous, but Cece has a boyfriend…so it's not like her feelings could ever be reciprocated, right?

As the oldest, Des shoulders a lot of responsibility for her family and their independent bookstore. Except it's hard to dream big when she's so busy taking care of everyone else.
The Last Summer of the Garrett Girls is pretty much exactly what it looks like from the cover- a cute, summery coming of age novel in the vein of sisterhood of the traveling pants or a Sarah Dessen novel. Split across 4 narratives for the 4 Garret sisters, each protagonist is dealing with some major life changes as they navigate the last summer that they're all together before one of them leaves home for college. Though a bit predictable and not especially memorable among the many, many YA novels with similar concepts, I did appreciate the feminist narrative voice that Jessica Spotswood brought to the story.
What I Enjoyed:
The girls are named after Shakespeare characters
There is a lot of representation and diversity, including sexuality, gender roles, cultural diversity, etc.
The cutest cat cafe ever is featured (and I loved Bea's ideas for renovating it and building up its social media presence)
The four narrative voices were distinct
There was a good blend of romance and non-romance focused plots (and Vi and her love interest were just the cutest)
So much feminism without it feeling heavy handed or like "THIS IS A BOOK ABOUT FEMINISM." It just featured four girls who grew up in a very forward thinking family and bring those ideals into their every day life.
Features a strong and prominent grandparent!
What I Was Less Than Impressed With:
Predictability: There were a LOT of plots where the outcome was pretty predictable, especially with Bea and Kat.
Lack of Communication: A lot of the drama can also be attributed to a character not telling another character something (usually because they were procrastinating on a confrontation) that made things drag along at times.
Des- I think at times I grew realistically frustrated with all of the characters, but Des really irked me as a reader. While I felt sorry for her being the "Cinderella" of the family, she had this combination of being a victim and self-righteous at the same time, and her blind loyalty to a newcomer to town over her own family was pretty frustrating.
Overall: The Last Summer of the Garrett Girls is definitely cute and summery, with the added bonus of a lot of diversity, feminism, and representation being included. However, I felt like I didn't really connect with any of the characters and the story lines didn't feel very original. While this one wasn't my favorite read of the summer, I am definitely curious to continue to try novels by Jessica Spotswood as I love the feminism and diversity she incorporated in this one!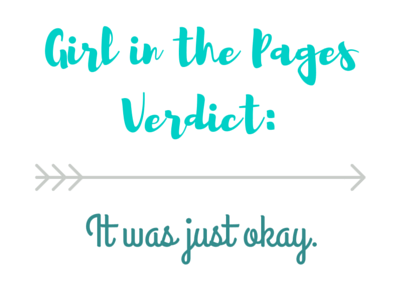 Related Posts