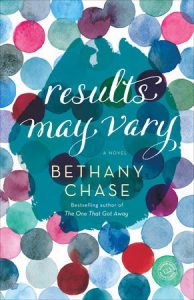 Results May Vary
by
Bethany Chase
Published by
Ballantine Books
on August 9th 2016
Genres:
Adult Fiction
,
Contemporary
,
Family & Relationships
,
Marriage
Pages:
336 •
Format:
E-Book
•
Source:
Overdrive
Goodreads
She never saw it coming. Without even a shiver of suspicion to warn her, Caroline Hammond discovers that her husband is having an affair with a man—a revelation that forces her to question their entire history together, from their early days as high school sweethearts through their ten years as a happily married couple. In her now upside-down world, Caroline begins envisioning her life without the relationship that has defined it: the loneliness of being an "I" instead of a "we"; the rekindled yet tenuous closeness with her younger sister; and the unexpected—and potentially disastrous—attraction she can't get off her mind. Caroline always thought she knew her own love story, but as her husband's other secrets emerge, she must decide whether that story's ending will mean forgiving the man she's loved for half her life, or facing her future without him.
Perhaps I'm biased because I began my 2018 Hawaiian vacation with Results May Vary, but I immensely enjoyed my first Bethany Chase novel! Lauren had encouraged me to read it, stating that her books are like Taylor Jenkins Reid "light" (whom I love), and I'm finding myself more and more in the mood for adult fiction lately, so I figured, why not? I quickly devoured most of the book on the plane ride to Honolulu and promptly finished the rest on the beach, because I could not put down the story of Caroline and Adam.
First and foremost, I found this story relateable in so many ways. While I luckily have not been cheated on, I have been with my significant other since high school, and Chase was able to pick up on the nuances of knowing someone for so long and so deeply so well. There's a comfort there, an incredulous mindset when you even THINK of marrying or being with someone that you've only known a few years (ha! How well can you actually know them? I think to myself…) It's like being part of a very, very selective club- and then she blows that up when shocking revelations about Caroline and Adam's marriage comes to life. It's all very well done and complex and definitely not black and white and it's the messy beach read I wanted to lose myself in while on vacation.
I also loved Caroline as a protagonist. She's pretty Type A and responsible and loves living out in the suburbs/country as opposed to the city and relentlessly pursues her career (raising my hand over here because I strongly identify with that). However she's not cold or unreachable and her emotions volleyed back and forth throughout the story which was realistic and comforting- to know that there's multiple sides to consider and stages to go through when a marriage falls apart. I also loved that her relationship with her sister and male best friend were also given huge importance in a story that primarily revolves around marriage. It made the story feel extremely well rounded.
I was also intrigued by the way this book explored sexuality without pigeonholing the characters and how they defined themselves and who they were attracted to. Yes, Caroline's husband had an affair with a man and bitter and cruel thoughts often cross her mind, especially in the beginning. However, over the course of the story, Caroline works through trying to understand Adam's sexuality, and realistically struggles with it at times, while still striving to ultimately be understanding. Adam, on the other hand, is not portrayed as the stereotypical husband who is closeted and never really loved his wife- on the contrary, it's emphasized that his feelings for Caroline were genuine, and really drives home the idea that attraction doesn't have to be tied or limited to one gender.
Overall: I flew through Results May Vary and Bethany Chase has become a quick favorite among adult contemporary authors for me. The story was engaging and while I wish it had been longer, honestly, I liked the unexpected resolution at the end.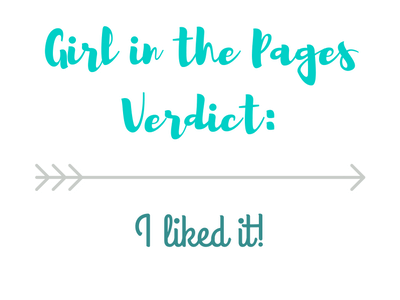 Related Posts