I received this book for free in exchange for an honest review. This does not affect my opinion of the book or the content of my review.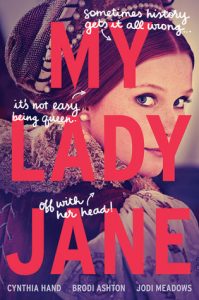 My Lady Jane
by
Cynthia Hand
,
Brodi Ashton
,
Jodi Meadows
Also by this author:
The Afterlife of Holly Chase
Published by
HarperTeen
on June 7th 2016
Pages:
512 •
Goodreads

Edward (long live the king) is the King of England. He's also dying, which is inconvenient, as he's only sixteen and he'd much rather be planning for his first kiss than considering who will inherit his crown…
Jane (reads too many books) is Edward's cousin, and far more interested in books than romance. Unfortunately for Jane, Edward has arranged to marry her off to secure the line of succession. And there's something a little odd about her intended…
Gifford (call him G) is a horse. That is, he's an Eðian (eth-y-un, for the uninitiated). Every day at dawn he becomes a noble chestnut steed—but then he wakes at dusk with a mouthful of hay. It's all very undignified.
The plot thickens as Edward, Jane, and G are drawn into a dangerous conspiracy. With the fate of the kingdom at stake, our heroes will have to engage in some conspiring of their own. But can they pull off their plan before it's off with their heads?
Well. That certainly was NOT what I was expecting.
I am a huge Tudor history buff, and I used to read about them like nobody's business (Philippa Gregory was a high school staple for me). So when the lovely ladies at the EpicReads tent at YALLWest were hosting a signing for My Lady Jane ARCs, I was like I absolutely need one. While this novel is quite unlike any other historical fiction book that I've read, it's uniqueness is not one that I'll ever forget. While at times it's absurdity became a bit much for me, I'm thrilled that it's bringing historical fiction back into the spotlight (can we just agree to make historical fiction the next big thing in YA? Please?)
Top Takeaways from My Lady Jane
Historical fiction can be as creative as you want
I thought I'd know the inevitable ending to this book *historical spoiler alert…Jane died IRL* and while it really, completely deviated from history in its second half, it was pretty fun to see the authors choose a whole new fate for many of the characters, while still keeping the overall happenings somewhat consistent with history (such as who eventually ends up on the throne).
Non-fiction bookworms can be just as passionate
Jane is a HUGE bibliophile, but she is addicted to non-fiction books. Books about religion, animals, policy, history…she's read them all. And has the most random wealth of knowledge because of it. Jane also seemed like a genuine book lover, and it literally came second to everything else in life for her. It was a true part of her essence, rather than a shallow character element to make her more relatable to readers.
Multiple POVs CAN work
Told from the perspectives of Jane, King Edward, and Jane's husband Gifford, the POV switches had distinct voices but all had the same overall feel, which made the narrative feel cohesive rather than disjointed.
The art of the metaphor is alive and well
A major plot point in this novel is the rising tension between the Edians (humans who can turn into animals) and the Verities (humans who cannot and believe turning into animals is wrong). While it sounds (and is) absurd, I loved how this entire concept was a play on the Catholic/Anglican split in England at the time thanks to King Henry's multiple marriages. The authors managed to circumvent explicitly bringing in religion itself, but still portray how it divided the country.
The fourth wall is meant to be broken
Oftentimes throughout the novel the narrators will address the reader directly with hilarious asides and historical annotations (namely about how they are going to entirely rewrite history). Again, it sounds bizarre but it really works. This sort of book could really set off an entirely new genre of its own.
Research, however, was not thrown out the window
While admittedly this book takes great, giant liberties with Tudor history, it's apparent that the authors did do their research at least before making such dire changes. I've been to many of the sites in London that appear in the book, especially the Tower of London, and they do a great job bringing the details of those settings through, and I could perfectly picture where the characters were!
Don't take history, or yourself, too seriously.
This is perhaps the key to reading this book. Only if you let go of the notion of how things SHOULD go can you really enjoy it.
Save
Reading this book contributed to these challenges:
Related Posts