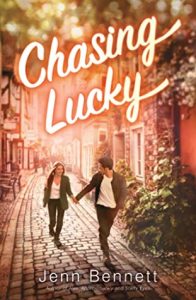 Chasing Lucky
by
Jenn Bennett
Also by this author:
Alex, Approximately
,
Starry Eyes
Published by
Simon Pulse
on November 10, 2020
Pages:
432 •
Format:
E-Book
•
Source:
Overdrive
Goodreads
Budding photographer Josie Saint-Martin has spent half her life with her single mother, moving from city to city. When they return to her historical New England hometown years later to run the family bookstore, Josie knows it's not forever. Her dreams are on the opposite coast, and she has a plan to get there.

What she doesn't plan for is a run-in with the town bad boy, Lucky Karras. Outsider, rebel…and her former childhood best friend. Lucky makes it clear he wants nothing to do with the newly returned Josie. But everything changes after a disastrous pool party, and a poorly executed act of revenge lands Josie in some big-time trouble—with Lucky unexpectedly taking the blame.

Determined to understand why Lucky was so quick to cover for her, Josie discovers that both of them have changed, and that the good boy she once knew now has a dark sense of humor and a smile that makes her heart race. And maybe, just maybe, he's not quite the brooding bad boy everyone thinks he is…
I was a little nervous going into Chasing Lucky, because I've had mixed luck with Jenn Bennet books. I adored Starry Eyes but never even got around to finishing Serious Moonlight, and I didn't know where Chasing Lucky would end up on the spectrum of enjoyment for me. Luckily (pun intended), Chasing Lucky proved to be an enjoyable read for me, falling right under Starry Eyes in my ranking of Jenn Bennet books.
Chasing Lucky follows protagonist Josie who is returning to her hometown after being gone for several years moving all over the east coast with her mom. She's confronted with her old best friend who is now much older, much more attractive, and much more mysterious, and despite her best intentions she's continually drawn to him. Intermixed with the romance elements are some plot points that feel teasingly paranormal, from the curse of the Saint-Martins to a potential portal to hell. I found these  these town superstitions interesting, especially how they played into the larger narrative of generations of strong females who have rumors and stories stuck to them to make them seem less capable and resilient than they actually are. There's so much girl power here, even despite the town's best attempts to shame or belittle the Saint-Martin family.
I also loved Lucky's large, boisterous family that was such a contrast to the Saint-Martins, and how they all rally around their own when hardship falls. It was so refreshing to see a male teenage protagonist so unapologetically close with his family,  and I wanted to be right there alongside him and Josie at Sunday night BBQ dinners in their big backyard. Lucky himself was such a charming love interest, a hard, moody exterior with a cinnamon role center- totally my ideal love interest back when I was a teenager!
Overall: Chasing Lucky has so many wins for me: seaside setting, small town with a dark underbelly, a family with generations of strong women, and an angsty romance. It's definitely one of the best YA contemporary romances I've read and Josie and Lucky are an excellent couple!
---
I received this book for free in exchange for an honest review. This does not affect my opinion of the book or the content of my review.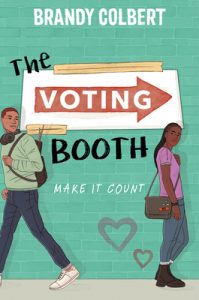 The Voting Booth by Brandy Colbert
Also by this author: Summer Days & Summer Nights: Twelve Love Stories, Finding Yvonne
on July 7, 2020
Genres: Young Adult, Contemporary
Pages: 293 •Format: Hardcover •Source: Publisher
Goodreads

Marva Sheridan was born ready for this day. She's always been driven to make a difference in the world, and what better way than to vote in her first election?
Duke Crenshaw is so done with this election. He just wants to get voting over with so he can prepare for his band's first paying gig tonight. Only problem? Duke can't vote.

When Marva sees Duke turned away from their polling place, she takes it upon herself to make sure his vote is counted. She hasn't spent months doorbelling and registering voters just to see someone denied their right. And that's how their whirlwind day begins, rushing from precinct to precinct, cutting school, waiting in endless lines, turned away time and again, trying to do one simple thing: vote. They may have started out as strangers, but as Duke and Marva team up to beat a rigged system (and find Marva's missing cat), it's clear that there's more to their connection than a shared mission for democracy.

Romantic and triumphant, The Voting Booth is proof that you can't sit around waiting for the world to change, but some things are just meant to be.
The Voting Booth is an extremely timely novel in the year 2020, as this book is all about the importance of voting, getting readers genuinely excited to vote, and showcasing how voting impacts different people in different ways. The story melds so many issues- race, class, social justice, activism fatigue, etc. and succinctly tackles them over the course of the novel that primarily takes place over the course of just one day.
The Voting Booth follows teens Marva and Duke on election day in the United States when they meet at a voting location when Marva has just voted and Duke is facing a registration issue that prevents him from being able to vote. Marva, a passionate voting rights activist, takes Duke under his wing and they spend the day together trying to sort out the mix-up so Duke can cast his vote before the polls close.
What I loved about this story is that it really shows the importance (and struggle) of just one vote. Sure, Duke's vote may or may not change the outcome of the election in the grand scheme of things, but his situation is representative of obstacles that keep so many people from voting in the first place, and the hoops he has to jump through are an enlightening look at how overly complex the voting registration process can be for someone, especially a younger first time voter. I also really appreciated how over the course of the day as Duke and Marva get to know each other, we get to know each of them and their relationship with politics, social justice, and voting and the reasons behind them. There's definitely different levels of passion and personal reasons driving their own desires to vote, but they both eventually end up being able to listen and grow from each other's POVs.
Overall: I think this book is a fantastic read for high school and college aged readers, and would definitely have gotten me even more fired up to vote than I already was at that age. I am not the biggest fan of books set over the course of one day (just a personal preference) and wish there had been even more of an emphasis on the voting/election bits rather than some of the subplots, but ultimately I enjoyed this book and applaud the author for writing such an educational and passionate story at such an important time.
Related Posts