I received this book for free in exchange for an honest review. This does not affect my opinion of the book or the content of my review.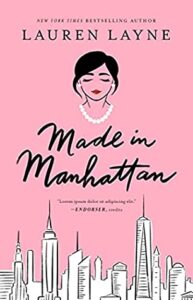 Made in Manhattan
by
Lauren Layne
Published by
Gallery Books
on January 18, 2022
Genres:
Romance
Pages:
297 •
Format:
E-Book
•
Source:
Overdrive
Goodreads
Violet Townsend has always been a people pleaser. Raised in the privileged world of Upper East Side Manhattan, she always says the right things, wears the right clothes, and never rocks the boat. Violet would do anything for the people closest to her, especially her beloved grandmother. So when she asks Violet to teach the newly-discovered grandson of her friend how to fit in with New York City's elite, Violet immediately agrees. Her goal? To get Cain Stone ready to take his place as heir to his family company…but to say he's not exactly an eager student is an understatement.

Born and raised in rural Louisiana and now making his own way in New Orleans, Cain Stone is only playing along for the paycheck at the end. He has no use for the grandmother he didn't know existed and no patience for the uppity Violet's attempts to turn him into a suit-wearing, museum-attending gentleman.

But somewhere amidst antagonistic dinner parties and tortured tux fittings, Cain and Violet come to a begrudging understanding—and the uptight Violet realizes she's not the only one doing the teaching. As she and Cain begin to find mutual respect for one another (and maybe even something more), Violet learns that blindly following society's rules doesn't lead to happiness…and that sometimes the best things in life come from the most unexpected places.
I'll admit, the cute cover of this novel was what drew me to it on NetGalley. Coupled with the Gossip Girl-esque setting (which is my forever reference point for books set in bougie New York society, sorry but that's what being a teen in the early aughts will do to you) I decided to request on a whim and hope for the best. I was pleased to discover that Made in Manhattan is a super cute, fun romance that was honestly just what I needed after struggling with an urban fantasy book that I eventually DNF'd.
Made in Manhattan follows protagonist Violet, who is the perfect Upper East Side young lady with a large trust fund and a tragic backstory. Being orphaned from all of her family, she's especially close with her late grandmother's best friend who ropes her into assisting with bringing her long-lost grandson up to scratch for New York society so he can hopefully take over her company one day.
Is it a predictable premise? Absolutely. It's actually described as a spin on My Fair Lady and is honestly the perfect premise for a predictable romance: gruff, ruggedly, handsome, working class dude from New Orleans has to be trained in eloquence by a UES, repressive, no-nonsense princess. You're not getting any surprises from this story, but it's still very fun and enjoyable to read! I loved the enemies to lovers premise, the gradual acknowledgement from both Violet and Cain that there are things about each others' lives and upbringings that they can appreciate, and just how easy and satisfying of a read this is! I also really appreciated that the author didn't write Violet to be unlikable even before she changes a bit as a result of Cain's influence. She's certainly wealthy and reserved, but she's caring, polite, and does her best to make others feel comfortable. I appreciated that she's wasn't your stereotypically snobby or aloof UES character (although she worries she is, however her self-awareness is precisely what makes her more approachable and likable).
Is it my favorite romance? No, but I still think it's an easy and fun story that delivers on fun banter and a HEA, with a cute epilogue to wrap everything up in a neat bow!
Overall: This was my first Lauren Layne book, but it certainly won't be my last! Her books certainly scratch the old Gossip Girl itch but in a cuter, kinder way that's just fun and relaxing to read!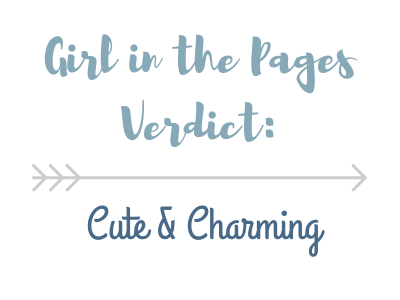 Related Posts