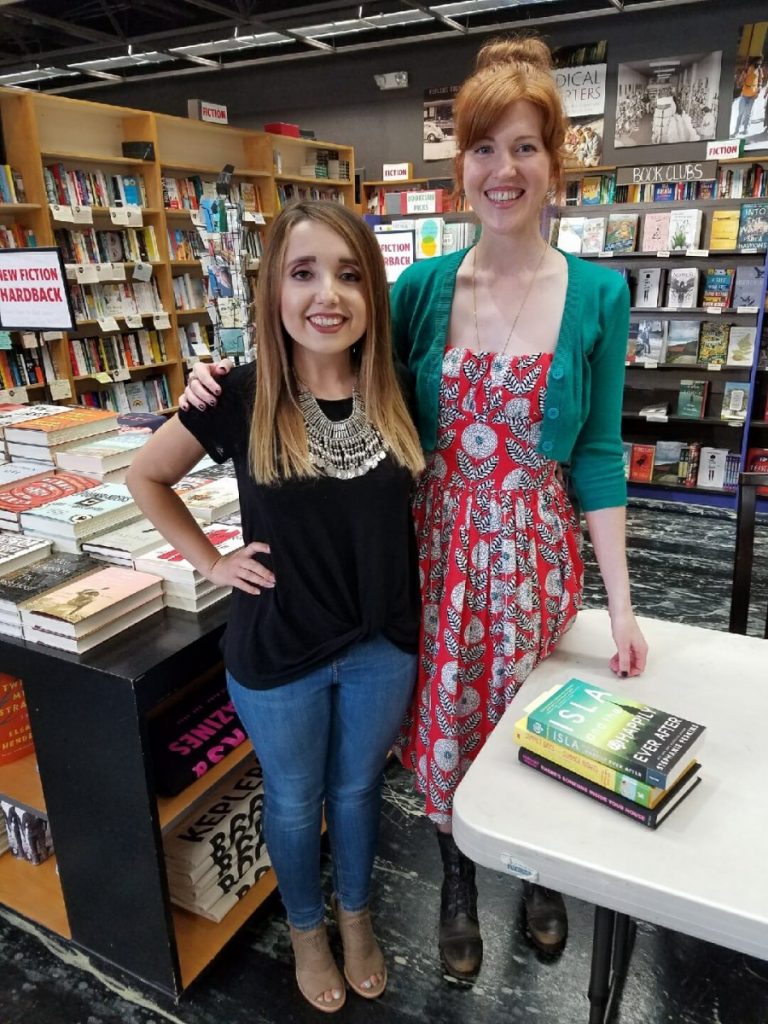 What a better way to end the first month of fall than talking slasher films with one of the best YA romance writers out there? Nothing, that's what, and I did just that at the end of September by attending Stephanie Perkin's There's Someone Inside Your House tour stop at Kepler's! I met Stephanie at the first year of YallWest (she was one of my top priority authors to meet!) and I was thrilled to hear she was coming out west a few years later to promote her new book. Though Stephanie's known for her Anna companion series, don't let the hot pink fool you- from hearing her speak, I think There's Someone Inside Your House may indicate a true calling for writing YA horror!
Stephanie was in conversation with Nina LaCour, a Bay Area author who's moderated several of Stephanie's California appearances.
Fun Facts and Interesting Insights from Stephanie
Stephanie and Nina were on tour together (Stephanie for Lola) when Stephanie was becoming known among readers as very "sweet." The more she became known as one singular thing, the more she wanted to rebel and try something different.
Stephanie started consuming a lot of dark content (thrillers, horror, true crime podcasts, etc.) while she was writing and promoting the Anna series because she wanted to read the opposite of the type of material that she was writing and promoting at the time.
Stephanie noted that most of YA horror is psychological, but there is a lack of cheesy, B-level slashers in the genre, which Stephanie wanted to read but was having trouble finding. A friend recommended that she write one herself.
Stephanie wanted There's Someone Inside Your House to feel like the Scream films felt.
Stephanie had to prep her agent before she finally revealed what she was writing. She wasn't sure if she'd get the chance to write something like this again so she put in every horror trope she could (even a haunted corn maze! This book is really all about corn).
Speaking of corn- Stephanie finds "daytime horror" to be much scarier than nighttime horror. The corn maze or corn field is an embodiment of this, because it doesn't matter if its broad daylight, if you are stuck in one and scream, no one is going to hear you.
She also acknowledged the Cell Phone Problem. Namely, that cell phone destroy thrillers because they make it so easy to solve any problem. Stehpanie literally went to the Verizon website and looked up the coverage map (the ones you see in the Verizon commercials) to choose her location setting to ensure it was somewhere with bad cell service.
Prior to becoming a published author, Stephanie was a librarian and bookseller for years and would always pride herself on finding a book that would change someone's mind about a genre (if you hated fantasy, she'd find you a fantasy book you liked, etc.). However, horror is the one genre that she wouldn't push on people, because you never know what someone's been through or what trauma they've endured.
Scream was Stephanie's first horror film (hey, mine too!) and she loves it because it takes a genre that's very maligned and empowered women and was very meta and funny and made you care about the characters, all while really speaking to the genre.
Stehpanie grew up with a low tolerance for scary things and horror, so she takes watching horror films as a personal challenge, and feels as though she's empowering herself when she watches them.
There's Someone Inside Your House was the first book where Stephanie had to start with the plot rather than with the characters. Her other books aren't about the WHY but the HOW (how are the characters going to get romantically involved?). Developing the plot first wasn't her strenth, and she was really struggling with it. She was at a dinner with some authors who were very good with plot and Leigh Bardugo gave her the idea of using the theme of shame. She realized that the theme of shame is used a lot across the horror genre, especially with Stephen King novels, and decided to run with it.
Stephanie also spent some time talking about the cover design, which she loves. Her publisher hired someone from the UK who has done TIME Magazine covers and Nike ads to create the cover, and he actually built a miniature staircase and projected the title onto it- the cover design is actually a photograph! They wanted to keep the cover true to Stephanie but also didn't want to trick anyone into thinking There's Someone Inside Your House is a sweet, fluffy book. To accomplish this balance, they took they took the cover from the Anna and the French Kiss and inverted some of the elements, from turning the pink up and using a bolder version of the font. I also couldn't resist picking up this Kepler's tote bag, which pretty much matches the cover of There's Someone Inside Your House perfectly!
Related Posts