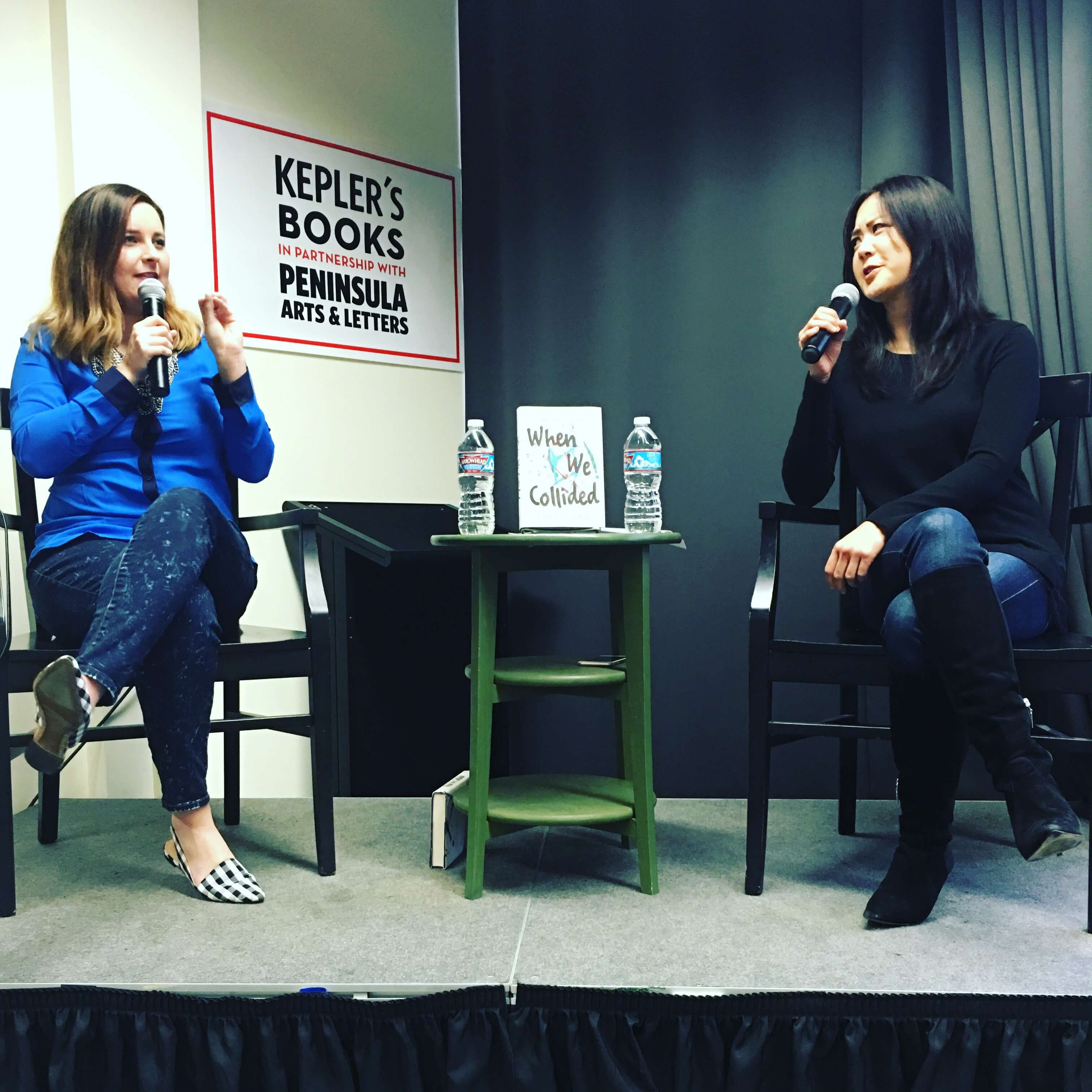 While living on the West Coast often doesn't afford as many opportunities for author signings and bookish events as other parts of the country, I've been lucky enough to seek out a fair few since I started blogging. When I do hear of an opportunity to meet a young adult author, I jump at the chance and Max and I excitedly plan a whole day or afternoon around the experience. This past weekend was one of those marvelous instances. My favorite indie bookstore, Kepler's, hosts a large variety of author signings, and I was lucky enough to see Emery Lord stop by and speak about her newest novel, When We Collided. As I had just recently finished the book and posted my review, it was perfect timing, and I arrived with both books ready to be signed and questions (particularly about Jonah) ready to be asked. As expected, seeing Emery Lord was a wonderful experience that did not disappoint.
Before heading to the event, Max and I stopped and indulged in our favorite pre-Kepler's treat, Sprinkles cupcakes. I had just found out about their new loyalty rewards program, and by signing up received a free cupcake so naturally that meant we had to order a half dozen (Max's favorite was the banana, I fell in love with the Salty Caramel). After picking up our Friday treat, we headed to Kepler's and were thrilled to discover that we were the first ones to arrive to the signing (about an hour and fifteen minutes early- I was determined to be extra early after how busy the Alex Bracken and Susan Dennard signing was). We snagged the most front and center seats available, and proceeded to read, browse, and chat with the wonderful and enthusiastic staff until the signing started.
Not only did we have the chance to see Emery Lord, but she was being interviewed by Evelyn Skye, debut author of the upcoming The Crown's Game. I already have Evelyn's book pre-ordered, so it was a treat to get to see her in person as well as I await her novel to be delivered to me next month. I wasn't sure what to expect from Emery, seeing as I haven't had the opportunity to hear her speak before, and the number one thing I have to say is that she is totally and completely hilarious. Grab-your-belly-laugh-out-loud funny. ("Taylor Swift is the ultimate Slytherin" was the best quote of the night, to give you an example). Her humor aside, it was fascinating to hear her speak about how she approached writing a book that focused on mental illness, and how she wanted to speak the language of the disorder and include elements that might've been hard to read or write in order to be truthful to the experience of having, or being close to someone who has, View Spoiler »bipolar disorder « Hide Spoiler. When I asked Emery if she ever felt constrained by the limitations of writing in the Young Adult genre she said she doesn't hold back when writing YA because she trusts her readers to be able to read about tough or hard or reckless situations and identify right and wrong themselves, rather than being an author who feels the need to spell out the moral of the story (a fact which I immensely respect).
Emery's signing was an enlightening and intimate event that I'm really glad I got to experience and add to the list of authors who I've been lucky enough to meet. Her team was so friendly and happy to chat, and she was very welcoming and excited for reader questions and taking her time with the signing line. When We Collided was actually the first book I've read by her, and I'm currently in the process of The Start of You and Me, and it's incredible to see the growth between her novels. I can't wait to see what her next release will bring to the contemporary YA genre!
Have you had the chance to see Emery Lord speak? How did When We Collided stack up for you? Who are some authors coming to your area that you're excited to see next (I have some VERY exciting ones I'm seeing in May!) Let me know in the comments!
Save
Related Posts