Sunday Funday is a weekly(ish) post I've started to recap the bookish (and sometimes not-so-bookish) happenings in my life the past week! Feel free to participate, just link back!
June 8-14, 2015
Life
This week has been exhausting, adjusting to a new full time work schedule and balancing blogging, reading, and other life commitments. BUT there was a light at the end of the tunnel, as on Saturday I attended the Scholastic Warehouse Book Sale! I did an in-depth post of it last year, but essentially it's when Scholastic opens their warehouses to teachers and educators to come in and buy their overstock books at deep discounts. My aunt is a teacher and gets invited every year, and she's wonderful enough to take me! The books available are mainly paperback and backlist books, and it's a great time for me to add books to my shelves that I haven't gotten around to but have always wanted to read/own!
Books
You alrady saw my book haul above, and this week I also received Just Listen in the mail and reread it. (Oh how I love a good Sarah Dessen book in the summer!) I'm proud that I managed to at least read one full book this week while working, and today I started The Royal We since I'm on a contemporary kick, and wanted to mix things up with some adult fiction. I'm loving it so far, especially since it takes place (in the beginning) in Oxford which I spent an entire day in when I went abroad last winter, so I've been to a lot of the places the characters go (always a cool sensation)!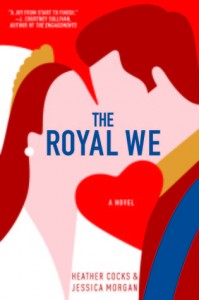 I'll also be starting Even in Paradise this week for my June Book Buddy read with Lauren @ Bookmarklit! I'm thrilled because I hear it's very Gatsy-ish (I love Gatsby).
Blog
What Happened Here This Week:
Tuesday: Top Ten July-Dec 2015 Reads I'm Excited For
Wednesday: I'm torn about my feelings for End of Days.
Friday: Sarah Dessen's new novel Saint Anything doesn't disappoint.
Posts I Liked This Week:
Olivia @Brewing Up Books shares her hilarious (and accurate) flowchart for selecting books.
Anjie @ Love Thy Shelf loves A Court of Thorns and Roses.
Becky @ Blogs of a Bookaholic gives her blog a new look!
Related Posts