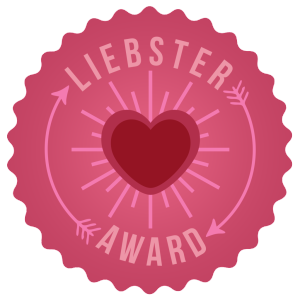 I'm so honored to be nominated a THIRD time for the Liebster Award by the lovely bloggers at Senseless Scrutiny, Brewing Up Books, Elementaread! Be sure to head over and check out there blogs for more wonderful features and reviews on all things YA!
The Rules
Add the Liebster Award logo into your blog post (and blog if you wish), which announces your nomination.
Answer the questions given and then come up with 10 new ones to ask your nominations.
 Nominate (at least) 8 other blogs, let them know that they have been nominated, and link to them in your own announcement.
In your blog post, tag/link the person who nominated you.
Try to tag people who have not yet been tagged
Since I've already done this award twice I'm going to skip on nominating others (especially for the sake of being repetitive) but I wanted to acknowledge the generous bloggers who nominated me and will be picking my favorite questions from them to answer!
Questions
From Sarah & Olivia @ Brewing Up Books: (You ladies ask some really fantastic -and hard- questions!
What is your favorite book cover you've seen to date?
This is such an impossibly hard question! As of this moment in time, I would have to choose the Stephanie Perkins novels because I LOVE the ombré color effect (and I love when novels by the same author have corresponding covers even if they're not in the same series, like with Jennifer E. Smith's books!)
I need more books with covers like this! I need blue and purple ones!
What do you typically include in a book review?
Cover photo, publication info, my personal star rating, summary from Goodreads, my favorite quote, the body of my review (I touch on everything from themes, settings, characters, plot, etc but don't divide it up into specific categories…I just sort of talk about what interests me about the book rather than be stuck with a certain template) and then I end with an overall verdict of how I felt about the book!
Hardbacks or Paperbacks?
Paperbacks as long as they're nice paperbacks with nice feeling pages (as opposed to mass-market paperbacks with the thin pages, tiny font and small page size).
How often do you borrow books from the library?
I usually end up there about once a week, and while half the time I go in with the intention of ONLY RETURNING BOOKS something inevitably catches my eye and I end up going home with it. I try to limit myself to only have 3-4 books checked out at a time so I'm not overwhelmed (and I'm also currently trying to give more attention to the books I own).
When do you typically read during the day?
Sometimes, if I'm not too busy, I'll read for a little while after waking up (usually while I'm still in bed). I read a lot in small chunks throughout the day (at meals, when waiting for someone, etc) and I'll reward myself with reading after work or studying or whatever I've done during the day, giving myself an hour or so to read before dinner (around 5 or 6pm). I don't read as much before bed because nighttime is usually when I blog!
From Elementaread:
What's your favorite thing to eat?
This is SO HARD because I LOVE food. One of my favorite activities to do with my boyfriend is cook and try new recipes! I am a BIG pasta girl, and am something of a pommes frites connoisseur (I am forever on the quest for the perfect french fries!) For desserts I'm big on anything ice cream/chocolate, though lately I've been having a love affair with apple pie.
Do you have an odd or surprising hobby?
I used to be really into vocal performance and spent a long time thinking that was what I was going to do with my life. My main hobby now besides reading and blogging is probably makeup (I often say if I wasn't a book blogger I'd be a beauty blogger). I love to collect it and teach myself new techniques and looks. My favorite brands include MAC, Urban Decay, Benefit and Nars.
Are there any tv shows you're addicted to, current or past?
GOSSIP GIRL. (It went downhill after season 2, admittedly, but before that it was PERFECTION). I'm really enjoying Reign, as well as Pretty Little Liars, and my entire family is OBSESSED with Revenge. (Although I'm not caught up on any of these shows currently because I mainly watch them through Netflix!) I'm also a huge Food Network fan and my favorite shows include Chopped, Food Truck Face Off, and anything with Duff (he's hilarious). I grew up with Sailor Moon and it will always hold a special place in my heart.
Do you have a plan in the case of a zombie apocalypse?
I'm leaving this up to my boyfriend because 1) He's a bit of a resident expert on zombies and potential apocalypses due to them and 2) Zombies are not my thing when it comes to paranormal entertainment because they're gross and depressing (I saw I Am Legend and that was enough, I mean did the DOG really have to die?! I was traumatized enough by that).
If you could use only one makeup item, what would it be?
Liquid eyeliner!
Thanks again to the lovely bloggers that nominated me for this third round, it's such an honor to be thought of!
Related Posts