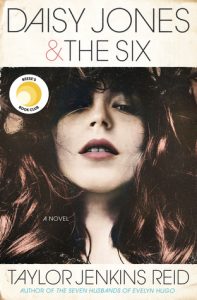 Daisy Jones & The Six
by
Taylor Jenkins Reid
Also by this author:
Maybe in Another Life
,
One True Loves
,
After I Do
,
The Seven Husbands of Evelyn Hugo
,
Forever, Interrupted
Published by
Ballantine Books
on March 5, 2019
Genres:
Adult Fiction
,
Historical Fiction
Pages:
368 •
Format:
Audio Book
•
Source:
Scribd
Goodreads

Everyone knows Daisy Jones & The Six, but nobody knows the reason behind their split at the absolute height of their popularity . . . until now.

Daisy is a girl coming of age in L.A. in the late sixties, sneaking into clubs on the Sunset Strip, sleeping with rock stars, and dreaming of singing at the Whisky a Go Go. The sex and drugs are thrilling, but it's the rock and roll she loves most. By the time she's twenty, her voice is getting noticed, and she has the kind of heedless beauty that makes people do crazy things.

Also getting noticed is The Six, a band led by the brooding Billy Dunne. On the eve of their first tour, his girlfriend Camila finds out she's pregnant, and with the pressure of impending fatherhood and fame, Billy goes a little wild on the road.

Daisy and Billy cross paths when a producer realizes that the key to supercharged success is to put the two together. What happens next will become the stuff of legend.

The making of that legend is chronicled in this riveting and unforgettable novel, written as an oral history of one of the biggest bands of the seventies. Taylor Jenkins Reid is a talented writer who takes her work to a new level with Daisy Jones & The Six, brilliantly capturing a place and time in an utterly distinctive voice.
I will be the first person to admit that I did NOT think that this book was going to work for me. Though I adored The Seven Husbands of Evelyn Hugo, I still miss the days when TJR wrote adult contemporary romance and 60s-70s rock isn't really an era I'm too familiar with (though I do love a good Fleetwood Mac song). I had heard from several reviewers that listening to this book was the way to go (which makes sense considering it's a book about music) but I was surprised to find that the format was literally in interviews (it really made it feel like a "Behind the Music" documentary type deal). While I was tempted to DNF at several points, I pushed through and WOW am I glad I did because the characters and their stories got under my skin much more than I expected them too.
First and foremost, the format is not going to be for everyone. The interview style is interesting, but I did find it hard to keep all of the male characters straight who weren't Billy and sometimes it just jumped back and forth between different characters too rapidly for me to keep up (or care about, honestly). Bright spots included Karen (who's a total badass) and Camila (also a badass, and probably the woman we all want to be because wow that lady knows how to get her way) but I honestly didn't like Daisy. She was an interesting character for sure, but she really wasn't the one I was there for and it started to frustrate me that everyone was so obsessed with her.
I was a little skeptical of how TJR was going to make me really FEEL the importance of the band and their music even though I wasn't listening to any of their songs since it's all fictional, but she somehow made me completely immersed in their fictional sound. Particularly with the album "Aurora," TJR had the characters describe the songwriting and recording process so, so well that I felt like I had heard the songs. I think a lot of readers will be lamenting that the album doesn't actually exist!
At the end of the day, what shocked me most is that at it's core, this story IS a love story. It's the love story of Billy and Camelia, rather than a story about Daisy- she just happened to be so instrumental to their lives and headlined the band that it was easy to get starstruck by her and miss the wider narrative. When it was revealed at the end who the interviewer/narrator of the text was I was SHOOK, but it made so much sense once I thought about it. TJR snuck a romance novel into our hands after all.
Overall: Daisy Jones & The Six is going to be a very, very devisive book for TJR fans. While eventually I was engrossed, it took me a long time to get to that point and a lot of the content just isn't really what I prefer to read. TJR seems to be exploring strong female characters in the entertainment industry via historical fiction with Evelyn and Daisy, and while they're amazing stories in their own ways I do think that many readers are going to be disappointed that she doesn't show signs of going back to her romance roots anytime soon. All in all a unique novel that I ultimately enjoyed but will not be for everyone.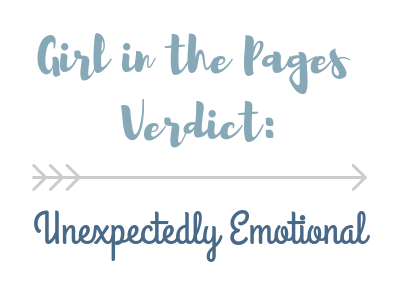 Related Posts