It's no secret that I read a LOT of YA. I did start out as a YA book blog, after all! While I do read adult fiction too, it's typically all in the romance genre, rather than the contemporary/literary fiction genre. Due to working remotely for the foreseeable future, my team at work has decided to start a virtual book club, and the general tastes of the books being suggested is definitely along the lines of contemporary adult fiction. In reading the synopsis of some of the suggested books, I realize I've definitely been out of the loop lately with titles in the general contemporary fiction genre of adult reads. I've decided that I want to begin adding in more adult fiction titles into my rotation to hopefully help diversify my reading tastes and not get too burnt out on YA and romance.
I will say I'm picky when it comes to adult novels. I don't like anything too heavy/depressing, and I love a good thriller or courtroom drama. I've rounded up 6 selections below that I've added to the top of my "adult TBR" that I hope I will enjoy!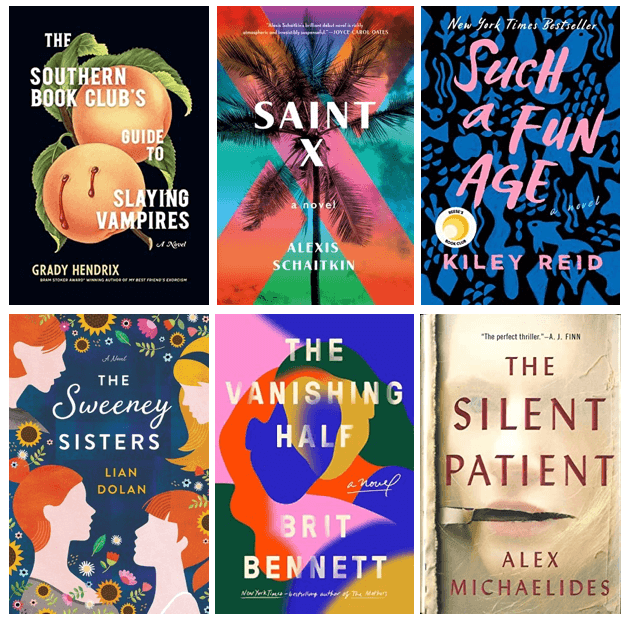 The Southern Book Club's Guide to Slaying Vampires | Honestly, this book just sounds like so much fun. As a reader who was a pre-teen during the Twilight-era I am always hoping for vampires to make a comeback in popular literature and this one seems like it's just cheeky and fun. Also, bonus points for it being set in the 90s!
Saint X | I love a good thriller and this one definitely seems to have a true crime/unsolved mystery element about it (I could totally see a podcast covering this type of case).
Such a Fun Age | This is honestly probably my most anticipated read on this list. The synopsis is quite brief which means there's probably a lot going on in this story and I'm glad that there's no hints of spoilers from the description, because I have a feeling it's going to be a very important read about racism, class, and privilege.
The Sweeney Sisters | I'm a sucker for any books set in a seaside town so I already know I'm going to love the setting of this one! Three sisters find out at their dad's wake that they have a half sister who they thought was just their neighbor, which is the perfect premise for some juicy family drama!
The Vanishing Half | I have been hearing about this book everywhere! I think it's going to be a very powerful and insightful read about identity, family, and society.
The Silent Patient | This ended up being my book club's first pick that we'll be reading this month and I have to say I've really slept on this title despite the intriguing synopsis because the cover is, well, not to my taste (I really feel like adult books sometimes don't get the captivating covers YA novels do!) I'm excited though that I was finally encouraged to read it as I love a good psychological thriller!
So there you have it, my tentative adult TBR for the rest of 2020! Have you read any of these books? If so, did you enjoy them? Do you have other adult fiction recommendations that would have crossover appeal for a mostly YA/romance reader? If so, please let me know in the comments!
Related Posts