After reading Lauren's post on January-June 2018 releases she's surprised she hasn't read yet, I knew I had to do my own! I specifically have a "2018 Releases" shelf on Goodreads that I use to keep track of my most anticipated new releases, and I was just scrolling through it to other day to see which ones I've missed so far. I'm including below the reads I was most excited for that I haven't gotten around to yet…ideally they will make it onto some upcoming TBR posts!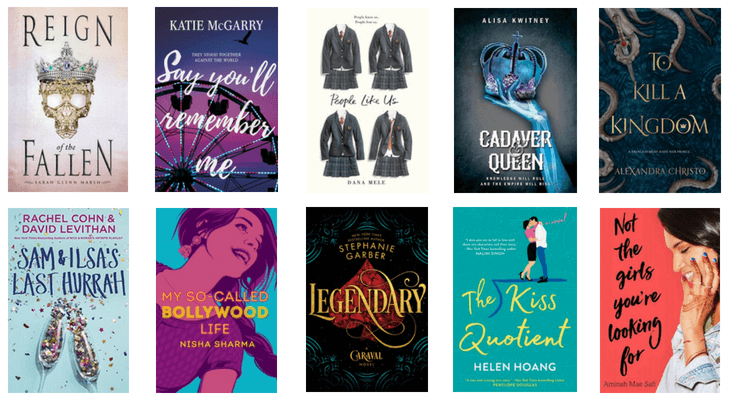 January-February Releases
Reign of the Fallen // Honestly I feel like I don't even really know what this book is about? I just LOVE the cover. Every time I see if I find it so striking, and the title is pretty cool too! Hopefully this one isn't just a case of cover-love.
Say You'll Remember Me // I heard a lot of great things from fellow bloggers about this one, and I actually have the audio downloaded on my phone via Scribd. I keep putting it off though in favor of Katie Cotugno books lol. I'm hoping to add it to my audio rotation soon.
People Like Us // So this one is my fault because I had requested and received a digital copy from the library and didn't get around to reading it before it expired, as I just had so many other books to get through at the time. I would like to re-request this one before the end of the year, though!
Cadaver & Queen // Total and complete cover love for this one too (I feel like a lot of the darker sounding books on my TBR came out in the winter, lol). This one is sort of a similar situation to Reign of the Fallen. I think I'll need a physical copy of this one for my shelves because it's so striking!
March-April Releases
To Kill a Kingdom // Since this one was written by a former blogger, I've seen it hyped EVERYWHERE around the blogosphere and I love the siren-y vibes I get from the cover. However, "sea" focused fantasies can be super hit or miss for me, especially if a lot of it takes place on a boat (I tend to get cabin fever from reading the limited setting). No idea how much "boat time" this one features, but I'm getting Little Mermaid vibes from the synopsis and am excited for it!
Sam & Ilsa's Last Hurrah // So I'll admit, high school based contemporaries have not really been my jam lately (I feel like I've kind of outgrown them?) but again I am sucked in by the cover of this one, and I think it's relatively short. I've seen this one on overdrive and will probably read more toward the end of the year, because for some reason the cover gives me total NYE vibes (even though it's not set during that time of year lol).
May-June
My So-Called Bollywood Life // I actually grabbed an ARC of this at YALLWest Prom, but haven't had a chance to read it yet. I've read a lot of excellent diverse books so far this year and so I'm really excited for this one and hoping to squeeze it in before the end of the summer since it's on the slimmer side!
Legendary // Haha, continuing my trend of pre-ordering books and not actually reading them for several months/years after the release date. You know we all do it, don't @ me.
The Kiss Quotient // I've seen EVERYONE talking about this adult romance the past few months online, and I'm definitely in the mood to read more adult romance during the rest of 2018 as I've recently gotten hooked thanks to reading my first Helena Hunting book. I'm hoping this one will fit that mold.
Not the Girls You're Looking For // Forever kicking myself that I missed getting an ARC of this one at the YALLWEST Fierce Friday preview night. The cover is just so gorgeous, and I hear the protagonist comes from a mixed family and I do appreciate stories that show protagonists navigating two different cultures.
Have you gotten to all of your most anticipated 2018 reads? What's one that you cannot believe you haven't gotten to yet? Let me know in the comments!
Related Posts