As much as I love reading and book blogging, I have a variety of interests outside of those hobbies that I love to chat about and share with others. I started Beyond the Books as a way to take a break from bookish content and feature some of my other favorite things!
---
I really owe this whole post to Kristin from Super Space Chick, because after stumbling upon her own yoga related blog post one day, I discovered Yoga with Adriene, the Youtube channel that I can safely say is changing my life.
After reading Kristin's post about how Adriene's videos have helped with back pain, I decided to give her videos a shot since I often suffer from lower back pain after running. Max and I did some of her super basic, entry level videos together as a refresher (we both took yoga in high school) and then I branched out and started doing more videos on my own. My hallelujah moment was a few weeks later, when after a particularly painful run left my back spasming, I did her video for lower back pain and it was a GAME CHANGER. 80% of my pain was gone, and I could walk again without wincing. I've now started doing that video before running to offset any back pain, and have noticed a significant difference.
As I've explored more of the videos available, I've found that yoga has benefited me in many more ways than just easing my back pain. I have a really sensitive stomach and her "Yoga for Your Guts" playlist has been helpful too, as it has different flows for digestion, detox, etc. which I've found all help me when I'm having a rough day with my stomach. I've also started doing the videos on her "Yoga for Weight Loss" playlist, and while I'm very sore afterwards (most of it is core/thigh/booty work), I feel like more body is growing stronger and changing. With videos that range from 15-60 minutes (and some even shorter/longer than that, the average of the ones I do probably being in the 20-20 minute range), I'm finding they're easy to fit into my schedule even when I'm having a particularly busy day, and the daily practice has given me the gift of checking in with myself more and just taking a break from the insane pace of life. After every video, whether a gentle routine or a vigorous one (seriously, some of them really make you sweat!) I feel so calm and accomplished, and I've found that I've even been sleeping a little bit better.
Favorites
While I feel like I've only just scratched the surface of her content, I've started a playlist of "Yoga with Adriene Favorites," videos I enjoyed or worked really well for me that I know I'll be returning to time and time again.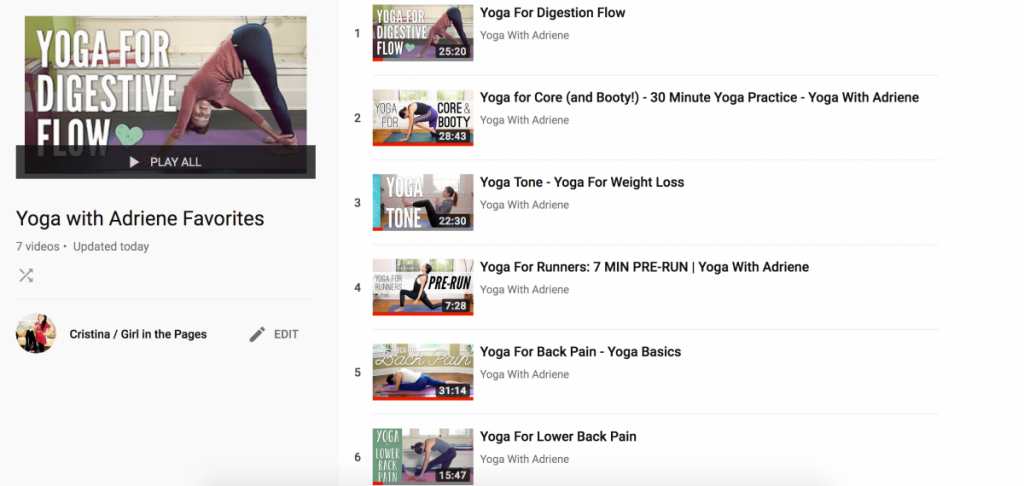 Digestion Flow- A really great one with movements to get your GI system moving, I like doing this one and/or the detox videos when my stomach is upset.
Core and Booty- I can only believe that this one does what it promises because I was SO SORE the next day (but in that wonderful way where you feel like you're making progress!)
Tone- This one had a lot of core work and introduced me to working a lot of abdominal muscles and movements that I feel like get ignored in day to day life.
7 Minute Pre-Run– I always struggle with stretching before running and am guilty of not stretching properly before I run (because I just want to get it over with) so this quick video is helpful for hitting all of the important pre-run areas.
Back Pain– These two videos (especially the back pain one) have become holy grail videos for me, whether it's doing them to relieve pain, or doing them when I'm not hurting to avoid pain.
Goals
I've found yoga to be such a beneficial and restorative addition to my life that I'm seriously considering even branching out from home practice and trying some in person classes (Core Power has come highly recommended), and I'd like to ensure I stick with yoga more religiously than I have other forms of exercise. I've created a few goals that I'd like to work toward the rest of this year:
Practice at home at least 3 days a week.
Complete all of the videos on the "Yoga for Weight Loss" playlist.
Complete a 30 day yoga challenge.
Purchase a yoga block to help with stretches.
Have you tried yoga before? Do you find it helpful/restorative wither physically, mentally, or both? What other forms of exercise have you tried that have made a huge impact on your overall quality of life? Let me know in the comments!
Related Posts