Ah, September. The first month of fall (although not really anymore because of the ongoing destruction of the environment it's now still upwards of 90 degrees out on the West Coast in September, but that is a conversation for another time). The PSL is back, my closet is stocked with heavy knit cardigans, and I'm anxiously awaiting temperatures to actually drop so I have an excuse to stay in and read. I've seen a lot of folks excited about putting together spooky/autumnal TBRs, and wanted to share some of my own recommendations as well!
When I think of "fall" books, I think of books that have a very specific setting and mood to them, and some take place in the fall and some don't. I'm not a huge horror reader and since paranormal has dipped in popularity over the past decade, many of my favorite atmospheric fall books are a bit older, but still worth the read!
Books to Give You the Fall Feelings That I Recommend
A Dirty Job (2006) // So this one is a bit of a throwback, but Max read it way back when we were first dating and recommended it to me. It follows a hilarious yet rather dark tale about a man who inadvertently becomes death. It's satirical and set in San Francisco and really what more could you want?
The Splendor Falls (2009) // Possibly one of the most underrated YA books I've ever read, this novel is chalk full of Southern Gothic settings and creepy ghosts and broken ballerinas and just has so much ATMOSPHERE. (Also I'm totally missing that Southern Gothic feel a la Beautiful Creatures series, so if you have recs let me know!)
Anna Dressed in Blood (2011) // TBH I was initially scared to read this duology because I have no chill for horror, but found it to fall more on the side of creepy instead. It also features a YA male ghost hunting protagonist so basically it's like a reverse Casper but scarier (see my review here).
The Name of the Star (2011) // I binged this entire series (or what's written of it anyways) last fall and I have so many pleasant memories of lying on my couch under a cozy blanket and being enthralled in Rory's ghost ridden, Southern Gothic meets dreary London world. Plus it has a mystery that focuses on notorious Jack the Ripper (see my review here).
Masque of the Red Death (2012) // Y'all, this one was SUPER eerie. If I remember correctly, it's inspired by a Poe and boy does it deliver on that aesthetic (and it's wonderfully steampunk). Rather than things that go bump in the night, it's all about contagion, as the characters live in a plague struck world and struggle to survive. It's gaudy and eccentric and creepy and honestly something that's truly terrifying to think about.
A Madness So Discreet (2015) // A historical fiction novel, A Madness So Discreet is possibly one of the darkest YA books I've read. It features asylums, abuse, sassy girls, and borderline crazy doctors. It was hard to read at times, but was also so well written it's worth the discomfort. It's the perfect blend of historical fiction and mystery (see my review here).
How to Hang a Witch (2016) // I am a fan of all bookish things witchy, so I was super stoked when I heard about How To Hang A Witch, since paranormal YA has fallen out of popularity lately. It's a debut and the writing isn't perfect, but it's atmospheric, portrays witches in numerous ways (from the beautiful, home baking retro type to the horrifying shape shifting type). Also, it's set in SALEM so OF COURSE it's perfect for fall (see my review here).
Sadie (2018) // The only non-paranormal/historical fiction recommendation, Sadie is still equally chilling as it follows a true crime narrative and focuses on the monsters out there in the real world. It will leave you with a layer of discomfort for days after reading it, but it's well written and has a unique format (see my review here).
Fall Themed/Spooky Reads on My Current TBR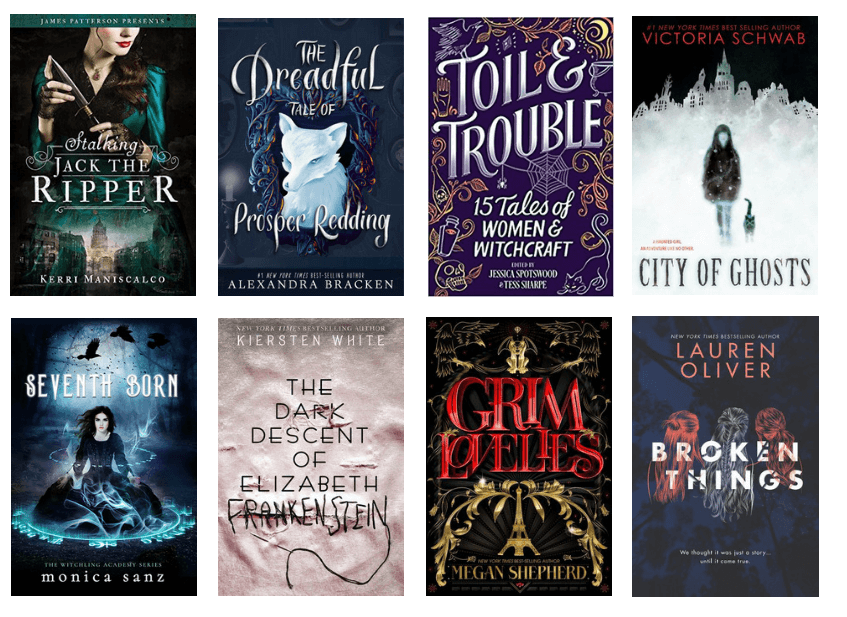 I feel like this fall there's actually quite a few spooky/atmospheric reads coming out! From ghosts to witches to Frankenstein retellings and potentially crazy fangirls, I feel like my TBR has a good mix of fantasy, contemporary and historical fiction. I personally also can't wait to get to the two back list books here (Stalking Jack the Ripper and The Dreadful Tale of Prosper Redding) as I've heard nothing but amazing things!
Let's Chat!
Do you try to read spookier or atmospheric reads during the fall? Do you find that it's easy to find reads that fall into these categories without being a part of the horror genre? What are your favorite fall themed reads to curl up with on the couch? Let me know in the comments!
Related Posts