I can't believe February has already come and gone! Even with the extra day it truly feels like it flew by. February was a weird month for me, busy with work yet weirdly spring-like, with temperatures in the 60s and 70s. Max and I have been taking advantage of the warmer weather and have been exploring new areas to walk. We found a neat Wetlands Preserve trial in our neighborhood that we've been walking down quite a bit, and have been exploring local lakes too- some of them have beaches that you can just drive right onto and sit in the back of your car and read. It's super peaceful and not very crowded since it's not summer yet.
Mid-February my family was struck with unexpectedly having to put our cat, Skye, to sleep. She had been sick for about a year and a half but her condition took a very sudden turn for the worse within about a 48 hour (or even less, to be honest) time frame and it was pretty sudden given we had taken her to the vet the week prior and she was pretty stable despite her pre-exiting health problems. I'd be lying if I said I wasn't still dealing with that grief and that it didn't impact my ability to read- for about a week all I could really focus on was work and mindless reality television. I'm starting to feel a little more at peace with it now, though I don't think I'll ever really be OK with her being gone- she was our first family pet and we had her for 14 years. I thankfully still have her sister, Coco, who we adopted from the same litter (the brown cat in the picture below) so looking forward to at least having several years left with her since her health is pretty robust (as is her attitude).
My 6 year blogiversary also happened this month, but with everything going on, it completely passed me by without me even noticing.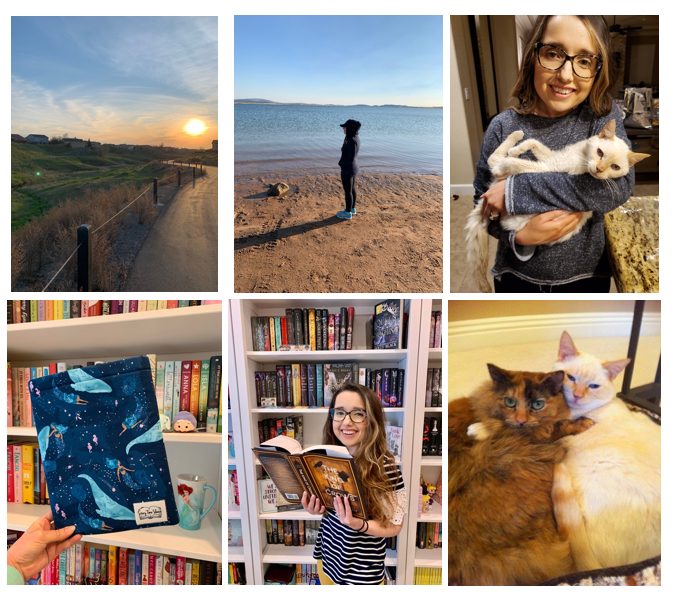 Books I Read This Month
Books I Reviewed This Month:
The Diviners Series Review (Books 1-3)
The Queen of Nothing (4 Stars)
This Train is Being Held (4 Stars)
Stats
Total Books Read: 2

Total Novellas Read: 0

Rereads: 0
Favorite Book Read This Month: This Train Is Being Held was unexpectedly emotional!
Least Favorite Book Read This Month: I truly enjoyed all of the books I read this month!

Book that Most Surprised Me This Month: Loveboat, Taipei was a really fun read overall but I had some issues with it that I wasn't anticipating.

Reading Challenge Updates
Goodreads 2020 Reading Challenge Progress: 12/100
Other Posts This Month
I shared my February 2020 TBR.
Related Posts