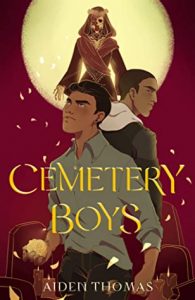 Cemetery Boys by Aiden Thomas
on September 1, 2020
Genres: Young Adult, Paranormal
Pages: 352 •Format: E-Book •Source: Overdrive
Goodreads

Yadriel has summoned a ghost, and now he can't get rid of him.

Bestowed by the ancient goddess of death, Yadriel and the gifted members of his Latinx community can see spirits: women have the power to heal bodies and souls, while men can release lost spirits to the afterlife. But Yadriel, a trans boy, has never been able to perform the tasks of the brujas - because he is a brujo.

When his cousin suddenly dies, Yadriel becomes determined to prove himself a real brujo. With the help of his cousin and best friend Maritza, he performs the ritual himself, and then sets out to find the ghost of his murdered cousin and set it free.

However, the ghost he summons is not his cousin. It's Julian Diaz, the resident bad boy of his high school, and Julian is not about to go quietly into death. He's determined to find out what happened and tie off some loose ends before he leaves.

Left with no choice, Yadriel agrees to help Julian, so that they can both get what they want. But the longer Yadriel spends with Julian, the less he wants to let him leave.
Cemetery Boys was the most atmospheric contemporary I've read in a long time! Following Yadriel, who lives in a graveyard with his family of brujx, it takes place over the course of a few days and includes an accidentally summoned ghost, found families, new friendships, and a lot of self discovery. I really enjoyed reading about the lush and beautiful traditions that the brujxs participated in, and how they were juxtaposed against the horrors that can come along with shepherding souls to the afterlife. I also think the story did a good job exploring how families, while well-intentioned, can harm and ostracize their members in different ways, and the consequences of such actions. The author did a great job of balancing many tough topics (transphobia, grief, family issues etc) with lighthearted moments and hope.
Overall: I enjoyed the detailed descriptions, Latinx community, and paranormal elements of this one! The pace did drag a little at times for me (I think it could have been a little shorter) but overall a solid read!
---
Concrete Rose by Angie Thomas
Also by this author: The Hate U Give, On the Come Up
Published by Balzer + Bray on January 12, 2021
Genres: Young Adult, Contemporary
Pages: 320 •Format: E-Book •Source: Overdrive
Goodreads

If there's one thing seventeen-year-old Maverick Carter knows, it's that a real man takes care of his family. As the son of a former gang legend, Mav does that the only way he knows how: dealing for the King Lords. With this money he can help his mom, who works two jobs while his dad's in prison.

Life's not perfect, but with a fly girlfriend and a cousin who always has his back, Mav's got everything under control.

Until, that is, Maverick finds out he's a father.

Suddenly he has a baby, Seven, who depends on him for everything. But it's not so easy to sling dope, finish school, and raise a child. So when he's offered the chance to go straight, he takes it. In a world where he's expected to amount to nothing, maybe Mav can prove he's different.

When King Lord blood runs through your veins, though, you can't just walk away. Loyalty, revenge, and responsibility threaten to tear Mav apart, especially after the brutal murder of a loved one. He'll have to figure out for himself what it really means to be a man.
I truly think Angie Thomas can do no wrong, because everything she writes is nothing short of excellent.
Concrete Rose
is no exception, and may be my favorite novel from her by far.
Following Starr's father, Maverick Carter, this prequel to The Hate U Give was everything I was hoping for and more. It was so interesting seeing Maverick's background come to life, understanding how and why he became involved in gangs, how he ended up a teen father not once, but twice, and seeing the decisions that led him to become the responsible father he is in The Hate U Give. As usual, Thomas writes a nuanced portrayal of the struggles her characters face, including poverty, addiction, grief, and the poisonous influence of revenge. Maverick shoulders so much in this one story at such a young age, and while he is not immune to making mistakes, he also meets the many obstacles with determination and resilience. It's a really beautiful coming of age story, and I loved seeing Maverick grow into his own beliefs and convictions while learning to question those that were impressed upon him from a young age. I also really enjoyed the little details that lend themselves to where he's at in The Hate U Give, like working in the grocery store or his relationship with Starr's future uncle.
Overall: Concrete Rose is a novel that's so full of heart, life and humanity that I know I will return to it again in the future. I know Angie Thomas probably has many other stories she's eager to tell, but I continue to love seeing this community she's built expand through this companion series and hope she continues to write more books set in it.
Related Posts