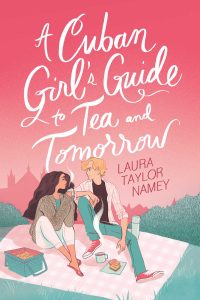 A Cuban Girl's Guide to Tea and Tomorrow
by
Laura Taylor Namey
Published by
Atheneum Books for Young Readers
on October 6, 2020
Genres:
Coming of Age
,
Contemporary
,
Young Adult
Pages:
320 •
Format:
E-ARC
•
Source:
NetGalley
Goodreads
For Lila Reyes, a summer in England was never part of the plan. The plan was 1) take over her abuela's role as head baker at their panadería, 2) move in with her best friend after graduation, and 3) live happily ever after with her boyfriend. But then the Trifecta happened, and everything—including Lila herself—fell apart.
Worried about Lila's mental health, her parents make a new plan for her: Spend three months with family friends in Winchester, England, to relax and reset. But with the lack of sun, a grumpy inn cook, and a small town lacking Miami flavor (both in food and otherwise), what would be a dream trip for some feels more like a nightmare to Lila…until she meets Orion Maxwell.
A teashop clerk with troubles of his own, Orion is determined to help Lila out of her funk, and appoints himself as her personal tour guide. From Winchester's drama-filled music scene to the sweeping English countryside, it isn't long before Lila is not only charmed by Orion, but England itself. Soon a new future is beginning to form in Lila's mind—one that would mean leaving everything she ever planned behind.
A Cuban Girl's Guide to Tea and Tomorrow is the perfect recipe of all things I love in a YA book: a big, loving Latinx family, absolutely mouth-watering depictions of food, and a summer adventure in Europe. Following Lila, a recent high school graduate who has big plans to run her family's Cuban bakery after graduation, the story takes an unexpected turn when Lila's well-intentioned family sends her to England for the summer to recover from multiple heartbreaks and a sense of grief she can't (quite literally) outrun.
At first I was a bit apprehensive about Lila's journey to England, as I was worried I'd miss out on the vibrant Miami setting and Latinx family representation with Lila so far from her home. However, Miami itself is almost a character in this story, Lila's city as much a a true love to her as any romantic partner. I loved how even as Lila was exploring new sides of herself in England, her heart was never far from her mother, father, and sister in Miami, as well as her colorful neighborhood, gossipy neighbors, and supportive customers. Yet juxtaposed against Lila's love for Miami was her growing acceptance of the English countryside, which depicted a different type of beauty that Lila learned to appreciate. I loved exploring the endless green valleys with Lila, seeing her merge her beloved Cuban recipes with traditional English ones, and discovering new friendships with a very different dynamic that those she had back in the States. A Cuban Girl's Guide is very much a coming of age story and one that emphasizes sometimes you need to leave behind who you think you are to discover who you really are.
Throughout the course of the story, Lila is dealing with her trifecta of loss, with the death of her beloved Abuela, the breakup with her boyfriend, and a falling out with her childhood best friend all coinciding with each other and serving as a catalyst to push Lila into behaviors that cause her to be sent away for the summer. While these are a lot of issues to have one protagonist work through in one contemporary YA novel, it was clear that they were all interconnected and Lila yet had to learn how to grieve each relationship and move on from it in its own way. I especially appreciated how in many ways each trauma was treated with equal weight, even if the circumstances were different. In particular, the exploration of a formative female friendship changing and disintegrating was hard to read but something I was ultimately glad was explored, as friendship breakups can be especially painful as a teen but so often are overshadowed by other kinds of relationship losses.
Other Elements I Enjoyed:
The cosmic correlations between Orion and Estrellita.
How the Spanish language was woven throughout the narrative to showcase how important it was to Lila and wasn't always explained- it felt so natural.
All of the food descriptions! My mouth was quite close to watering reading about both the amazing Cuban pastries Lila would make in the bakery every morning along with the savory meals she would treat her friends too. I also loved that for Lila, showing her love and problem solving was often done through the act of cooking. Cooking and baking weren't just her skills but her way of expressing herself, especially when she couldn't verbally.
Tea tasting at the Maxwell's tea shop.
Lila's strong relationship with her parents and sister that continues to persist, even when she is angry and resentful at them.
An overall very wholesome romantic plot.
Overall: A Cuban Girl's Guide to Tea and Tomorrow is a sweet coming of age story that merges two very different locations and cultures to help the protagonist find her way. With an emphasis on loss being a part of growth, I found this contemporary novel to pack more of an emotional punch than expected.
Related Posts