I received this book for free in exchange for an honest review. This does not affect my opinion of the book or the content of my review.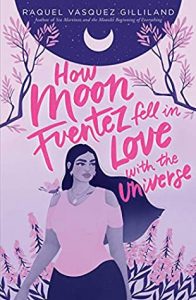 How Moon Fuentez Fell in Love with the Universe
by
Raquel Vasquez Gilliland
Published by
Simon & Schuster Books for Young Readers
on August 10, 2021
Genres:
Contemporary
,
Magical Realism
Pages:
432 •
Format:
E-ARC
•
Source:
NetGalley
Goodreads
When her twin sister reaches social media stardom, Moon Fuentez accepts her fate as the ugly, unwanted sister hidden in the background, destined to be nothing more than her sister's camerawoman. But this summer, Moon also takes a job as the "merch girl" on a tour bus full of beautiful influencers and her fate begins to shift in the best way possible.
Most notable is her bunkmate and new nemesis, Santiago Phillips, who is grumpy, combative, and also the hottest guy Moon has ever seen.

Moon is certain she hates Santiago and that he hates her back. But as chance and destiny (and maybe, probably, close proximity) bring the two of them in each other's perpetual paths, Moon starts to wonder if that's really true. She even starts to question her destiny as the unnoticed, unloved wallflower she always thought she was.
Could this summer change Moon's life as she knows it?
Do you ever go into a book thinking it's going to be just OK but have it completely blow your expectations out of the water? That's what happened to me with How Moon Fuentez Fell in Love with the Universe. I was expecting a typical young adult contemporary novel (a genre which I've been sort of so-so with lately) but what I got instead was an absolutely breathtaking, raw, and beautiful story steeped in magical realism and stunning observations.
The novel follows Moon Fuentez, who is the self described "weed" or ugly duckling in the family in comparison to her social media star (non pun intended) sister, who is actually named Star, and is beloved by everyone and blatantly favored by their mother. Moon's role in her family is to assist Star with whatever she needs to build her fame, including being her photographer and accompanying her on a tour of the US for rising influencers.
I always love a book that takes a critical look at influencer culture, and thought that this would be my main draw to the story. However, while the book definitely did critically look at Star's life and choices (and the prices she paid for her fame), what really made the story stand out was Moon's beautiful narrative. Told in short, blunt sections with cheeky titles, I appreciated the way she wove both past and present elements of the story together with her own ramblings, musings and questions for the universe. The narrative style combined perfectly with the elements of magical realism that were present in the story, and they were so well done and added the perfect ethereal fantasy note that was just believable enough. While reading, I felt like I was suspended in this magical limbo between contemporary and fantasy and I adored it. Especially interesting was the juxtaposition between Moon's spirituality and connection to the earth and Star's uber-pious and Christian aesthetic that she built her social media platform off of, and their mother who seems to (unwillingly) believe in both.
The story encapsulates a rawness through Moon's narrative about what it means to feel deeply insecure and turn to unhealthy coping mechanisms to feel validated. However, Moon really goes through a journey throughout the novel to understand that she does have value, worth and beauty, and just because it's different than her sister's doesn't make it less special and/or valid. I especially loved Moon's talents with photography, creating her own tarot deck, and her musings about physical intimacy and the stigmas surrounding it for women. There's a romance that Moon falls into in the novel that is complicated and messy but also very special, and is a key part of helping her understand her wants, needs and motivations. I thought the romance was written well and contributed to Moon's story without taking away from it.
There were often portions of this story that were heartbreaking, but in a way that made it more special, too. Moon's journey to fall in love with the universe (and herself) often means ruminating on and/or confronting traumas that have happened in her past, from her toxic relationship with her mother to her father's mental illness and departure from her life. There are sections of the story that hurt my heart to read, but they were important in order to gain a full picture of who Moon is and how she's been shaped into the person she is today. Even Star is not exempt from personal traumas (despite Moon's assumptions at the beginning of the story) and I thought it was important that Star's own troubles were somewhat revealed and explored toward the end of the story too, and that her and Moon were able to start being honest and open with each other about their pain.
Overall: How Moon Fuentez Fell in Love with the Universe is a stunning story that expertly touches on so many different experiences, traumas and growth and weaves them together in a beautiful novel with the perfect hints of magical realism. I loved flawed, eager, and honest Moon with my whole heart and selfishly wish there would be a sequel (though I don't believe there will be and I understand why!) This is a really special read.
Related Posts