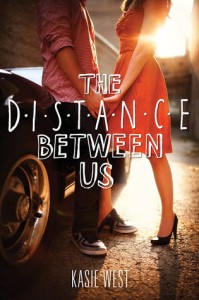 The Distance Between Us
by
Kasie West
Also by this author:
The Fill-In Boyfriend
,
Lucky in Love
Published by
Harper Teen
on July 2nd 2013
Pages:
312 •
Goodreads
Seventeen-year-old Caymen Meyers studies the rich like her own personal science experiment, and after years of observation she's pretty sure they're only good for one thing—spending money on useless stuff, like the porcelain dolls in her mother's shop.
So when Xander Spence walks into the store to pick up a doll for his grandmother, it only takes one glance for Caymen to figure out he's oozing rich. Despite his charming ways and that he's one of the first people who actually gets her, she's smart enough to know his interest won't last. Because if there's one thing she's learned from her mother's warnings, it's that the rich have a short attention span. But Xander keeps coming around, despite her best efforts to scare him off. And much to her dismay, she's beginning to enjoy his company.
She knows her mom can't find out—she wouldn't approve. She'd much rather Caymen hang out with the local rocker who hasn't been raised by money. But just when Xander's attention and loyalty are about to convince Caymen that being rich isn't a character flaw, she finds out that money is a much bigger part of their relationship than she'd ever realized. And that Xander's not the only one she should've been worried about.
The Distance Between Us came highly recommended to me after my first, rather lackluster, experience with a Kasie West novel, The Fill In Boyfriend. There seems to be a consensus that The Distance Between Us is the best of West's contemporary novels, so I decided to assign it my "lunchtime read" at work (which is where I choose a short novel to keep in my desk and only read exclusively on work breaks). I didn't go into the book with that many expectations, and found it to be a cute and quick read with some plot holes and characters who felt a bit one dimensional.
For a YA romance, West added some quirky elements that were fun and different to read about. Caymen and her mother live above her mother's porcelain doll shop, which is their main source of income and their entire lives, essentially. This setting was definitely different, and what's more is that compounded on the element of being a small business owner, Caymen's family is poor. Not lower-middle class that's "poor" compared to the rich kids at school. Caymen and her mother do not have cell phones, cannot buy whatever groceries they'd like on a whim, and have to account for every single expense. While this book didn't really go into the nitty gritty of poverty, it was interesting to see it portrayed in a more "fluffy" sub-genre of YA.
As per the synopsis, Caymen has a budding relationship (as much as she'd like to deny it) with Xander, someone who is in a very different socio-economic class than Caymen. Contrary to most stories who use the rich-boy-poor-girl trope, this novel really focuses on Caymen's reluctance to accept Xander because of his money, rather than Xander's family taking issue with Caymen because she's poor. I thought this was an intriguing spin on the genre because it shows the prejudice toward privilege that a more disadvantaged person may have, and discomfort they feel, while also highlighting that not all "rich" people take issues with dating someone from a different or "lesser" socio-economic class. It was a refreshing inversion of the trope.
While Xander and Caymen's witty banter and slow progression toward being more than friends was adorable, there were some issues that I struggled with while reading. Caymen's trademark sarcasm felt heavy handed at times, and more like a stereotype of a sarcastic teenager rather than a nuanced portrayal of someone with a very dry sense of humor. There were a lot of plot inconsistencies (like with her mother's background) that were all hastily resolved at the end that felt very rushed and too convenient View Spoiler »Like Caymen's mother kept telling her how rich boys only want to fool around with poorer girls for entertainment and then leave them, which she insinuates is what happened to her. Yet then you find out her mother is from one of the wealthiest families in California. So Caymen's father's absence once he found out her mother was pregnant with her seemed to have much more to do with him being a selfish troll rather than being about money, because they were both from wealthy families. Also, I'm pretty sure loan sharks wouldn't just go away once you direct them toward your rich grandfather. It would probably be a lot more serious and scary than that. « Hide Spoiler I also wish that more focus had been given to Caymen reaching out to find her father, as her curiosity about him peaked my interest while reading the book but wasn't really ever explored.
Overall: The Distance Between Us was a cute read with a likeable love interest and an OK protagonist. However, it brought up a lot of "heavier" topics (teenage pregnancy, socio-economic struggles, familial estrangement, serious medical illness, etc.) yet resolved them too quickly and conveniently at the end. It felt like a book that was trying to insert plot elements to make it seems a bit deeper, but really didn't escape being an average, though enjoyable, fluffy romance. A quick read, but I think I might be simply outgrowing this sub-genre of YA.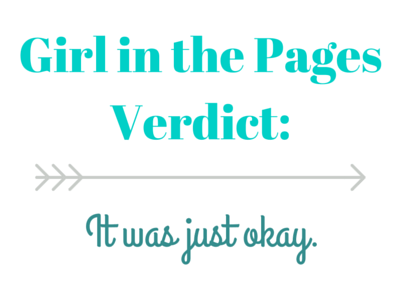 Reading this book contributed to these challenges:
Backlist Book Challenge 2016
Goodreads Challenge 2016
Rock My TBR 2016
Related Posts