Cristina, Kaitlin, and Lauren Read: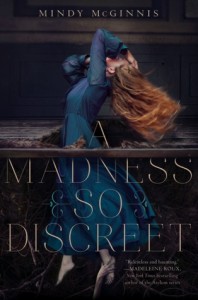 A Madness So Discreet
by
Mindy McGinnis
Published by
Katherine Tegen Books
on October 6th 2015
Pages:
384 •
Goodreads
Grace Mae knows madness.
She keeps it locked away, along with her voice, trapped deep inside a brilliant mind that cannot forget horrific family secrets. Those secrets, along with the bulge in her belly, land her in a Boston insane asylum.
When her voice returns in a burst of violence, Grace is banished to the dark cellars, where her mind is discovered by a visiting doctor who dabbles in the new study of criminal psychology. With her keen eyes and sharp memory, Grace will make the perfect assistant at crime scenes. Escaping from Boston to the safety of an ethical Ohio asylum, Grace finds friendship and hope, hints of a life she should have had. But gruesome nights bring Grace and the doctor into the circle of a killer who stalks young women. Grace, continuing to operate under the cloak of madness, must hunt a murderer while she confronts the demons in her own past.
In this beautifully twisted historical thriller, Mindy McGinnis, acclaimed author of Not a Drop to Drink and In a Handful of Dust, explores the fine line between sanity and insanity, good and evil—and the madness that exists in all of us.
Book Buddies is a discussion style review I participate in every other month with my friend Lauren who runs the blog Bookmarklit. This month marks the one year anniversary of book buddies, and to celebrate Lauren had the fantastic idea of doing a group Book Buddies read with Kaitlin from Next Page Please!, who serves as her other book buddy. In keeping with the spirit of Halloween we chose a book that we had all been curious about that seemed appropriately eerie. You can find the last part of the chat below, but be sure to check out Lauren's blog for part 1 of the discussion and Kaitlin's blog for part 2!
Also, be sure to check out our giveaway for two copies of A Madness So Discreet at the end of this post!
---
(Please note this conversation contains some spoilers!)
Kaitlin: I loved watching Grace and Thornhollow solve mysteries! It was kind of fun to watch all these facts and information unfold as they looked at small details and turned them into huge clues.
Cristina: Me too, Kaitlin!
Lauren: Agreed! It definitely opened my eyes to how complicated it can be, and how smart investigators have to be in order to figure out the psychological profiles.
Cristina: I've taken some psychology courses in high school and college, and it was cool to see how well-known scientific concepts were in such early stages back then – and that Thornhollow was able to apply them, and solve the mysteries.
Lauren: Agreed… I was impressed to see how those principles got started back then and how much they've expanded since.
Kaitlin: Now, if I ever need to kill someone, I could find ways to draw the attention away from myself hehehe.
Lauren: I thought the same thing! Haha… Grace basically learned how to get away with the murder she committed. (Oh, spoiler alert, eh?)
Cristina: She did, she learned how to commit the "perfect crime."
Kaitlin: Yeah, the moment the guys started talking about his murder, I knew it Grace and was quite surprised in the huge risk she took just to kill the man.
Lauren: Alright, before I go to bed, is there anything else you guys can think of that you'd like to share about the book?!
Kaitlin: Oh, can we talk about Nell for a quick second?
Lauren: Yes!
Cristina: I loved Nell.
Kaitlin: I felt so bad for Lizzie and Grace when we found out about her death (Spoiler!) I mean she didn't even get to really hear Grace's voice and I felt as though that was something she definitely deserved to experience.
Lauren: I agree. But I liked a lot of the points everyone made to make Grace feel better: Nell really handled herself in the way she wanted to. She wasn't going to let that terrible guy take her down. She was so strong.
Cristina: In a way though I think her death helped Grace find her voice. She sort of has a breakdown because of Nell's suicide and has to find herself again after that. It was one of the strongest visual images for me of the whole book though, Nell's braid lying next to the hole in the ice.
Kaitlin: That played a big part in Grace in the end because without Nell I think she would have really been a different person…
Lauren: Agreed on all accounts.
Kaitlin: Yeah, whenever I think back to that part, all I can see is her braid and hair bows in her room.
Cristina: I think Mindy McGinnis did a good job in this novel creating strong moments out of small, sparse images.
Kaitlin: I haven't read her other books but definitely will be now!
Lauren: I think so too. Her other books don't sound like "me" books either, but now I'm definitely more interested in trying them out! She seems like an author who can grab you no matter what she's writing.
Cristina: I was really impressed (this is also the first book by her I've read) and I applaud her for handling such dark topics while still having some levity and heartfelt moments through her characters.
Lauren: One last thing too – how did you guys feel about the fact that there wasn't any romance in this book? Some people feel like they need a love interest to enjoy a story, but I was actually really happy that there wasn't a romance. It was refreshing! The author totally could have included a romance between her and Thornhollow, but she didn't.
Kaitlin: I liked the fact that there was no romantic relationship in this book (Feel like I haven't read a book like that in AGES!) and I was kind of expecting for the author to put Grace and Thornhollow together. I mean, I'm pretty sure Thornhollow is an older man but I felt like putting them together was definitely the author could have done. Would I have liked it? I'm not sure but I do appreciate the fact that there was no romance in this book.
Cristina: I loved that it didn't have romance because it didn't detract from the other elements of the plot and proved you can have a compelling YA novel without it. Plus, I feel that it wouldn't make sense for Grace to crave an intimate and romantic relationship after what she's been through prior to the novel's beginning that set her going to the asylum in motion.
Lauren: Overall, I'm so glad we picked this one! I don't know if I honestly would have read it myself without us planning this. AND two lucky readers have the chance to win their own copies of a book we all clearly recommend.
Kaitlin: Yes! Be sure to enter the giveaway you can win your own copy of A Madness So Discreet and enjoy its greatness.
Lauren: AND congrats to us three for making it a full year with Book Buddies! WOO. You guys are the best partners I could have asked for!
Kaitlin: Awww thanks Lauren! I love being able to read and chat books with you every other month. Cheers to a whole year! Thanks everyone for joining us!
---
Overall Thoughts:
A Madness So Discreet took me by surprised, encompassing many more genres that I initially thought, and having more of a mystery spin that I originally anticipated. However, while not a traditional "horror" novel, I feel McGinnis created a novel about the horrors which humans can perpetrate against each other and themselves, and had her characters walk a fine line between sane and insane, and really proved how little difference there is between the two. Though historical fiction can be hit or miss for me, A Madness So Discreet literally had me engaged from the first page, and the criminal psychology aspects kept me unable to put the book down (I read most of it in one sitting). McGinnis really pushed the boundaries of "mainstream" content in YA novels, as there's a lot of darkness in this story, though broken up at times with moments of true laugh out loud levity (and dark humor). This book may be uncomfortable to read at times due to the darkness and intensity of its content, but it's worth it for any reader who's looking for YA that pushes the boundaries of YA not by being blatantly scandalous, but showcasing the darkest depths of human motivations and minds.
---
Giveaway Time!
Reading this book contributed to these challenges:
Related Posts