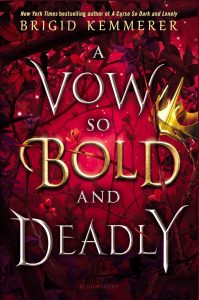 A Vow So Bold and Deadly
by
Brigid Kemmerer
Also by this author:
A Curse So Dark and Lonely (Cursebreakers, #1)
,
A Heart So Fierce and Broken (Cursebreakers, #2)
Published by
Bloomsbury YA
on January 26, 2021
Genres:
Young Adult
,
Fantasy
Pages:
408 •
Format:
E-Book
•
Source:
Overdrive
Goodreads
Face your fears, fight the battle.
Emberfall is crumbling fast, torn between those who believe Rhen is the rightful prince and those who are eager to begin a new era under Grey, the true heir. Grey has agreed to wait two months before attacking Emberfall, and in that time, Rhen has turned away from everyone—even Harper, as she desperately tries to help him find a path to peace.

Fight the battle, save the kingdom.
Meanwhile, Lia Mara struggles to rule Syhl Shallow with a gentler hand than her mother. But after enjoying decades of peace once magic was driven out of their lands, some of her subjects are angry Lia Mara has an enchanted prince and a magical scraver by her side. As Grey's deadline draws nearer, Lia Mara questions if she can be the queen her country needs.

As the two kingdoms come closer to conflict, loyalties are tested, love is threatened, and a dangerous enemy returns, in this stunning conclusion to bestselling author Brigid Kemmerer's Cursebreaker series.
This was pretty good! I go back and forth on how much I enjoy this series- at times I really do and at others it doesn't feel like anything that special- but I really flew through this book! It actually focused much less on Harper (the protagonist from book 1) and much more on the relationship between Rhen and Grey (I love a good brother story- hence my love for the Salvatores in The Vampire Diaries). They had a LOT to figure out after the last book and I think the slow reparation of their relationship was well done and compelling to read.
In a lot of ways this series feels like light fantasy to me, which is one of the reasons I initially liked it- I loved how Harper, Jake and Noah were from modern day Washington D.C. and had crossed over into the fantasy world of Emberfall. However, that connection to the modern world really fizzled out after the first book and as the plot turned more toward the political drama in the fantasy world, I started to find the lack of fleshed out world building a bit more frustrating. I really liked the introduction of Lia Mara and her kingdom of Syl Shallow, however I still felt that the customs, history, and especially villains were underdeveloped. Take Lilith, for example. She's literally been the main antagonist in ALL of the books but she's really just there to be violent and cruel, there's no dimension to her character and in my opinion she's WAY too powerful. To the point where I got frustrated reading the series because the characters just couldn't catch a break when it came to her. I honestly wish the antagonist had changed or became more developed as the series went on.
I actually think the character who had the most compelling arc, at least in this book, is Rhen. He honestly has big Tamlin energy to me, but he had a lot of personal growth and confronted his failings in this story. I also like that though he was able to change and grow some, at his core he will still have shades of some of those less than desirable personality traits (being vain, prideful, arrogant, etc). I feel like him and Harper finally have learned to better understand each other, and it's a shame that it took so long for them to get there considering this is the finale of the series.
Overall: This book and series were overall OK. Quick reads and not too intimidating for folks who aren't avid fantasy readers, but honestly I wish the series would go on because there's still a lot left to explore given how this book ended. I honestly think if there were additional books I'd love them more because they would have the opportunity to really get into the court politics and world building of both Syl Shallow and Emberfall given how the book ended (which I can't elaborate on further without spoiling anything but they definitely now have a significant common interest…) Hopefully this won't be the last week see from this world!
---
Related Posts