The time in my life has finally come where one of my major dreams has come true…I finally have my own home library! As I mentioned a few months ago, Max and I bought a new home late last year and one of the highlights was the ability to have a den option that I knew was going to finally be my at home library! While it's been a slow process getting everything set up over the last 7 months or so, the past few weeks we really made a push to finish setting it up since we're going to spending a LOT of time at home for the foreseeable future due to the pandemic. I'm excited to share a tour of the space here on the blog!
My library is right off of the main entry hall leading from the front door into the rest of the house, and I choose the option to have barn doors leading inside, a home decor dream of mine. I'm not sure if I would do it again because they don't afford the most privacy and I had to have them rehung several times to get them just right, but I love the hardware on top and they do lend themselves to a grand entrance.
Immediately to the left when you walk into the room I have a corner with some cute crown hooks my mom found for me at Home Goods, which I'm currently using to hang my favorite tote bags I've either purchased or received from events (and I know I have more, these are just the ones I've unpacked so far!) The framed picture of a brunette girl reading was also a Home Goods find. Eventually my plan is to have a big, comfy chair in this corner for reading, but my plans to go shopping for one have been postponed indefinitely due to the pandemic. In the meantime, I've just been using a chair from Target that I've had since my college dorm days, lol.
To the right of the entry way is a small bookcase with a glass door that I keep some keepsakes such as my graduation cap and stoles in, as well as some baby photos and collectable books. On top are two framed photos from our engagement session and wedding, and I usually have an Anthropologie candle burning while I work at my desk (the current scene is Volcano, which I believe is the scent they usually have burning in the stores). I made this wall a collage of Primitives by Kathy signs (I love them and enjoy randomly finding new ones at stores) and a ribbon board photo collage with photos I tend to switch out every year or so, while adding new little additions throughout the year. This year the photos are mainly from my wedding and bachelorette party, with some Disney memorabilia thrown in.
I also have another cart (this one in lavender!) that I use to store all of my planner and bujo materials! This one doesn't have really a "set" place where it lives, I just like to move it around the room as needed.
Next up is my desk, which is to the left of the collage wall (pardon the glare on the photos, the desk sits exactly opposite the window!) I've had this desk since college and it's huge and has a lot of storage, but eventually I'd like to switch it out for a white one to match the rest of the furniture in the room. I currently keep my laptop, favorite pens, and a basket full of other planner supplies on top of the desk, along with my journal and a small plastic drawer set that holds posts it notes, paperclips, etc. I also have the PopSugar 2020 reading challenge printed out and in a laminated sleeve on my desk so I can quickly reference it. In the right hand corner you can peep my Kindle reading stand as well. The artwork above my desk is my first name painted in all Disney characters that I had custom made for me in Disneyland about 7 years ago. The Little Mermaid print is also from Disneyland and a gift from Max (I still need to have it framed!)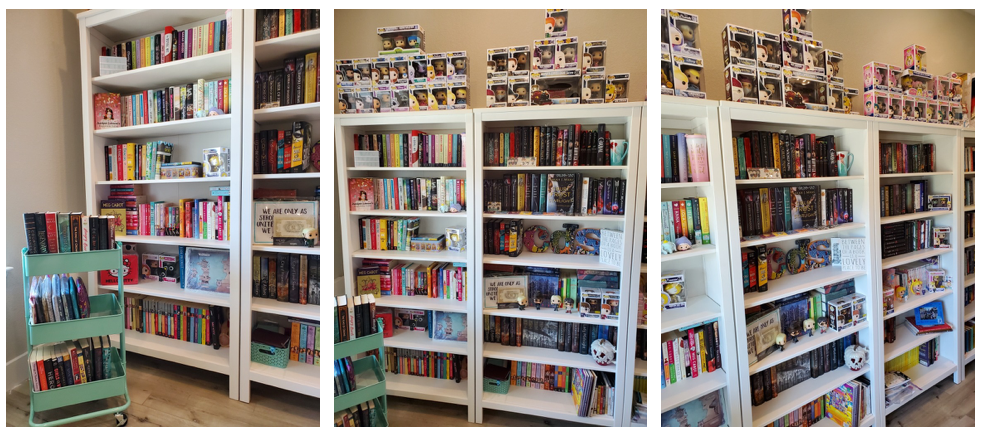 Now for the main event, my shelves! I use the Hemnes bookshelves in white from Ikea, and have four spanning the length of the longest wall in the room, which is the wall you see when you enter through the doors. I also have my TBR cart in the corner by the window, which I use to store books that I want to read in the near future. The top tier is finished copies, the bottom tier is (mostly) ARCs, and the middle tier is where I store my book sleves.
For once in my life I actually have EXTRA space on my shelves, so I was able to organize to my heart's content (it even looks a little sparse to me in spaces!) The bookshelf to the far left is my contemporary and romance shelf, followed by fantasy, paranormal/scifi/mystery, and finally the shelf all the way to the right has my favorite ARCs I've read on the top row followed by my unread physical TBR on the bottom rows. Mixed in with some of these shelves are childhood books, notebooks, some DVDs, etc. I'm hoping to move some of the misc. items off of my shelves once we get more storage space in our family room for movies.
Across the top of most of the bookshelves I have my POP Figures (the ones that aren't displayed on my shelves, at least. I have a Disney section, a Harry Potter section, and a Sailor Moon section, and some misc. ones (like the Morton Salt Girl) mixed in on my shelves. I also have my animator's collection dolls displayed as well. My dad says walking into my library is like walking into a Disney store, hah!
Overall I still have a LOT of fine tuning to do with my shelves, from moving some of the misc. items off, putting out more decor and pop figures, purging some more books, having less half filled shelves, etc. I'd also like to add some lights and a throw rug on the floor in front of the shelves. I'll likely do an update post once I've perfected everything, but so far this has been a space that I'm really happy with 🙂
Related Posts