I've made a lot of reading resolutions, and one of them is to be better about cultivating a monthly TBR. I know so many bloggers do beginning of the month TBR posts and I always LOVE reading them, so I've decided to post my own as well! I will include my physical, e-book, and ARC TBRs as well as a status update of where I am prior to starting my upcoming month's TBR.
Reading Progress Prior To This Month: 12/100* Books Read
*Wish me luck as I try to read more books in 2020 than ever before!

I am already BEHIND!!! My Goodreads challenge mocks me as it constantly reminds me I am 4 books behind schedule (curse February for being a short month!) I don't want to give in and reduce the number of books I plan to read this year so early in the year, but it is frustrating to already be playing catch up! I'm already hoping for summer vacation reading time and holiday reading time at the end of the year to help me catch up.
As we roll into March, I'm actually in the middle of quite a few books (3 to be exact) so I'm hoping that will give me a boost in finishing a ton of books this month (although the LONG audiobook that is King of Crows is slowing me down)! I also have a LOT of HUGE books on my TBR this month so we'll see how many I actually get through….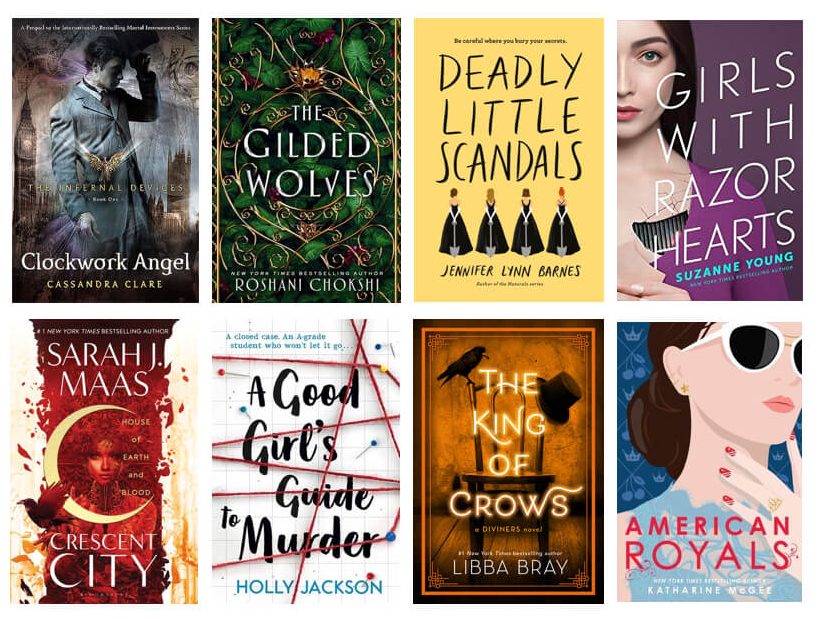 Library
Deadly Little Scandals // Little White Lies was my first read of 2020 and I really enjoyed the twists at the end! I decided to get the second book from the library since they did a mid-series cover change (the worst!) and I haven't decided if I want to repurchase the first book to have matching covers!
A Good Girl's Guide To Murder // I don't know if it's just me but I feel like this has been on my TBR forever?? Like I think maybe it was originally a 2019 release but got pushed out? Anyways, I'm on the waitlist for this via my local library's Overdrive and I am so excited! This book has excellent reviews on Goodreads and who can resist a good true crime novel?
ARCs
Girls with Razor Hearts // I am SO THRILLED to have a physical copy of this ARC! I absolutely adored the first book in the series and have no doubt that this one will be great as well! I'm also slowly getting back into dystopian
Rainbow Try a Chapter Unhaul
The Gilded Wolves // So the last thing I need this month is probably ANOTHER huge fantasy book to read but it's so green and pretty and perfect for the March color prompt of – you guessed it- green for Lauren's Rainbow Try a Chapter Unhaul Challenge!
Owned
Clockwork Angel // So I pre-ordered Chain of Gold but I'm sort of worried that I won't understand a lot of it since I haven't read The Infernal Devices trilogy in probably 8ish years! I'm hoping to reread the entire series this year so I can really understand the characters in the new Shadowhunter book!
House of Earth and Blood // I pre-ordered this and have no idea if I'll actually finish it in March (it looks GIANT) but I am super excited for an adult book from Sarah J Maas!
American Royals // So I started this book shortly after it came out and though I'm really interested in the premise, I put it on hold about 80 or so pages in and haven't returned to it yet. I think the timing was just off for when I was trying to read it, because I couldn't get into it at the time. I'm excited to revisit this one again!
The King of Crows // So I actually don't know how I'm going to get my hands on this book (the rest I've listened to on audio from Scribd or the library but I would LIKE to own hard copies of the whole series. Depending on how long the wait is at my local library for the audiobook (and when the get it!) I may have to just buy it. I was hoping to wait until they were all out in paperback in the new covers to buy a boxed set but we will see!
Are any of these books on your TBR for March? Let me know in the comments!
Related Posts