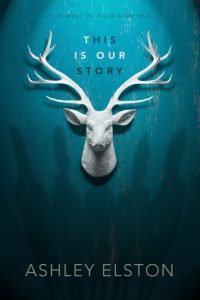 This Is Our Story
by
Ashley Elston
on November 15, 2016
Genres:
Mystery
,
Young Adult
Pages:
320 •
Format:
Hardcover
•
Source:
Library
Goodreads
Five went in. Four came out.

No one knows what happened that morning at River Point. Five boys went hunting. Four came back. The boys won't say who fired the shot that killed their friend; the evidence shows it could have been any one of them.

Kate Marino's senior year internship at the district attorney's office isn't exactly glamorous—more like an excuse to leave school early that looks good on college applications. Then the DA hands her boss, Mr. Stone, the biggest case her small town of Belle Terre has ever seen. The River Point Boys are all anyone can talk about. Despite their damning toxicology reports the morning of the accident, the DA wants the boys' case swept under the rug. He owes his political office to their powerful families.

Kate won't let that happen. Digging up secrets without revealing her own is a dangerous line to walk; Kate has her own reasons for seeking justice for Grant. As she investigates with Stone, the aging prosecutor relying on Kate to see and hear what he cannot, she realizes that nothing about the case—or the boys—is what it seems. Grant wasn't who she thought he was, and neither is Stone's prime suspect. As Kate gets dangerously close to the truth, it becomes clear that the early morning accident might not have been an accident at all—and if Kate doesn't uncover the true killer, more than one life could be on the line…including her own.
There's nothing like reading a book set in autumn during the actual autumn season, and This is Our Story was my quintessential fall read this year. Though published back in 2016, the book has been on my radar since Kristin recommended it a few years back in her Autumn Book Recommendations video. Her recommendation plus the beautifully haunting cover made it a book that survived on my "Want to Read" shelf during my recent Goodreads reorganization and I'm so glad that I finally got around to it this year!
Similarly to what Kristin mentions in her video (which I had actually completely forgotten about since I watched her video two years ago), the book gave me major Raven Boys vibes but with a contemporary setting. The book follows Kate, a high school senior who works part time at her local DA's office, who becomes involved with the case of the murder of a local private school student who is shot while hunting in the woods with his four wealthy friends. Kate becomes obsessed within finding out who shot him and bringing the person to justice, while becoming deeply involved in the investigation and entangled in the boys' private lives as well. They are privileged, secretive and have a brother-like relationship while each bringing something different to the group, which is likely what led to the Raven Boys vibes.
For some reason (probably because I am terrible at reading the synopsis of a book after initially adding it to my TBR) I didn't expect this book to be as much of a legal thriller as it was, which I really enjoyed (I love courtroom dramas). It had a very autumnal setting with the woods and the hunting lodge that the group of boys always frequented, and a dark tone ran throughout the narrative, with Kate finding out about a lot of shady things that were going on as she investigates, even if not directly related to the murder (the seedy underbelly of wealth and privilege, etc). The narrative was also a mixture of traditional prose, text messages, transcripts from the investigation, and a few excerpts from the killer's POV. I tend to enjoy a mixed media format and it really felt like I was uncovering different elements of the case along with Kate.
Alongside figuring out who killed Grant (the boy who didn't come back from the woods during that hunting trip), there's sort of a parallel plot going on with Kate finding out exactly the kind of person Grant was and reconciling that with what she thought she knew about him and his friends. There were definitely some disturbing revelations behind some of the characters' motivations and personalities that were made, but I appreciated that it kept things suspended in a grey area and showcased that neither the boys nor the other students who became involved in their situation (fellows students, folks at the parties that took place at the hunting lodge, etc) were all good or all bad and all were suggestible to manipulation. I never felt like I could trust what any of the characters were saying or doing and that unreliable quality is perfect in a mystery novel.
My one complaint about the story is that it often felt like Kate was making very bad choices and obvious mistakes that helped move the plot along. There were so many things she did/said as a result of the knowledge she had working on the case that I'm pretty sure were illegal at worst or severely breaching confidentiality at best. Some elements also felt rather convenient or just implausible, such as using a burner phone to text one of the main characters under suspicion (like his phone wouldn't be monitored) or constantly photographing the boys and getting caught or finding evidence obtained by trespassing. Don't get me wrong, the story was great but a lot of the resolution felt like it depended on a few things that weren't very realistic and/or ethical.
Overall: This is Our Story is an atmospheric YA mystery that focuses on the legal processes and proceedings involved and is overall an engaging read. Though it could feel a bit slow in pace or improbably in plot at times, I enjoyed it and can't wait to read the author's other novels.
Related Posts