I received this book for free in exchange for an honest review. This does not affect my opinion of the book or the content of my review.
The Good Luck Charm
by
Helena Hunting
Also by this author:
Meet Cute
Published by
Forever
on August 7, 2018
Genres:
Romance
Pages:
384 •
Format:
E-ARC
•
Source:
Publisher
Goodreads
Lilah isn't sure what hurt worse: the day Ethan left her to focus on his hockey career, or the day he came back eight years later. He might think they can pick up just where they left off, but she's no longer that same girl and never wants to be again.

Ethan Kane wants his glory days back. And that includes having Lilah by his side. With her, he was magic. They were magic. All he has to do is make her see that.

Just when Lilah might finally be ready to let him in, though, she finds out their reunion has nothing to do with her and everything to do with his game. But Ethan's already lost her once, and even if it costs him his career, he'll do anything to keep from losing her again.
You know when you never knew you needed something in your life, and then once you've experienced it you don't know how you managed to live without it? Well that's pretty much where I'm at with hockey player centered romances, thanks to The Good Luck Charm by Helena Hunting. Two days after finishing and I still can't stop thinking about it, despite not knowing a single thing about hockey or having ever really read this genre of romance novel before.
The Good Luck Charm has a second chance romance at its center, following Lilah, a nurse in her mid twenties who is confronted with the return of a very significant ex several years after their traumatic break up. I love the drama and tension that comes with a hate to love and second chance romance, and it's not one that I'm exposed to often reading so much YA, where most of the characters are in their mid to late teens and haven't had time to cultivate super meaningful exes yet. I loved seeing the ice slowly thaw between Ethan and Lilah, and seeing how they both gravitated back toward each other and how threads from their teenage romance were woven into their adult relationship.
Another positive point for me as a reader in The Good Luck Charm is that there isn't the stereotypical drama you'd expect from a romance novel (jealousy, infidelity, miscommunication, etc.) The conflict lies more around setting defined boundaries in a relationship and maintaining a healthy sense of self, which isn't something I've really seen dealt with in a romance novel before. Though toward the end I was getting frustrated with some of the characters' actions and non-actions, it approached the idea of conflict in a relationship in a different way. I also enjoyed that while Ethan is a professional hockey player so obviously his profession is exciting and glamorous, there was still a lot of focus on Lilah's day job as a nurse and what her day to day looked like as well as her future career aspirations of become a nurse practitioner. I liked the balance of the surreal profession with a more normal (though important) one, and liked that there wasn't a lot of drama involved in Ethan sort of being a celebrity and Lilah being more of a normal person.
While I immensely enjoyed my reading experience, there were a few things that weren't my favorite. I think Lilah and Ethan getting together could have taken a bit longer, as they were pretty solidly together by the halfway mark of the book. There was also some added drama and family revelations for Lilah toward the end that felt a little too hasty, and I think there wasn't enough time to really explore her family's back story to make the reveal super significant.
Overall: I really enjoyed my foray into the sports/contemporary/romance novel world, and am definitely planning on reading Hunting's Pucked series (I believe some of the characters in that series are briefly mentioned here!)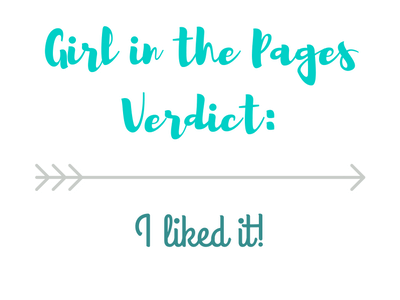 Related Posts