Lauren @ Bookmark Lit recently wrote an excellent post talking about how she feels that the longer she reads and blogs, the less 5 star ratings she finds/gives. The post was perfect timing because I had recently been ruminating on the same thing myself. I feel like it's SO RARE for me to rate a book 5 stars these days, and even when I reread previous 5 star books I think I probably wouldn't do so again (although I don't change my rating). So I decided to do a little digging into my own 5 star reads from 2018 as Lauren did and see if I could draw any conclusions…
5 Star Books So Far in 2018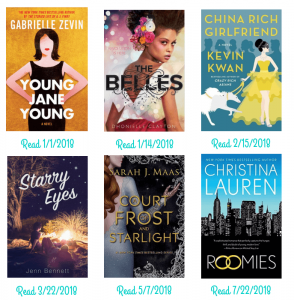 I have to admit, this is depressing. I was doing fairly well at the beginning of the year, and I've now read 76 books so far in 2018 and only have six 5 star ratings (not including one 5 star book that was a reread). I compared this to my 2017 reading stats and I had thirteen 5 star reads that weren't rereads, twelve of which I had read by the Thanksgiving holiday. In looking back at 2016, I only had seven 5 star reads, however I also read a lot less that year (I read 56 books in 2016 compared to 81 books in 2017, which I think explains the discrepancy a bit). Of the 5 star rated books so far in 2018, I was quite surprised by most of them, with the exception of ACOFAS (because I am a SJM fangirl). I ADORED The Belles (possibly might be my favorite of the year!) and was pleased that my first Gabrielle Zevin and Christina Lauren books were 5 star reads for me!
4.5 Stars That Came Close…
Next Year in Havana was so, so close to being a 5 star read for me- I loved the cover, the dual POV storyline, the historical fiction element juxtaposed with Cuba's modern day realities…but there were some parts that dragged and bored me a tiny bit that kept me from fully rating this one 5 stars.
I was anticipating rating Stay Sweet 5 stars because ICE CREAM (also the premise sounded adorable and how can you not live for that cover??) However the romance was what kept me from giving this a full 5 stars…I think the story would have been better off without it!
2019 Releases I'm Hoping to Rate 5 Stars
In Lauren's post she includes from predictions about books she thought she would rate 5 stars or books that she didn't expect to like so much and rate 5 stars. I thought it would be fun to look through my 2019 releases shelf on Goodreads (that's already longer than I'd like to admit…) and feature some books that I am planning to read next year and may rate 5 stars…
Courting Darkness (February 5th, 2019) | I surprised myself by being a huge fan of this series after reading the original trilogy last year, long after the publication date. The books just kept getting better and better, and I'm so excited to revisit the universe again after all of the drama that went down at the end of the original trilogy!
The Everlasting Rose  (March 5th, 2019)| So my love for The Belles is endless and it was quite possibly my favorite book of 2018, so I am SO EXCITED to see if the sequel can match my love for it!!
The Beautiful (October 8th, 2018) | I am not ashamed to admit I am a GREAT lover of all things vampire. From being one of the first people to check out my school library's copy of Twilight back in middle school to my current binge watching of Vampire Diaries on Netflix, vampires is always a buzzword that will catch my attention. I know the YA market got saturated with them for a while there back in the the late 2000s/early 2010s, but I am thrilled to see them emerging again and to read a Southern Gothic take on them!
Red, White & Royal Blue (June 4th, 2019) | If you've read my blog before you're probably aware that I have an obsession with all things royal, especially novels (all started by my exposure to The Princess Diaries at a young age) so I am SO excited for this unique plot of first son + royal prince.
When We Left Cuba (April 9th, 2018) | So earlier in this post I mentioned my love for Next Year in Havana, and I immediately added this spinoff story about one of the secondary characters to my TBR after I finished reading because it was THAT GOOD. I'm ready for some 1960s political intrigue!
The World of Throne of Glass (September 3rd, 2019) | Ok so this isn't technically a "novel" but I am so excited for it (I love series encyclopedias!) and it's perfect timing that it's coming out next year because I still need to reread QOS and EOS and finally read TOD and KOA…so I have some time!
Ninth House (October 1st, 2019) | I think we're all excited about the prospect of reading a Bardugo book that's set outside of the Grisha-verse, but you all know I have a soft spot for college- set YA and mix that with secret societies and Barudugo's wonderfully witchy vibe and I'm sure this story will be a stunner!
Crescent City (2019, official release date TBD) | So not much is known about this series yet but I really enjoyed Sarah's take on Catwoman and was impressed by her urban fantasy writing so I have a feeling this will have a similar vibe, just geared toward an adult audience!
Let's Discuss!
How many 5 star books have you read this year? Do you feel like the longer you've been reading/blogging the harder it is for a book to impress you? Do you have any 2019 releases in mind that you think you'll rate 5 stars? Let me know in the comments!
Related Posts