As we close out 2017, I'm rounding up all of my favorite books and recommending them by category throughout the last week of December! Everything from best releases, debuts, and back list books read will be featured!
2017 was an AMAZING year for me personally, despite it being sort of a dumpster fire of a year for a lot of other things (politics, natural disasters, etc). I've read more books that I ever have before, got promoted, bought a house, managed to keep up with this blog, and generally went through a whole lot of life changes. I also read some truly amazing books this year and can't wait to share my favorite 2017 releases that I read! Below you'll find the book covers, the month in which I read the title, and links to the Goodreads page as well as my review.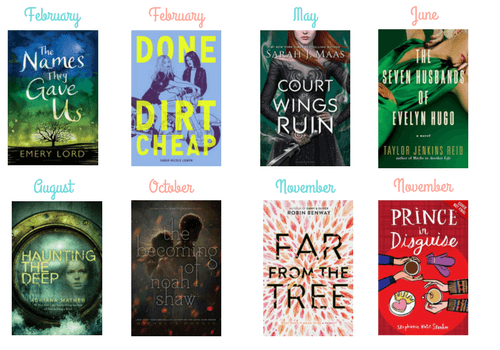 The Names They Gave Us // Pure, beautiful, and raw, I was lucky enough to borrow an ARC of this one from Lauren and read it early and it was just stunning. The cover, the content- this book is flawless and a must read for anyone who wants a meaningful contemporary YA read. Read my review here.
Done Dirt Cheap // This book was super different than anything I've read and was about badass girls doing badass things, trying to their best lives despite the circumstances they were forced or born into. Read my review here.
A Court of Wings and Ruin // I had my quibbles with this book but I got more Rhysand and the gang so obviously it ended up in my top everything list. Read my review here.
The Seven Husbands of Evelyn Hugo // Unlike anything I've read previously by TJR, this novel was glamorous and seedy, full of beautiful and vile people and decisions. It's addicting, especially if you want to see the film industry through the ages. Read my review here.
Haunting the Deep // I love love love the witch-y vibe of this series set in Salem, and coupled with the Titanic plot line it followed all sorts of cool American history. Read my review here.
The Becoming of Noah Shaw // While this had some major differences from the original Mara Dyer trilogy, the same unsettling, eerie vibe was totally there and the ending left you reeling and unsure of what really happened! I love books like that. Read my review here.
Far From the Tree // This book tugs at the heartstrings and was hands down probably the strongest contemporary I read. I felt like the fourth sibling to Grace, Maya and Joaquin and this book deserves every award and praise it's received. Read my review here.
Prince in Disguise // This book reads like a Hallmark Christmas movie (or a Netflix one- A Christmas Prince, anyone?) and it was SO much fun to combine my FAVORITE contemporary plot element of royalty with reality tv! Read my review here.
Did any of these books make your "top of 2017" list? Let me know in the comments!
Related Posts