I've made a lot of reading resolutions, and one of them is to be better about cultivating a monthly TBR. I know so many bloggers do beginning of the month TBR posts and I always LOVE reading them, so I've decided to post my own as well! I will include my physical, e-book, and ARC TBRs as well as a status update of where I am prior to starting my upcoming month's TBR.
Reading Progress Prior To This Month: 64/80 Books Read
I'll be super honest- I have sort of been in a reading slump since June. JUNE. I don't know if it's so much a slump as it is life getting in the way (work craziness and wedding planning which is seriously like its own JOB), but I've barely been getting through half of my TBRs each month which has made me pretty bummed, especially since I was hoping I might get to 100 books this year (sadly I don't think that's going to happen…). Anyways, October is usually a rough month for reading as well due to work commitments, but I'm hoping to at least get to 4-5 of these and then my reading usually jumps up a lot around the holidays, so I suppose there is still a bit of hope!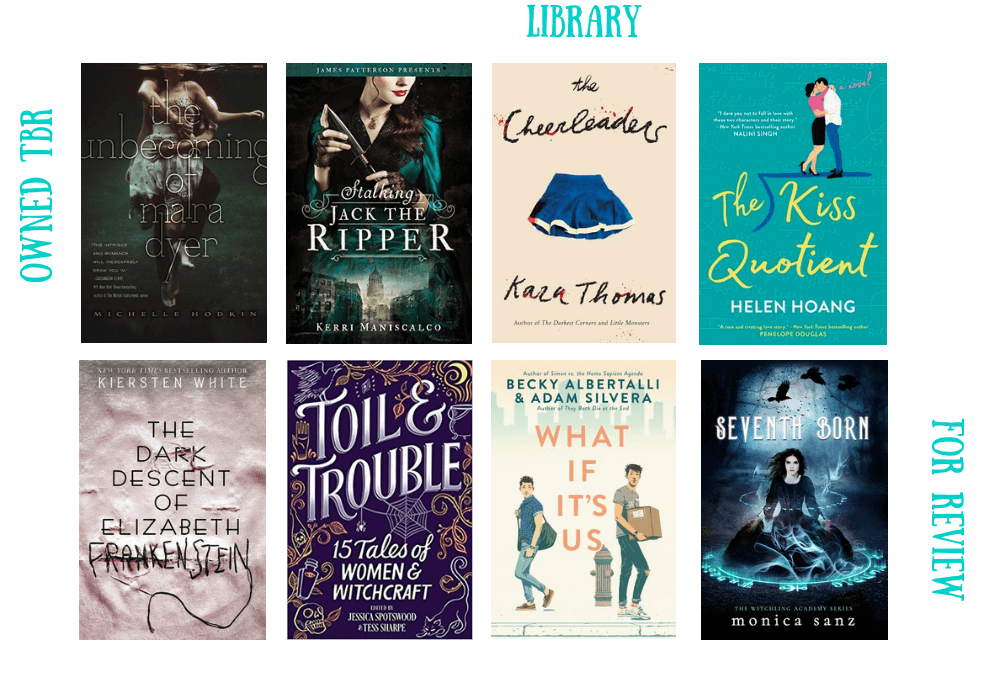 Owned
The Unbecoming of Mara Dyer // I was thrilled to be approved for The Reckoning of Noah Shaw on NetGalley, and I hear it draws a lot of flashbacks from the original series. Therefore, I thought I'd brush up on one of my favorite YA trilogies before I dive into the next installment! (Plus October is the perfect time for a spooky read, and this series creeped me out SO MUCH the first time I read it).
Stalking Jack the Ripper // Picked this one up during a crazy Amazon sale last year and have been waiting for the perfect time to read it! With the fall season starting it's a perfect fit for my upcoming fall TBR.
The Dark Descent of Elizabeth Frankenstein // So this book and I have been on quite the journey. I pre-ordered it from Amazon and it never arrived, and then 5 days later I find out it was delivered to our neighbors house instead (sigh). When I finally get my hands on it, I don't have enough time to read it before the author's event in my state, and then I was planning to go anyways and couldn't because my wedding dress ended up coming in, so I had to go pick it up (which was super exciting, but still I was bummed to miss the event)! I am hoping to FINALLY be able to concentrate on reading this book this month!
Library
The Cheerleaders // This cover is totally giving me PLL feels, and I'm always excited to dive into a thriller! Fingers crossed it keeps me on my toes!
The Kiss Quotient // I've been on my Overdrive waitlist for this one for AGES so I'm excited to finally have the chance to read it! I've really been enjoying adult romance books lately so I'm excited to continue the trend with this one.
For Review
Seventh Born // I'm a lover of all things witch-y, so I'm excited to try this paranormal read from Entangled Teen! It's also a good read to transition my TBR from summer to more fall-type reads.
What If It's Us // I was SO STOKED when I picked up an ARC this spring at YALLWEST (during a rather intense Epic Reads event and associated raffle) and I can't believe its release date is right around the corner! I'm hoping to get to it ASAP because I finally read Simon this year and LOVED it, and I want to see the authors on tour next month too!
Toil & Trouble // So I am so excited that YA anthologies are becoming more of a thing, and this one is about WITCHES so OF COURSE I had to request it via NetGalley. I'm so excited to read this one and start getting myself into the mood for fall! There are also some awesome YA authors in this anthology's line up, and some that I haven't read yet but am really excited to try!
Are any of these on your TBR? What's your most anticipated book for October? Let me know in the comments!
Related Posts