As much as I love reading and book blogging, I have a variety of interests outside of those hobbies that I love to chat about and share with others. I started Beyond the Books as a way to take a break from bookish content and feature some of my other favorite things!
---
One thing you may not know about me: I LOVE the beauty blogging world. I was reading beauty blogs long before I knew book blogs existed, and to this day I still prefer watching a good beauty Youtube review rather than a book review. I love that for virtually any product under the sun, I can find multiple opinions online and extensively research products before I decide the purchase. So it goes without saying that I ADORE makeup. I have a lot of it, and even have a dedicated vanity in my room just for doing my makeup. The holidays are an especially great time for the beauty world because all of the exclusives, gift sets, limited edition products, etc. Though I always include some of my Christmas list, most of the time the holiday exclusives are sold out well before December. I therefore picked up some of my must haves from this year's holiday releases in October and early November in order to ensure I'd get them!
MAC Snow Ball Collection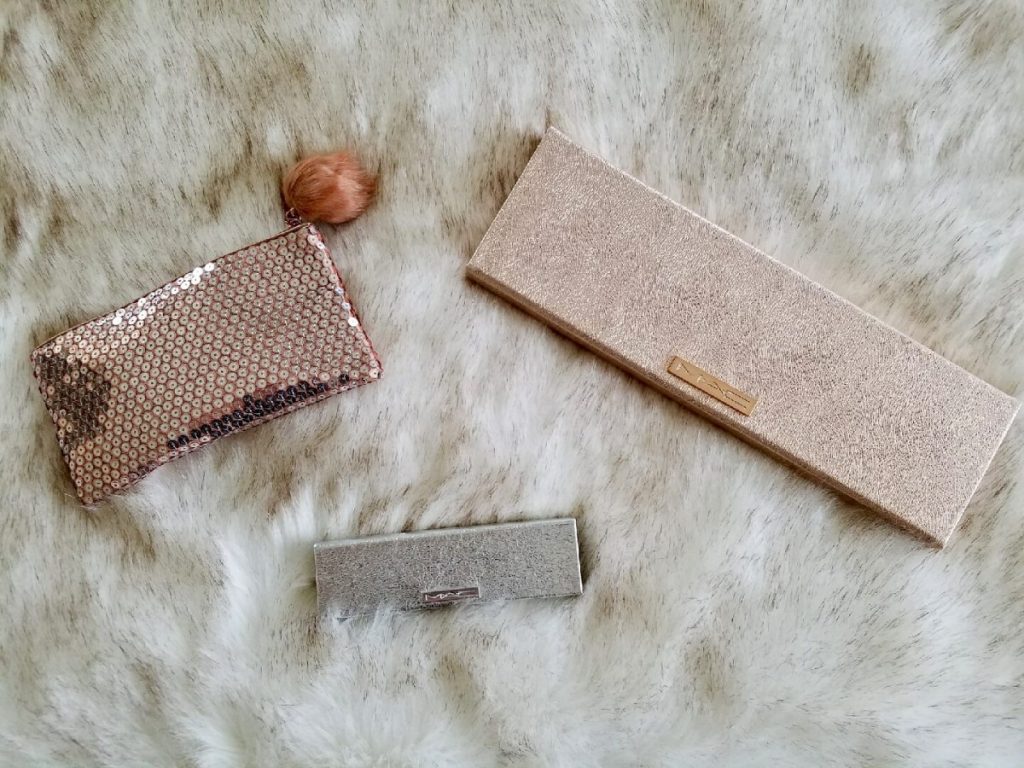 MAC's holiday sets this year are the best the brand has had in YEARS, with the best price points and quality for your money, too. I picked up my must have items from the collection during October right after the first wave of releases (this collection was released in two parts) and everything was technically FREE since I had Nordstrom notes to spend (thanks to my Anniversary shopping!).
It really all started with the MAC Snow Ball Mini Lipstick Kit. I saw it featured on Instagram and FREAKED OUT because hello, you get TWELVE colors for under $70?! Also the minis are still pretty sizeable and it takes me quite a while to use up a full size MAC lipstick (hence why I have a drawer full of them). I only had two of the twelve colors so it was a great buy and is going to allow me to try a bunch of colors, and THAT PACKAGING. The fact that the bullets are the color of the lipstick rather than the standard black? STUNNING.
I took advantage of Nordstrom's order online and pick up in store service (since I knew I NEEDED to secure this ASAP because they're already sold out practically everywhere) and I didn't want to have it shipped to my house since we were having grossly hot weather and I was afraid they would melt. So when I strolled into my favorite store the next day to pick them up, you can bet that I also took a walk by the MAC counter and ended up purchasing two more items from the collection. The Snow Ball Eye Compact caught my eye, especially because it was only $29, came with a brush, and the shadows are almost FULL SIZE. It also includes two Dazzleshadows, which are glittery and sparkly and perfect for the holidays. TBH this palette would be perfect if it weren't for the fact that it's called the ROSE GOLD palette but it's in SILVER packaging…
My last item from the collection I picked was the Snow Ball Peach Face Bag, which I think may be a Nordstrom exclusive (I couldn't find it on the US MAC site, but did find it on the UK site). You get a full size Extra Dimension Skinfinish in Show Gold (a duochrome highlighter that shifts between gold and pink), a fan brush and a bag. Even though this product is available as a standalone regular item, I LOVED the holiday packaging and the brush and bag as well (especially since I don't have a fan brush in my collection). A lot of people were waiting for the release of the Gold Face Bag instead because it has the coveted, limited edition gold Extra Dimension Skinfinish, Whisper of Gilt, but I loved the pink in Show Gold and found it to be much more unique. These are my FAVORITE highlighters in the whole wide world, so I was thrilled to get to pick one up as part of the holiday release.
Lush, Sephora, & More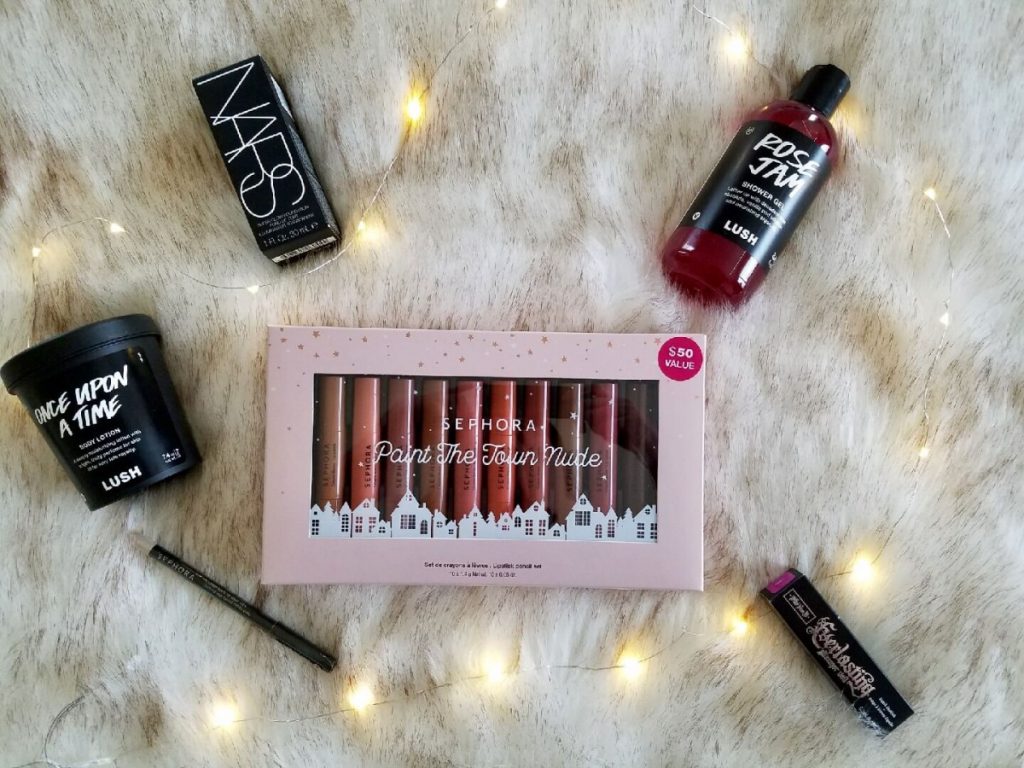 I headed to the mall the first weekend of November to pick up some more remaining holiday (and some non-holiday items) because I'm coming out of a three month busy season at work (55+ hours a week) so some #treatyoself was in order.
Are you a makeup junkie? Have you picked up any holiday sets this year? Do you like to take a departure from bookish content for your blog and focus on other things? Let me know in the comments!
Related Posts