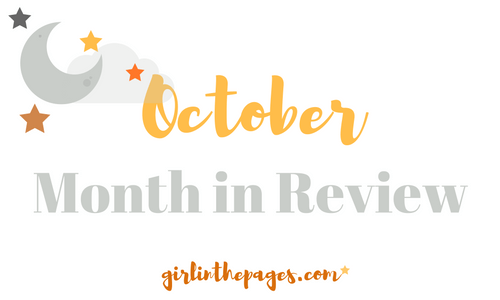 Books I Read This Month:
Ok so I know I've been TERRIBLE at monthly recaps the past year or so, but really I've been so exhausted with life in general and my life isn't terribly exciting- I literally spend like 90% of my time working and the rest reading or watching YouTube makeup tutorials so you guys aren't missing out on much, I swear!
Books I Reviewed This Month:
There's Someone Inside Your House (4 Stars)
The Wrath and the Dawn (3 Stars)
The Becoming of Noah Shaw (5 Stars)
From the Notebooks of a Middle School Princess (5 Stars)
Royal Wedding Disaster (4 Stars)
Stats:
Total Books Read: 6

Total Novellas Read: 0

Rereads: 0
Favorite Book Read This Month: The Becoming of Noah Shaw was out of control!

Least Favorite Book Read This Month: Honestly, there really wasn't a bad one!

Book that Most Surprised Me This Month: I was expecting to love Moxie more than I did, to be 100% honest.

Reading Challenge Updates
Goodreads 2017 Reading Challenge Progress: 65/60
Other Posts This Month:
There's Someone Inside Your Bookstore- Stephanie Perkins Event Recap
Personal Updates:
I'll be real- I haven't done an end of the month recap in MONTHS, basically ever since I got promoted at work because I'm TIRED, y'all. I love my job and have an amazing team but adulting is HARD. I'm finally starting to come to the end of my busy season at work so hopefully there will be a LOT of R&R for me this holiday season because lord knows I need it. October was a whirlwind of late work nights, stress-playing Roller Coaster Tycoon, and Halloween prep (we actually decorated quite a bit inside our house this year!) We also had a lot of fun on Halloween itself, passing out king size candy bars (yes, we're THAT house. Paying it forward since growing up we always had amazing candy in my neighborhood) and watching Hocus Pocus. While work was crazy I also got to go to a lot of amazing work events too, including the Winchester Mystery House which was all decked out for Halloween/Friday the 13th- and I had the BAJEEZUS scared out of me (we did a nighttime tour and during the tour I was fine but apparently my subconscious was not because I had nightmares for days after, lol). November is basically going to be my month of reclaiming my life and getting caught up with this blog!
How was your October? Did you do anything fun for Halloween? Do you have end of the year blog or TBR cleanup to do? Let me know in the comments!
Related Posts