One thing that that's been undeniably noticeable since I started blogging is how many books I've acquired. I've been an avid lifelong reader so I've always had a lot of books, but I also tended to reread a majority of the time so I wasn't constantly adding to my shelves. Blogging, however, has made me VERY aware of new books and most bloggers know the struggle of constantly trying to keep up and stay relevant by prioritizing reading and reviewing new releases. Sure, the library is an option but for a coveted new release it can be weeks or months before you get your hands on a title.
While I did a good job in 2016 reading books from my shelves (44 out of 55 books I read I owned) I didn't really feel like I was making a dent in my physical TBR because I kept adding to it. For a while I was keeping track of the books I was buying but I honestly lost count around 30. The past year and a half has also brought about a great loss of shelf space, as when I moved out of my family's home my parents kept our bookshelves (which were solely filled with my books, so now they're pretty much sitting nearly empty with a few coffee table books and potted plants in them…) and I've only managed to buy and build one shelf for my apartment (there's another shelf waiting to be built, but it's such a project Max and I haven't gotten around to it yet). Keeping all of these factors in mind, I am hoping to set some parameters around the books that I buy in 2017.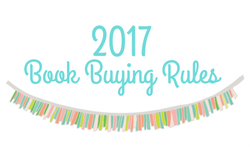 Only buy a total of 24 new releases | I'd like to average 2 new releases per month (or less). I'll try to focus on my most anticipated 2017 reads.
Limit backlist book buying to 1 title per month | There are definitely some series I've recently started that are older and that I will definitely need to purchase as I continue reading them, so I want to leave SOME room for purchasing backlist titles.
Buying books for author signings | Over the past 2 years I've started going to author signings and bookish events a lot more, and one of the main points of going is to be able to meet the author and have your book signed. I'm making an exception for buying books for author signings and events. Hopefully these will fall into my 2 new releases per month category, but it's OK if they don't.
Leveraging my Kindle for Overdrive library reads | I just got a kindle for Christmas (I know, super late to the party) and I LOVE LOVE LOVE it. I also find I read e-books faster. Now that I'm reading them on my Kindle and not just on my phone screen, I'm hoping it will help satisfy the urge to buy a book when I can check it out pretty conveniently instead (and it's a great way to try out a book, because if I love it then I will purchase it).
Don't impulse buy | I find this is much more of a problem in person than it is for me online. I'll tend to leave books in my shopping cart online and then not buy them after I've thought it over, whereas in person I'm more prone to throwing a book in my physical cart, especially if it's on sale (those Costco prices though) or a popular title that I'm waiting forever to get from the library.
Be More Proactive About Pre-Orders | Pre-ordering books can be a great way to find good prices, and it also helps prevent the feeling of being in a "book buying drought" because if I know I have books being delivered to look forward to, I'll be more likely to abstain from buying random books in store.
Take Reviews to Heart | While it's a good idea to form your own opinion about books, sometimes I find myself turning a blind eye to negative reviews by bloggers who have similar tastes to me because I am just so excited about a book. There have definitely been times where I've loved a book that others have disliked, but going forward I should really evaluate if a book that's fallen flat for a lot of other people is worth the investment for me.
Do you have any goals set for your 2017 book buying? Did you buy too many or too few books in 2016? Do you keep track of the number of books you buy? How do you determine which books you buy vs. borrow? How often do you check in with yourself about how many books you've bought so far? I'm hoping to do quarterly check ins/haul posts! Let me know your thoughts in the comments!
Save
Save
Related Posts