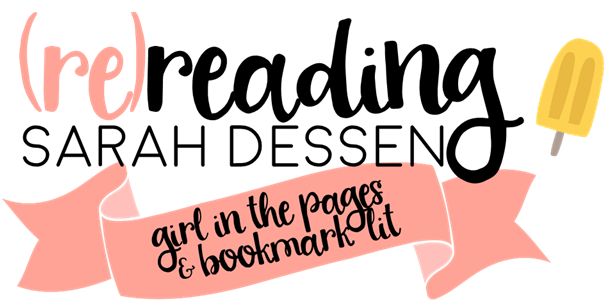 Most readers and bloggers can agree that Sarah Dessen is the Queen of Contemporary. Her books have been around long before YA was a well-known genre and I remember her books being some of the first I ventured into in middle and high school summers when the YA section at my local library was lacking and I didn't even really know what a contemporary novel was. Over the past 12+ years I've read and loved almost all of her books, and with Once and for All out this Sarah has surely been on everyone's mind! Lauren from Bookmark Lit and I are therefore joining forces this summer to discuss all things Dessen this month- when we started reading her books, our experiences with rereading, and other fun discussions, recommendations, and personal stories. Our feature will take place over 4 weeks this June on Wednesdays at Lauren's blog and on Thursdays here!
Schedule
Introduction, Our Sarah Stories, and Discussion of Someone Like You
June 7th on Bookmark Lit – June 8th on Girl in the Pages
Dessen Recommendations and Similar Stories
June 14th on Bookmark Lit – June 15th on Girl in the Pages
Blog Features: Cover Colors and Once and for All Tour Recap
June 21st on Bookmark Lit – June 22nd on Girl in the Pages
Once and For All, Dessen Favorites, and Wrap-Up
June 28th on Bookmark Lit – June 29th on Girl in the Pages
Last week I had the opportunity to meet one of the most influential authors in YA fiction, Sarah Dessen. Coinciding perfectly with my ReReading Sarah Dessen blog series with Lauren from Bookmark Lit this summer, I was so thrilled to see Sarah at her second to last tour stop just a day after she found out Once and for All debuted at the top of the NY Times Bestseller list! Sarah's event was definitely the BEST author event I've attended in 2017 (thanks, Kepler's!) and I'm thrilled and blessed to have been able to attend!
The evening began early for me, as I was determined to be front and center for Sarah's event, since I know how popular she is! I arrived two hours early and claimed the very front and center seat, and was soon joined by members of the wonderful Bay Area Book Squad Joss and Enna. We had a great time chatting and discussing our favorite Dessen books and experiences with everyone as we waited for the event to start. I had a huge totebag filled with all of my Dessen books, and to my delight was told that there was no signing limit, and that Sarah would be signing and personalizing all of our books! Once she arrived she let us know that she'd keep her presentation short and sweet, as her priority lies in being able to spend time one on one with all of her fans in her signing line. Unlike most authors I've seen on tour, Sarah didn't have a moderator, but rather just stood up and told us about her journey with Once and For All and answered questions herself!
Fun Facts and Interesting Insights from Sarah
Sarah's first book came out in 1996, and she thought she'd take a break after Saint Anything since 12 books is a nice, round number.
She was inspired to write Once and For All after watching two of her daughter's babysitters plan weddings at the same time. One was a Mung wedding and one was a traditional Southern wedding with a modern twist (the couple made up a new last name that they both changed their names too since neither the bride nor the groom wanted to take the other's name).
Sarah was in her first wedding when she was 6 years old as a bridesmaid.
Sarah spent a year planning her own wedding. All of the things she remembered are the things that didn't go well or went wrong because those are the things that stuck out in her mind.
On getting the news that Once and For All debuted on the NY Times Bestseller list- When you're an author you know at Wednesday at 5pm EST is when the NY Times bestseller list is released, so she found out the day before the Kepler's event that she debuted at #1!
She doesn't think she can write fantasy because she's too lazy. She might feel pushed out of YA for a while when her own daughter becomes a teenager so her daughter can have YA to herself.
Sarah is drawn to writing YA realistic fiction, but fell into the genre in a backward way. When she was at UNC she wanted to be a Southern literary writer. She could not stand high school and couldn't wait to get out. In college she tried to write about heavier topics but didn't receive positive reception, but then would receive rave reviews when writing about things like prom. She was very resistant to pursue YA at the beginning of her career since at that time there wasn't even a YA section in bookstores. Her agent encouraged her to pursue her manuscript that had a 15 year old protagonist (That Summer) and it ended up selling to a children's publisher really quickly.
Sarah noted that as an author it's important to know your lane. She admit that as an author sometimes you get to a point where sometimes you have to negotiate with yourself to decide if you want to write a book that you know will sell vs. a project you're curious about pursuing but that may not sell.
Regarding the Easter Eggs in her books (the cameos, related threads, etc.): After her second book she had a lot of requests for sequels, however she's just not a sequel person (she did consider writing a sequel for This Lullaby and even wrote a chapter for it, but never pursued it much further than that). She brought Scarlett back in This Lullaby as a one off occurrence as a thank you for fans who had asked for sequels. People loved it and she realized that she herself still lives in the town she grew up in and is constantly running into people from past stages of her life all the time, and therefore Lakeview isn't all that different (the fictional town where many of her books are set). The best connections that fans find are often the ones that she didn't plant purposely- for instance, her cousin pointed out that in Once and For All there's a red headed girl at a party and theorized that maybe it was Scarlett's daughter. Sarah hadn't made that connection intentionally, but it could totally work.
Giveaway
Lauren and I are thrilled to offer a signed copy of Once and For All for our Rereading Sarah Dessen blog series giveaway! This was signed by Sarah at the event I attended, and I'm excited to pass a bit of the magic from the event on to someone else! The giveaway is US only, must be 18+ or older to enter, and I do check EVERY entry, so no cheating please! I am not responsible for any items lost in the mail.
Related Posts