While 2021 has been a challenging year already, I decided it was the perfect time to finally dive into the world of Youtube. I've been interested in potentially dabbling in Youtube for a while now, however it always seemed so intimidating- the equipment, the editing, learning the algorithm, etc. However, I've been watching more Youtube than ever before the past year since we've been in lock down due to COVID, and since it seems like I'm going to be stuck in the house until at least this summer (if not the end of the year) I decided to take the plunge and finally start my channel!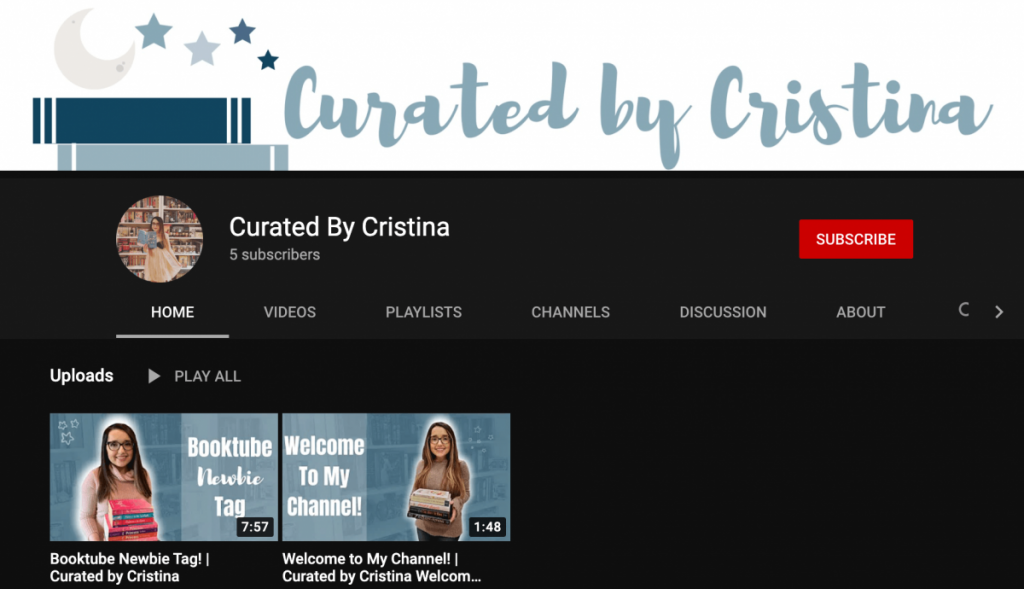 As I explain in my "Welcome to My Channel" video, I decided to name my channel "Curated By Cristina" rather than Girl in the Pages since I wanted the ability to cover a wide array of topics, and not be confined to just bookish content (although there will be plenty of that too!) Along with Booktube, I adore Beauty Youtube and have been wanting to dabble in beauty content too, so those will be the main focuses of my channel (alongside other things I am passionate about, such as Disney, Switch games, etc). I'm not sure if I will change my overall blog name one day, but for now I'm going to see how I like the name on Youtube (and hope it won't be too confusing!) Right now I am keeping my bookish and beauty content separate on Instagram (@girlinthepages vs. @curated_by_cristina) and I'm not sure if I'll keep up two separate accounts or ultimately just keep one.
I'll be honest, I'm very much still a novice when it comes to lighting, editing, and all of the technical aspects really! Don't be too harsh if you check out my channel and my editing is a bit rough, especially with the transition clips (I'm learning!) I actually enjoy editing but definitely need to still play around with different softwares and figure out what works best for me and how to use a majority of the editing functions (it took me about ~4 hours to edit the 2 videos I have up right now LOL). I also have a VERY basic set up with just a ring light I purchased from Amazon and my iPhone. I want to make sure this is something I stick with in the long term before investing in a camera (I also need to research cameras- if you have recommendations let me know!) One thing I've learned during this Youtube journey is that you really don't need a lot of fancy equipment to get started, so don't let that stop you if you are thinking of starting a channel!
If you're interested in checking out my channel, I would love your support! I will definitely continue blogging as that was my original online platform (and first love in the online bookish world) but I'm excited about this opportunity to expand my content, develop a new hobby, engage with even more creators, and see where this new journey takes me!
Related Posts