Inspired by Lauren at Bookmark Lit's latest Book Blog Ideas post, I decided to channel her fabulous Read-Bait feature into a post where I feature a theme in a book that I'm obsessed with, and offer my own recommendations along with collecting recommendations of other readers who might have similar suggestions!
One of my all-time favorite tropes in the contemporary genre is seemingly normal characters finding out that they're royal. I know it sounds cheesy, but it's also the ultimate wish-fulfillment plot line, imagining that something so extraordinary can happen to someone so ordinary. My love for this theme also expands to characters who marry into royalty or really just plain old royalty itself (especially if the character is royal but not in line for the throne, but then due to a twist of fate they suddenly are the crown's heir…hence my obsession with Netflix's The Crown, which is even better because it's all true!) I feel like I have definitely NOT read enough books featuring royalty and I've been wanting to find some more ever since my recent re-watch of The Princess Diaries.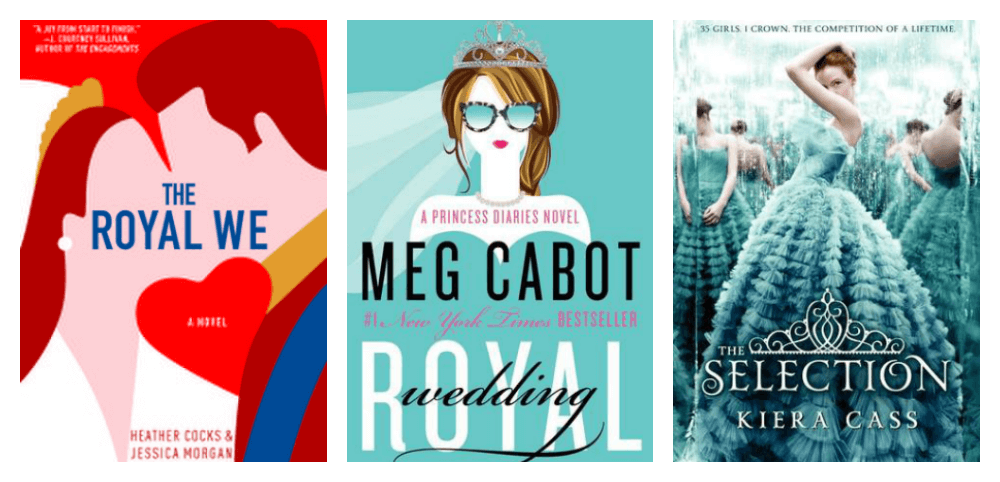 The Royal We by Heather Cocks and Jessica Morgan | Heavily influenced by the courtship of William and Kate, this book is utterly addictive. I loved that it spanned such a large length of time without ever feeling dull, and that it's set in the real world and it's about inheriting the real British throne. Bonus points for it being the fairy tale of the American girl capturing the British prince's eye. SO MUCH FLUFF here but I love love love it.
The Princess Diaries by Meg Cabot | My love for this series knows no bounds. I've reread the series in its entirety at least 3 times, and have read the earlier books even more than that, to the point where my copies are literally falling apart (I purchased my copy of the first book in the series about 15 years ago and still have it). There is just not another series I can think of where the "normal to royal" trope is done so perfectly. When I found out about Royal Wedding, real screams were emitted. I try to push this series on everyone, not only for the plot but because of Cabot's fantastically snarky writing and the hilarious pop culture references (especially the early 2000's ones that are soooo fun to look back on now).
The Selection by Kiera Cass | Ok so while not contemporary, I loved the merging of reality tv and monarchy for the concept of this series (especially since in the USA, celebrities/heiresses are often referred to as "American Royalty" and often find their way onto reality tv shows). While this series isn't perfect, I loved seeing how the prospect of marrying a royal would impact each contestant's life (for better or for worse).
So tell me, do you have recommendations about contemporary novels that have the normal-to-royal (either by birth or by marriage) trope? Do you like this theme or do you find it so improbable that you don't bother reading about it? Did you ever harbor a secret wish that you were secretly 37th in line for a foreign throne and no one had told you yet? Let me know in the comments, and be sure to leave your recommendations!
Related Posts