This year is an election year in the United States, which means politics are even more in the limelight than usual and campaigns stickers can be found everywhere from backpacks to car bumpers. While this year's election is arguably the biggest media circus in recent history (and it proves to be somewhat slim pickings, just saying) the focus on politics has reminded me of how much I love contemporary YA with political undertones. I've read a few great ones, and the political thread that runs through these novels impacts so many aspects of the story dynamics, from family tension to romantic relationships to the protagonist critically reflecting on their own stance on important issues. I've decided to highlight my recommendations for my favorite YA novels that feature politics as a major dynamic, whether at the local or national level, and some that I really want to try soon!
Recommendations for YA Books with Political Themes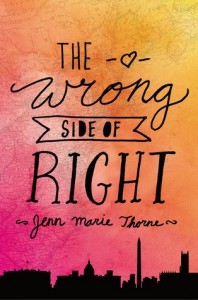 Kate Quinn's mom died last year, leaving Kate parent-less and reeling. So when the unexpected shows up in her living room, Kate must confront another reality she never thought possible—or thought of at all. Kate does have a father. He's a powerful politician. And he's running for U.S. President. Suddenly, Kate's moving in with a family she never knew she had, joining a campaign in support of a man she hardly knows, and falling for a rebellious boy who may not have the purest motives. This is Kate's new life. But who is Kate? When what she truly believes flies in the face of the campaign's talking points, she must decide. Does she turn to the family she barely knows, the boy she knows but doesn't necessarily trust, or face a third, even scarier option?
Why You Should Read It:
Family dynamics that are tough but real, they never verge on cheesy and it showcases how strong bonds can be formed even in mixed families.
Politics are really brought to the forefront in this one, and Kate reflects on her feelings on a lot of political issues, especially the ones which her and her father stand on opposites sides of.
The political aspects are extremely well-balanced.

I never felt while reading that one side was being bashed or given preference to over another. Readers affiliated with either political party can probably read this novel without being offended.

The Wrong Side of Right was my favorite contemporary of 2015!
---
The Garretts are everything the Reeds are not. Loud, messy, affectionate. And every day from her rooftop perch, Samantha Reed wishes she was one of them . . . until one summer evening, Jase Garrett climbs up next to her and changes everything.

As the two fall fiercely for each other, stumbling through the awkwardness and awesomeness of first love, Jase's family embraces Samantha – even as she keeps him a secret from her own. Then something unthinkable happens, and the bottom drops out of Samantha's world. She's suddenly faced with an impossible decision. Which perfect family will save her? Or is it time she saved herself?
Why You Should Read It:
The political aspects in this story are a little more subdued, as it has to do more with local elections than a presidential race. However, it serves as a constant running tension throughout all of the other themes, relationships, and decisions in the novel.
This book features a lot of different types of families, and showcases how each type has their strengths and weaknesses. There's not the typical "perfect" political family here.
The climax of the story really takes a look at how morality can be tested in the face of politics.
---
Political Books on my YA TBR
Andie had it all planned out.

When you are a politician's daughter who's pretty much raised yourself, you learn everything can be planned or spun, or both. Especially your future. Important internship? Check. Amazing friends? Check. Guys? Check (as long as we're talking no more than three weeks). But that was before the scandal. Before having to be in the same house with her dad. Before walking an insane number of dogs. That was before Clark and those few months that might change her whole life. Because here's the thing – if everything's planned out, you can never find the unexpected. And where's the fun in that?
Why It's On My TBR:
Um, first of all, THAT COVER
I'm really intrigued by this "scandal" that's mentioned.
I'm really hoping that it may focus on both the great and hard things about a father-daughter relationship, which I feel like I don't see highlighted enough in YA!
---
Welcome to the world of the fabulously wealthy in London, 1909, where dresses and houses are overwhelmingly opulent, social class means everything, and women are taught to be nothing more than wives and mothers. Into this world comes seventeen-year-old Victoria Darling, who wants only to be an artist—a nearly impossible dream for a girl.After Vicky poses nude for her illicit art class, she is expelled from her French finishing school. Shamed and scandalized, her parents try to marry her off to the wealthy Edmund Carrick-Humphrey. But Vicky has other things on her mind: her clandestine application to the Royal College of Art; her participation in the suffragette movement; and her growing attraction to a working-class boy who may be her muse—or may be the love of her life. As the world of debutante balls, corsets, and high society obligations closes in around her, Vicky must figure out: just how much is she willing to sacrifice to pursue her dreams?
Why It's On My TBR:
I love that this focuses on politics outside of a contemporary setting, back when politics meant fighting for your rights, not just idling watching the news and voting when your absentee ballot comes in.
The women's right movement and first wave feminism is something I LOVED studying in college, so I'm excited to see it as the main setting for a fiction novel!
Also I love anything with balls gowns and sparkly plots so I'm really interested to see how this is juxtaposed with the political aspects!
---
Let's Discuss!
I absolutely love political elements in YA books, however I find it so hard to find it in non-contemporary novels! Fantasy is rife with fictional political systems, but there's something so intriguing to see characters grapple with political issues and institutions that are the ones we are dealing with, or have dealt with.
Do you have any books that feature politics that you'd recommend? Are politics a theme you enjoy reading about, or do you find yourself shying away from them? Have you ever had a really great or really terrible experience with politics in a novel? Let me know in the comments!
Related Posts