I've always loved the fall season, but something about this year has me really excited for it. I'm talking my house is already decorated and it's not even the end of August as I type this post! I think it's because last year we didn't get to experience it as normal due to COVID, and while this year is definitely still not "normal," there's at least a tiny more "normalcy" available now that vaccines are available and we can start going out a tiny bit more, and it also seems like less book releases are being delayed/pushed back. Therefore, I felt it was appropriate to share my most anticipated reads (all 2021 releases!) for the upcoming spooky season!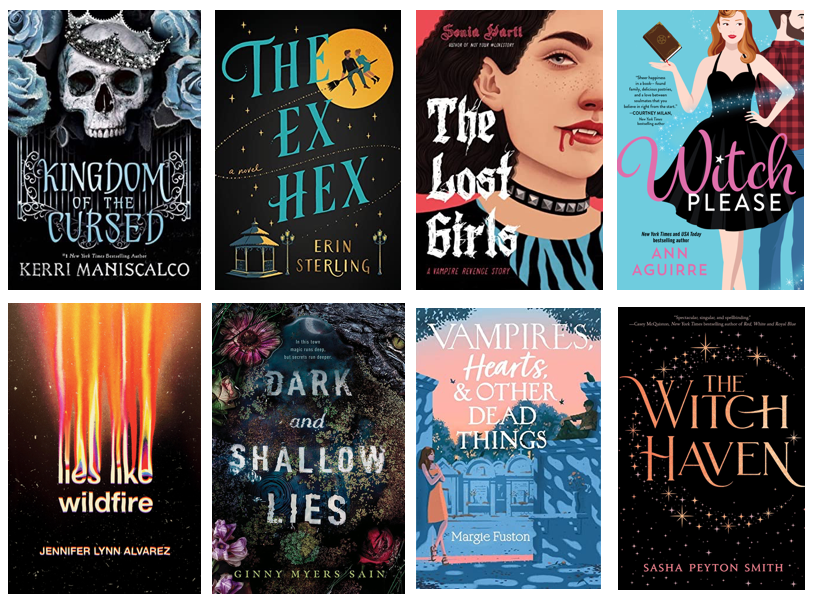 Kingdom of the Cursed (October 5th) | The second installment in Kerri Maniscalco's newest series, I am excited to see how things ended after the final events of Kingdom of the Wicked, and am definitely getting Dante's Inferno type vibes with this one. I did enjoy the first book but it felt a little like it was trying to be ACOTAR-lite in some ways, just way more watered down in terms of the romance…still intrigued to keep reading, though!

The Ex Hex (September 28th) | This is one title that I've seen have a lot of traction throughout 2021 already since it's written by a well known author under a pen name (I am hoping that means she intends to write more witchy books in the future!) This is an adult witchy rom com and apparently part of a series and this is definitely the type of content I need in my life!
The Lost Girls (September 14th) | So I actually just finished a romance by this author (Heartbreak for Hire) so it's interesting to see her pivot to YA paranormal in the same year. It has an interesting premise, with the jilted exes of vampires who were turned by him in different decades plotting against him together, so excited to see where this one goes!
Witch Please (September 7th) | This is the first book in a new series called "The Fix-It Witches" which sounds absolutely adorable! The cover is giving me old-school Bewitched vibes.
Lies Like Wildfire (September 7th) | I have mixed feelings about this one. As a California native, these wildfires have been absolutely devastating, especially the past few years. It's unfortunately no longer an "if" they will happen each year, but a "when." (I'm actually currently running multiple air purifiers in my house as I type this because we're downwind from some pretty bad smoke coming off a fire). I think the idea of using it as the premise of a thriller is interesting and not something I would have ever thought of…however I hope it is handled properly.
Dark and Shallow Lies (September 7th) | I can't remember the last time I read a supernatural thriller, and this one is also set in the South which I find perfect for these spooky fall reads. I'm also interested to see how the contemporary + paranormal will interact in this since the protagonist is visiting the fictional "Psychic Capital of the World."
The Witch Haven (August 31st) | I've actually started this already and I am already HOOKED. I am excited to see a new take on a magical school and I ADORE historical fiction!

Vampires, Hearts and & Other Dead Things (August 24th) | I LOVE a good gothic, Southern, paranormal story and this one is definitely on my radar. I am also SO HAPPY to see the continuation of the trend of vampires reemerging in YA.

Related Posts