I received this book for free in exchange for an honest review. This does not affect my opinion of the book or the content of my review.
On the Come Up
by
Angie Thomas
Also by this author:
The Hate U Give
,
Concrete Rose
Published by
Balzer + Bray
on February 5, 2019
Genres:
Contemporary
,
Young Adult
Pages:
447 •
Format:
ARC
•
Source:
ALA, Publisher
Goodreads
Sixteen-year-old Bri wants to be one of the greatest rappers of all time. Or at least make it out of her neighborhood one day. As the daughter of an underground rap legend who died before he hit big, Bri's got big shoes to fill. But now that her mom has unexpectedly lost her job, food banks and shutoff notices are as much a part of Bri's life as beats and rhymes. With bills piling up and homelessness staring her family down, Bri no longer just wants to make it—she has to make it.

On the Come Up is Angie Thomas's homage to hip-hop, the art that sparked her passion for storytelling and continues to inspire her to this day. It is the story of fighting for your dreams, even as the odds are stacked against you; of the struggle to become who you are and not who everyone expects you to be; and of the desperate realities of poor and working-class black families.
It's no secret that everyone's been waiting for On the Come Up since The Hate You Give took the YA world by storm. Angie Thomas' debut novel was bold, tackling tough topics and unafraid to confront harsh realities concerning race, police violence, class, and interracial relationships. In her sophomore novel On The Come Up, Thomas spins another story about a girl from The Garden, but focuses on Bri, an aspiring rapper, who faces the threat of poverty, drug abuse, grief, and stereotyping on her journey to "make it" in the music industry and provide stability for her family.
One of my favorite things about Thomas' novels is that while they tackle many social issues head on, they also still allow their protagonists to be teenagers dealing with more common teenage issues too. While Bri is a potential up and coming rap star she also still has to deal with school, ACT prep, friend group drama, etc. This was also balanced with larger issues that she was facing in her personal life as well, as her family is truly living paycheck to paycheck and is one paycheck away from living in poverty, having family members involved with the local gang and her constant worry for their safety, and her constant anxiety regarding her mother's sobriety. Bri is a character who is truly coming of age and while she has large obstacles to overcome, is still a stubborn, emotional teenager a times and acts out accordingly. However throughout the novel she grows and changes in a realistic way and while she does not outgrow her flaws (which wouldn't be realistic) she learns to acknowledge them and gain a better sense of self.
Bri's rap ambitions play a huge role in the book, and are often prioritized above her education (much to her family's dismay). There's also a sense of urgency that Bri must prove herself to be her daughter's father (who was a pretty famous rapper before he was murdered) while also stepping out of his shadow at the same time. One of the most compelling plot points in the book is the push and pull Bri encounters when seeking fame, as she struggles with the stereotypes that are placed upon her as a black female in the rap industry (especially due to some of her lyrics and the way the media tries to link them to certain events in the book) but is also tempted to lean into those stereotypes in order to reach success and have a more successful career (which in turn could help her family financially in a big way). As the story progresses readers will see Bri spiral deeper and deeper into an image that's been thrust upon her rather than cultivated herself and the consequences of either embracing it or trying to forge her own path.
Another element of Thomas' stories that I always find are incredibly well written are her character's families. Though On the Come Up is a stand alone novel (although a long one at over 400 pages) I truly felt like I got to know Bri's family, from her recovered drug addict mother who's doing her best to provide for her family, to her brother Trey who's struggling to find his place after graduating from college to her, to her Aunt Pooh who's chosen a more dangerous path in life but who loves her family dearly. Bri's paternal grandparents also play a huge role (and are hilarious at times) and I appreciated that they were shown as being such a strong support system for Bri, especially when in her past her parents were not able to (many children are brought up by relatives other than their parents and I think it's so important to show that they can be just as important as a parent).
Overall: On the Come Up is a solid second novel by Angie Thomas and one that I thoroughly enjoyed reading. While it didn't quite evoke the same emotional connection as THUG did for me (which is still one of the best YA books out there) I believe On the Come Up will still make an incredible mark in the YA genre.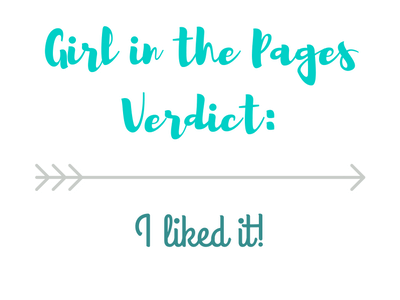 Related Posts