At the end of every year I usually do a round up post of all of my reading statistics, but this year I thought it would be fun to do it in the middle of the year and compare the mid-year stats to the end of year stats as well, and see if my reading trends continue or change!
Total Books Read as of June 30th, 2020: 40/100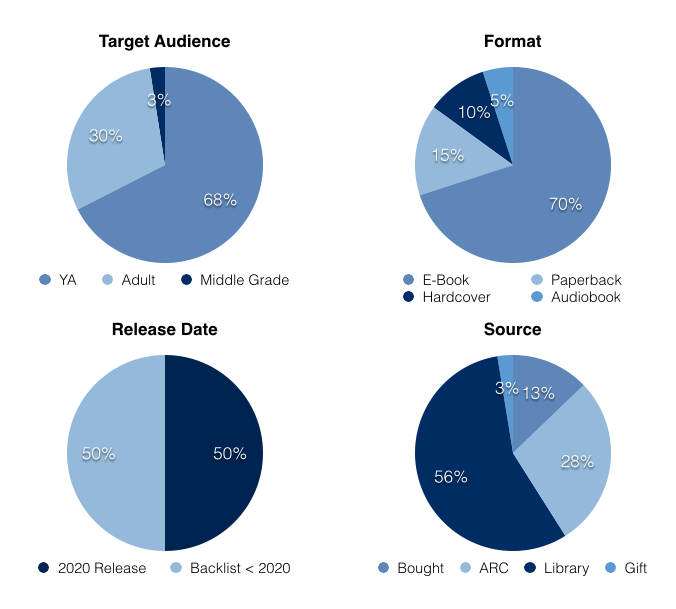 Target Audience: I'm actually reading more Adult as of now than I usually do, and really enjoying it! When I look at my monthly TBR posts I see that I do have at least a few Adult fiction titles on them each month (mostly romance) and I'm really liking the balance it provides me! I didn't read any Middle Grade in 2019 so even this little bit is adding some diversity to my reading too (and I hope to read more before the year's over!)
Format: My E-Book reading has been WAY up this year, mostly due to the pandemic and not visiting libraries and bookstores like I used to. I'm hoping to get through some of my physical backlist titles this year though so hopefully that will even out my statistics (though it's SO convenient reading on my Kindle).
Release Date: I'm actually shocked that this category is evenly split down the middle! I've been doing a LOT of rereading this year of old favorites so that likely accounts for the backlist category being higher than usual (usually I only read about ~30% backlist titles).
Source: This breakdown is not surprising to me, I've been using Libby/Overdrive a LOT this year and NetGalley as well!
Genres: So I decided to do this pie chart twice, once in the blues and once in rainbow colors so that you can clearly see the breakdown of genres because the blues sort of blend together with so many different genres in one chart. My reading has actually been VERY diverse so far this year in terms of genre, where contemporary usually dominates for me. I'm super low on fantasy but the dystopian, romance, paranormal and mystery/thriller genres are seeing a lot more love this year! I honestly feel so much more balanced this year in my reading and I'm hoping I can continue this trend of reading diversely across genres!
Star Ratings: No real surprise here, 4 star ratings almost always dominate for me as since I began blogging back in 2014 I've become quite adept at choosing books I will enjoy vs. those I won't. I'm actually surprised my 5 star ratings are up so high this year when I feel as though they've been scarce the past few years, but I think this is again due to the fact that I have been rereading a lot of old faves! (So far I've reread 5 books out of the 40 I've read so far this year).
So far this year I'm about 10 books behind schedule (yikes!) but I'm pretty pleased with the distribution of books I HAVE read so far. It will be interesting to see how these stats compare to the end of the year!
Related Posts