I've made a lot of reading resolutions, and one of them is to be better about cultivating a monthly TBR. I know so many bloggers do beginning of the month TBR posts and I always LOVE reading them, so I've decided to post my own as well! I will include my physical, e-book, and ARC TBRs as well as a status update of where I am prior to starting my upcoming month's TBR.
Reading Progress Prior To This Month: 40/100* Books Read
*Wish me luck as I try to read more books in 2020 than ever before!
Welp, I am officially 9-10 books behind on my reading challenge *sigh.* I'm really hoping during the rest of the summer I can make up the difference as well as around the holidays this year because there are SO many amazing books coming out this year! I'm also hoping to reread some of the Babysitter's Club books since the Netflix show is coming out this month and those will hopefully be some quick, easy reads to boost my reading stats!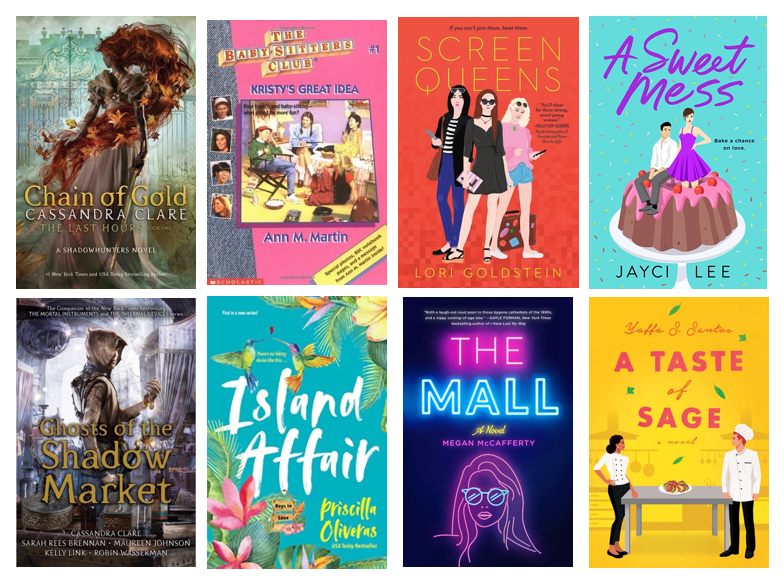 Library
Island Affair // This looks like the perfect summer read and includes the "fake fiance" trope which is usually a win! I'm also interested to see how the heavier topics are covered, since the protagonist is in recovery from an eating disorder.
A Taste of Sage // I LOVE BOOKS ABOUT FOOD. Plus this features a Dominican protagonist!
Ghosts of the Shadow Market // I'm on a bit of a Shadownhunter's kick this summer and am hoping to read these short stories in preparation to start Chain of Gold.
Owned
Chain of Gold // So this has been on my TBR this year a few times but last month I reread TMI and I'm making my way through all of the relevant short stories that take place before this novel so I should finally be ready to tackle it this month!
Kristy's Great Idea // A year or so ago there was a limited edition box set of the original 6 Babysitter's Club books released and I snapped it up SO fast. I would LOVE to reread the entire series at some point (though this may prove difficult since there's SO MANY books and spinoff series and I don't own all of them and they are out of print) but I want to at least try and get started this month (perfect timing with the Netflix show!)
For Review
A Sweet Mess // I've really been enjoying romances lately and I'm LOVING the illustrated cover trend. I am also a total fan of books about food so I have high hopes for this one!
The Mall // Lauren put this one on my radar so I had to request it from NetGalley. I'm somewhat horrified that the 90s are considered historical fiction at this point but also excited to see how it's portrayed now to readers.
Screen Queens // A backlist ARC that I'm reading for Lauren's Rainbow Try a Chapter Unhaul Challenge for the month of July (the cover is orange-ish haha).
What books are you your TBR for July? Let me know in the comments!
Related Posts