Food for Thought is a new feature where I discuss my sometimes bookish, and sometimes not, endeavors in the kitchen. Max and I love to experiment with recipes and are both huge foodies, and this feature is a fun way to showcase another hobby of ours!
Being a YA book blogger, it's easy to get stuck in a vacuum where sometimes you forget the existence of other books aside from novels. In our home, another sizeable book collection we own is made up of cookbooks. Max has long held a love for cooking, and while I wasn't exposed to it much growing up, he's slowly showing me how to navigate my way around the kitchen and develop my palette. I decided to raid his bookshelf today and showcase some of my favorite cookbooks of his.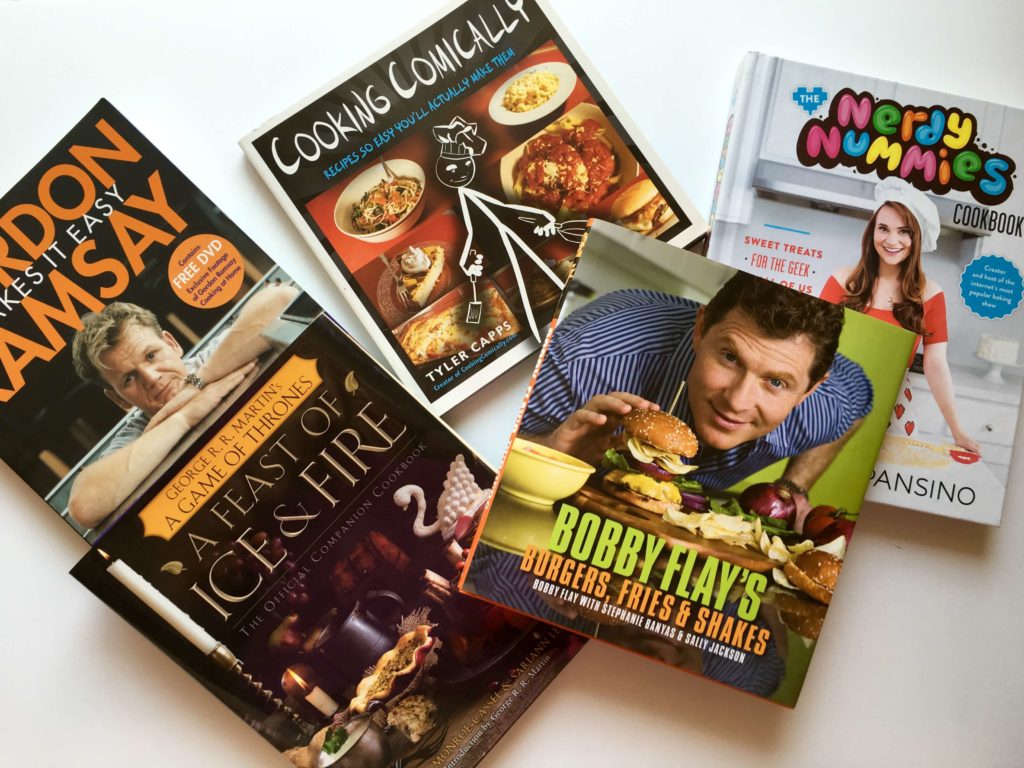 Our favorites include:
Gordon Ramsay Makes It Easy | Gordon Ramsay
Bobby Flay's Burgers, Fries, & Shakes | Bobby Flay
The Nerdy Nummies Cookbook | Rosanna Pansino
A Feast of Ice and Fire | George R. R. Martin, Chelsea Monroe-Cassel, Sariann Lehrer
Cooking Comically: Recipes So Easy You'll Actually Make Them | Tyler Capps
Cookbooks are so indulgent; full color illustrations, glossy pages, and oftentimes bigger than your face. It's easy to forget that sometimes books can be in such a luscious format when you're constantly reading paperback.
Oftentimes we supplement our cookbook recipes with ones we find on Pinterest. I honestly use Pinterest more for food ideas than anything else! We're a huge fan of Crockpot recipes we find as well as the myriad of dessert options. Some of our most tried-and-true favorites are:
This week also happens to be my anniversary with Max (9 years!) and we decided to celebrate a little early over the weekend with an Asian inspired meal that uses all Pinterest recipes!
From left to right:
Do you buy cookbooks? Is cooking a hobby or interest of yours? Is there a hobby you're learning along with your significant other? Do you like to merge any other hobbies with your love for reading (such as buying novel inspired cookbooks?) What's the last recipe you tried? Let me know in the comments!
---
Speaking of food I thought it would be fun to give away an ARC copy of Kids of Appetite by David Arnold (see what I did there ;)?). Use the below form to enter! US only, must be 18 years old or older to enter (or have the permission of a parent or guardian). I am not responsible for any items lost in the mail. Winner must claim prize within 48 hours of being notified. Please be honest with your entries, as I check every one!
Save
Save
Save
Save
Save
Save
Save
Related Posts