I've made a lot of reading resolutions, and one of them is to be better about cultivating a monthly TBR. I know so many bloggers do beginning of the month TBR posts and I always LOVE reading them, so I've decided to post my own as well! I will include my physical, e-book, and ARC TBRs as well as a status update of where I am prior to starting my upcoming month's TBR.
Reading Progress Prior To This Month: 9/80 Books Read
It kills me that I finished January with 9 books read. 9! What an awkward number! I was really pushing for 10 but getting home from vacation and catching up at work really kicked my butt! However, I feel like I have a really solid start to my reading plan in 2018! I actually managed to finish 5 (and a half, if you count a book I haven't finished yet) books from my January TBR which I think is a huge win, and I'm excited that planning out an intentional TBR is working for me so far this year! I have a lot of books I'm really excited about on deck for February: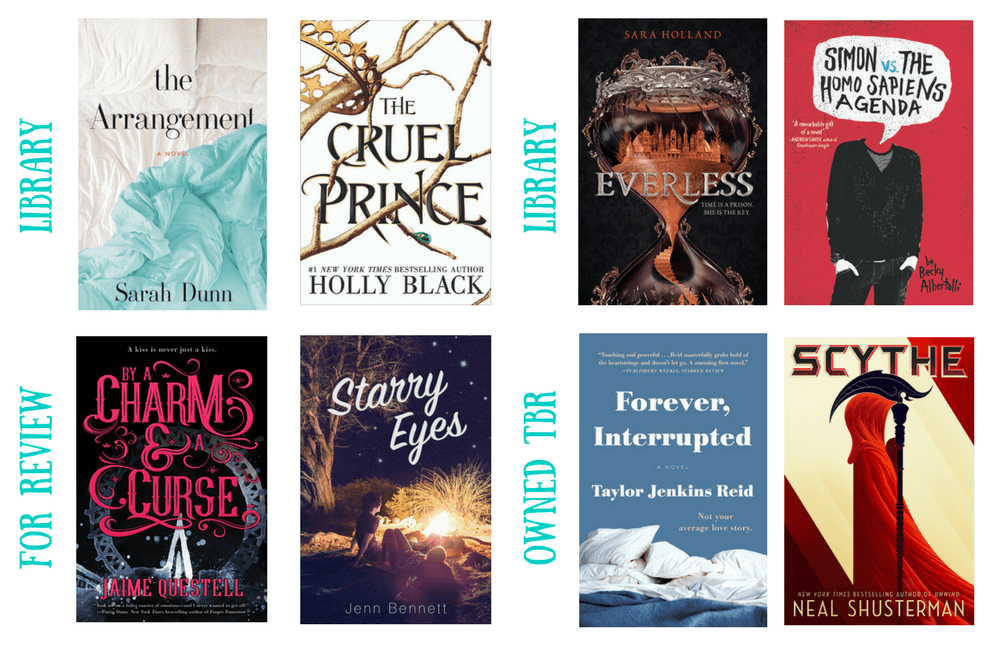 Library
The Arrangement // Soooooo I may have left this one too long and now have like two days to read it before my Overdrive rental expires but CHALLENGE ACCEPTED. I've been loving a good adult fiction book lately.
The Cruel Prince // Guys, I got really wild and crazy this year and decided to start the year off by trying an AUDIOBOOK again. Wild, right, considering I've tried and failed so many times. But this one is actually holding my attention, and given that I have been spending roughly ten hours commuting a week recently, it's a great way to make the time feel productive. Fingers crossed I can get through this one!
Everless // I'm honestly not 100% sure what this one is about (I'm terrible at reading blurbs) but I immediately put it on hold on Overdrive and I keep seeing it pop up on bookstagram so it must be good?
Simon Vs. the Homo Sapiens Agenda // Planning to get to this one before the movie comes out!
For Review
By a Charm and a Curse // So excited to be on the blog tour for this carnival themed read!
Starry Eyes // Literally squealed when I was approved on NetGalley for the next Bennet book after loving Alex, Approximately. Simon & Schuster is made up of benevolent, book-bestowing goddesses.
Owned TBR
Forever, Interrupted // I started this book about a year ago and never finished, and I believe it's the only TJR book I haven't read yet! So I figured February was the perfect time for a melancholy love story read?
Scythe // Max binge read this while we were on vacation in Hawaii a few weeks ago (RIP vacation) and I'm curious to see why he loved it so much. He already bought the sequel too so I can binge them!
Are any of these on your TBR? What's your most anticipated book for February? Let me know in the comments!
Related Posts