One thing I am always fascinated with is how people track their TBRs. In their heads? With a physical pile? Using Goodreads? Before blogging I never really worried about it, but now as a blogger juggling a posting schedule/review copies/etc., I've found that I wanted a more cohesive systems over the past few years. I've tried a variety of methods (a monthly TBR GR shelf, writing it out in my planner, stacking the books on my nightstand, etc.) but nothing really got the job done just right. Then last year I saw Lauren over at Serious Reviews do an in depth post about how she tracks her TBR and fell in love with her method and had to try it myself! I used it for most of 2017 and now 2018 and really wanted to feature how it's worked for me in conjunction with some of my own methods that I'd already been using!
TBR Tracker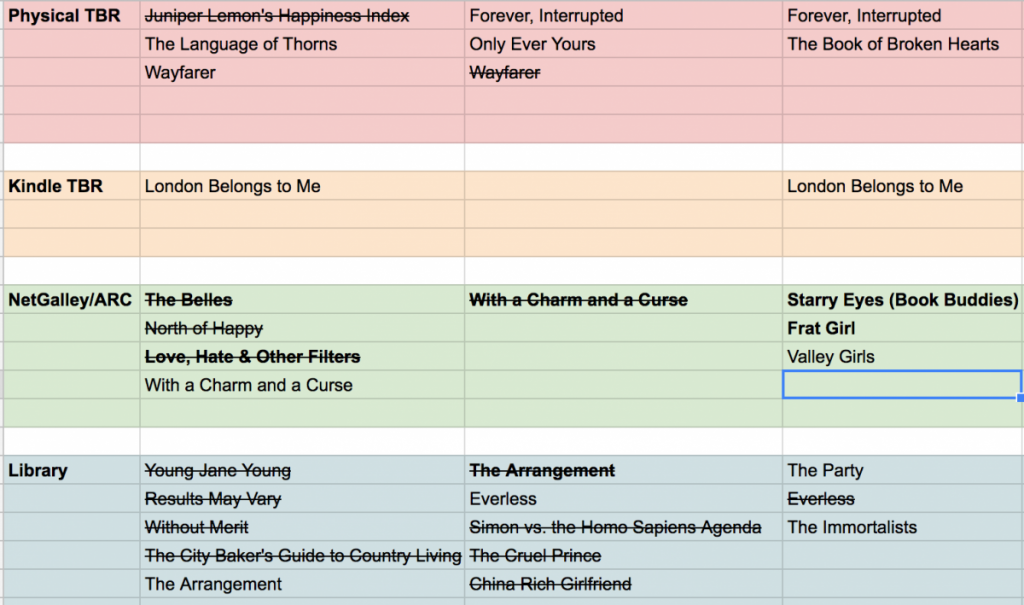 I loved Lauren's system of keeping it all in a spreadsheet that was color coded (I'm a sucker for anything color coded in rainbow order) so I created a spreadsheet in Google Sheets to do my TBR tracking. While I created specific categories, I opted to keep them just focused on the source of the books and the month rather than incorporating reading goals/challenges too. Above, you can see my most heavily used categories which are Physical TBR, Kindle TBR, NetGalley/ARCs, and Library TBR.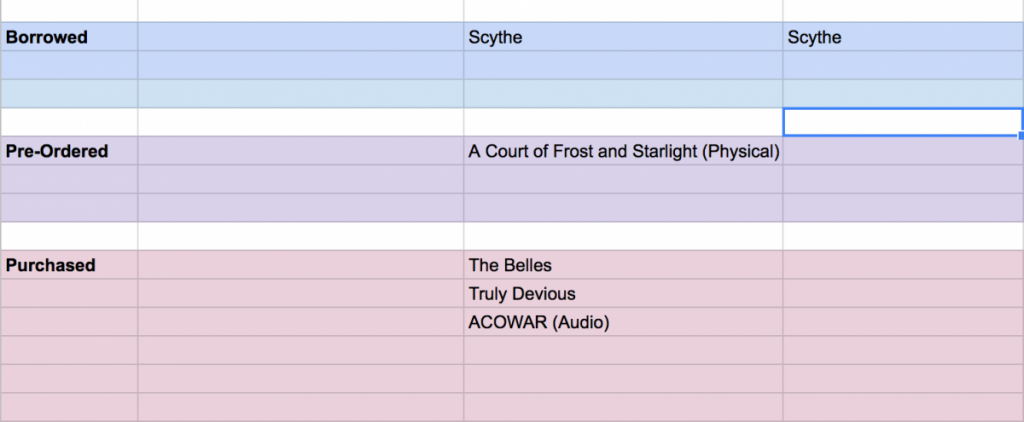 Toward the bottom of the sheet I've also incorporated sections to help me track what books I've borrowed (from other people, not the library), pre-ordered, and purchased that month. These categories aren't necessarily part of my planned TBR, but I like tracking all of the books I'm accumulating each month, both those part and not a part of my planned TBR. This section gets used less than the top half of the spreadsheet but it's nice to have a space to record purchases and per-orders too.
Notes and Formatting
Books that I actually read have a strike through them so I can at a glance see what I've finished (though I also have a different Google sheet that tracks all of my books read).
Books in bold are high priority/must reads for that month.
Books that carry over from month to month are reminders for me that I didn't get to them the previous month but am still planning on having them on my main TBR. Books that don't get carried over (like The Language of Thorns) I've decided to put on hold for the time being- they could crop up again later in the year!
ARC Tracker
I also have a separate spreadsheet where I specifically track ARCs that I've acquired, so I can keep track of their release dates and if I've read/reviewed them in a timely manner. I've found that even though it means storing date multiple places, I do like having a place just with ARC info, especially so I can ensure I am on target with release dates and getting my reviews posted accordingly. I started this back in 2015 and have used it sporadically on and off since (each year is a different tab) but I've been consistent with keeping up with it in 2018 and am really finding it beneficial!
Annual Reading Tracker

Last but not least is my general annual bookish spreadsheet, created by the lovely Crini which I know many bloggers use! It is such a HUGE HELP with end of the year book wrap up posts and it's less TBR focused (I actually don't use the TBR tracking function in this one) and much more focused on what I have read and ensuring I'm on target for my Goodreads goal and any other bookish challenges.
I've also added some custom columns of my own too at the end so I can easily track the publisher and location of the book.
So yes, I do use three separate spreadsheets at the end of the day to track my TBR/reading habits which seems tedious but it's the system that I've found works best for me! Now I'd love to hear from you- how do you track your TBR? On paper? In a spreadsheet? Just using Goodreads? Let me know in the comments!
Related Posts