Is it just me, or am I the only one who always procrastinates/dreads writing my month in review wrap up posts? I love having a record of what happened each month of the year, but I guess I find it sort of exhausting to compile everything! (And to think of interesting personal things to mention, because to be honest I don't think my life is that exciting lol). Anyways, February is usually a rather exciting month since it's my blog anniversary (February 6th) but it was super exhausting this year because it was a whirlwind of touring wedding venues. I think we toured 10 or 11 venues total (which doesn't sound like a lot but when each tour takes 1-2 hours plus all of the research that goes into it and the travel time, it's a lot) but finally settled on one for next summer. We also had some bizarre weather with a week in late February with the weather in the high 70s (perfection), but as I write this in March it's been pouring down rain so who knows if we're really out of the woods with winter yet? As we inch toward the spring I am excited to start to get to the ~fun~ part of wedding planning, rather than the stressful part (although who am I kidding, I'm sure it's all going to be stressful lol).
Books I Read This Month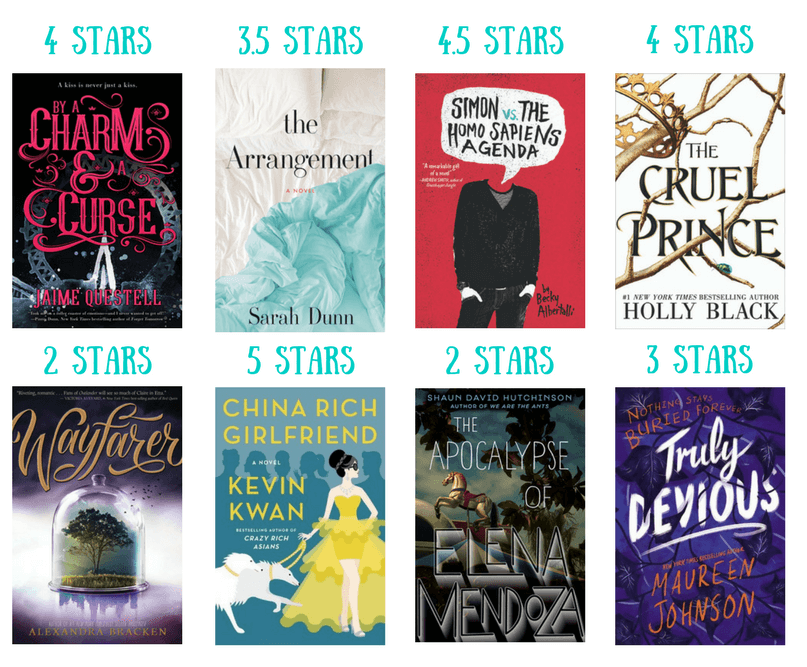 Overall I'm pretty happy that I've kept up reading 8-10 books per month so far in 2018. Though my Goodreads reading challenge is set for 80 books I'm crossing my fingers that I actually may hit 100 instead! I'm also doing a fairly good job balancing new releases and backlist. There were a few "meh" books in February but also some really great ones too!
Books I Reviewed This Month
Hello, Sunshine (3 Stars)
Eight Hundred Grapes  (2 Stars)
Juniper Lemon's Happiness Index (3.5 Stars)
Crooked Kingdom (5 Stars)
By a Charm and a Curse (4 Stars)
The Belles (5 Stars)
American Panda (5 Stars)
Stats:
Total Books Read: 17

Total Novellas Read: 0

Rereads: 0
Favorite Book Read This Month: China Rich Girlfriend
proved that a sequel can be even better than the first book in a series.
Least Favorite Book Read This Month: Wayfarer bored me to tears. I have literally been reading is SINCE DECEMBER. I can't even bring myself to write a review for it because I don't want to invest any more time in the experience.

Book that Most Surprised Me This Month: I thought I was going to enjoy Truly Devious a lot more than I did…

Reading Challenge Updates
Goodreads 2018 Reading Challenge Progress: 17/80
Other Posts This Month
I recapped The Belles tour stop I attended.
I keep up with my monthly TBR posts.
How was your February? Did you do anything for Valentine's day? Is it starting to warm up where you live or are you still in winter's grasp? What was the best book you read? Let me know in the comments!
Related Posts