It's been a while since I did a check in on my bullet journaling life! What a better time to dive back in than to share my bookish spreads for 2020! This year I'm focusing on annual spreads (at least so far) since I have SEVERAL other daily planners at this time. However, I did use some daily trackers last fall and enjoyed them so we'll see if the urge to start them again in my bujo strikes me!
Annual Books Read Graph and Daily Reading Calendar
My first spread was pretty much exactly the same as the one I had last year where I color in squares based on how many books I read each month in a color coded order. It's not super necessary, but it's fun! I followed this with a monthly tracker where I will simply just highlight the days on the calendar that I read so I can see at a glance how often I'm reading (I still haven't decided if I'm going to do anything special to note days when I start/finish a book). The color coding for these two spreads is the same each month to keep it consistent!
Challenge Trackers
I wanted a few colorful spreads to track some of my challenges! I don't have an "official" NetGalley challenge I'm doing this year other than to try to get my ration as close to 100% as possible, so I've listed out all of the titles I have pending and I'll color in according to star rating once I finish (the key is at the top). I think this is my favorite 2020 spread I've made so far, I love how the little banners turned out and I used my Tombow brush pens for the first time to color them in and the ink is honestly so pretty and vibrant and unique compared to all of my other markers (now to just learn how to do actual brush lettering with them…)
My second challenge tracker is for the Rainbow Try a Chapter Unhaul Challenge that Lauren is hosting over at Bookmark Lit. I will admit I copied her spread pretty closely because it was 1) super functional and 2) super colorful! Her rainbow is much better than mine though lol- I tried to salvage it with some clouds but it didn't work. Thanks for the inspiration for this spread, Lauren!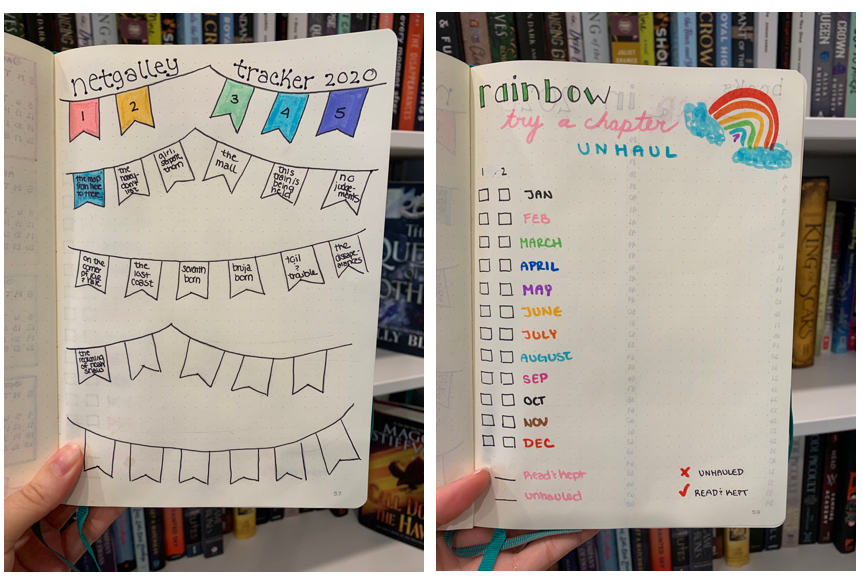 Full Books Read Tracker by Title and Genre
My last tracker for 2020 (at least as of now) was partially inspired by Alexa at Alexa Loves Books- her 2020 reading bujo is so beautiful, I highly recommend checking it out! I liked how she did a two page spread to keep track of all of the books she read, so I decided to do something similar, but I'll be color coding my by genre so I can easily at a glance see what genres I'm reading most frequently! Last year I also tracked date finished and star rating too, however I do track that info in my Always Fully Booked planner as well as in a spreadsheet, so I've forgone that extra info in this year's spread. We'll see how I like the simplicity!
Overall, I'm pretty happy with these spreads and see myself being able to consistently keep up with them. I'm hoping to add pages for what I'm watching on Netflix and Disney+ too but that will probably be a project for a future weekend! I'm honestly not a super artistic person (at least not when it comes to drawing) so I'm pretty proud that I was able to come up with create these spreads in about 2 hours! I've seen some cute Disney tracker ideas on Pinterest that have been calling my name so I may be adding some of those too for things I want to do/restaurants I want to visit in the parks!
Let's Chat!
Did you set up a 2020 bullet journal for anything? Do you use one to track your reading stats or other aspects of your life? Let me know in the comments!
Related Posts