I have the bad habit of buying fantasy books and taking ages to get around to actually reading them. I think this is due to my recent commitment-phobia when it comes to longer books, coupled with the exhaustion with "keeping up" with how many books other bloggers are reading. It's a real shame too, since fantasy used to be one of my all time favorite genres. I've made huge strides on my reading goal this summer thanks to rereading some old series, and coupled with the changing seasons, I think I'll be more motivated come fall to dive into some fantasy novels and finally knock them off of my TBR. I've rounded up some of my most anticipated fantasy reads that have been collecting dust on my shelves along with 5 upcoming fantasy books that I'm eager to get my hands on.
The good news is that most of these books I've only owned for two years or less. The bad news is I haven't cracked open any of them, which especially worries me with the sequels (I'm going to forget what happened in their previous installments if I don't get to them soon!) For some of the books, such as The Wrath and the Dawn and the His Fair Assasin's series, I actually already own all of the (published) books so I'll be able to binge them, which is a huge plus! And thanks to the lovely Alexa, I have an ARC/bound manuscript of Girls of Snow and Glass waiting for me too!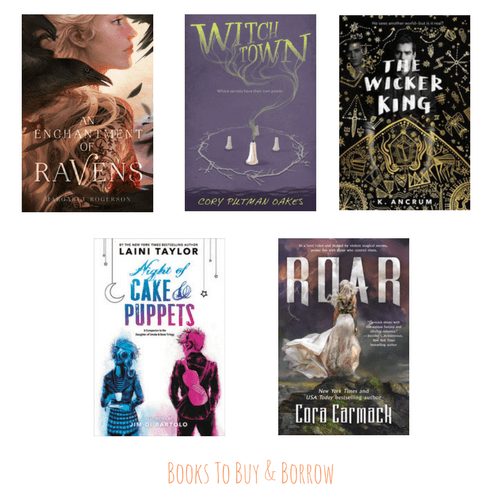 An Enchantment of Ravens | The cover is STUNNING and I heard a lot of chatter about it at YallWest! I didn't get an ARC copy, but I'm really looking forward to picking it up this fall once it's released!
Witchtown | I am a total fangirl for anything relating to good old fashioned magic and witches, so this is 100% up my ally and a perfect Halloween read.
The Wicker King | This novel looks to be part fantasy, part psychological thriller. I'm always looking for a thriller that can exceed my expectations and I'm hoping this genre blending tale will prove to be unpredictable and also insightful into mental illness.
Night of Cake and Puppets | I actually already own the e-book of this (but haven't read it yet, story of my life) but the fact that it's coming out as a physical novella with illustrations has me so excited! Zuze was my favorite character from the DoSaB series so I can't wait to revisit her!
Roar | I will be honest and say a huge draw for me is the cover (doesn't she look like Daenerys???) but I'm also getting some potential Sleeping Beauty retelling vibes from the name of the heroine- Aurora. I've heard super mixed things about this one but I'm still excited to try it!

What fantasy books have been sitting on your shelves unread for the longest period of time? What about upcoming fantasy releases that you're really excited for? Do you think you'll be gravitating more toward fantasy reads as the fall approaches and the weather gets cooler? Let me know in the comments!
Related Posts